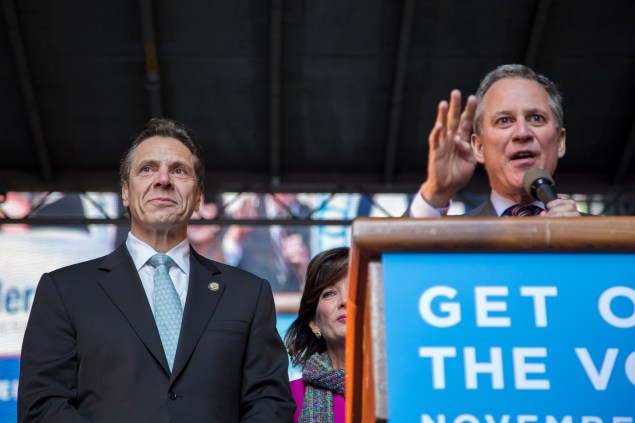 Attorney General Eric Schneiderman today debuted an ethics reform bill that he claimed would dismantle the "crony capitalism" contaminating New York State government—and would fundamentally change the workings of the legislature and local political organizations.
With just weeks remaining in the legislative session in Albany, Mr. Schneiderman outlined an ambitious package of proposals that would end outside income for lawmakers, end per diem compensations given to politicians to pay for accommodations in the capital, drastically lower campaign contribution limits for individuals and lobbyists, control the amount of cash limited liability corporations can donate to candidates and abolish the virtually unregulated party "housekeeping" accounts.
The "End New York Corruption Now Act" would also expand the powers of the attorney general's office to prosecute public corruption, create new criminal categories for undisclosed self-dealing and bribery, and change the pension forfeiture rule passed earlier this year to prevent state funds being used even to provide for a convicted official's spouse or children.
In return, the proposal calls for altering the state constitution to extend terms from two years to four, establishing public financing of campaigns reminiscent of New York City's matching funds system and increasing politician's salaries to as much as $174,000 a year.
"The pattern by now is pretty familiar," Mr. Schneiderman told reporters on the steps of Tweed Courthouse, alluding to the hasty statements and reform proposals that followed the indictment of former Assembly Speaker Sheldon Silver on corruption charges earlier this year, and the subsequent arrest of former Senate Majority Leader Dean Skelos on misconduct allegations. "Scandal, followed by outrage, followed by prosecution, then by reforms that tinker but do not solve the problem, followed by another scandal."
The attorney general pointed to recent polls showing 90 percent of New Yorkers regard corruption in government as a major problem, and demanded that the bill pass before the end of next month—a highly unlikely outcome.
"We are now in a unique position, a unique moment when comprehensive reform is being demanded by New Yorkers all across the state," he said, flanked by representatives from several good government groups. "No one can say the proposals in this legislation are radical or partisan."
Nonetheless, he noted several of them had passed the Democrat-dominated Assembly only to stumble in the Republican-run State Senate.
The "LLC loophole," which permits large business interests to set up an unlimited number of "paper" companies in order to bypass contribution limits, has been a frequent target for liberals like Mr. Schneiderman in recent months. Glenwood Management, the real estate developer both Mr. Silver and Mr. Skelos stand accused of extorting in exchange for tax breaks, has reportedly used puppet LLCs to become the largest donor in the state.
However, none of the charges U.S. Attorney Preet Bharara has leveled against the two men pertain to campaign donations, though Mr. Silver stands accused of pressuring Glenwood into hiring a law firm that paid him legal fees while Mr. Skelos faces allegations that he used his position to obtain a sinecure for his son at a company Glenwood held stock in. The End New York Corruption Now Act's provisions banning outside income and creating a felony for using public power to benefit oneself, family member or business partner appear to attempt to address the former speaker and former majority leader's situations.
Mr. Schneiderman himself has taken hundreds of thousands of dollars from Glenwood Management, its affiliates and its centenarian owner Leonard Litwin.
The housekeeping accounts that Mr. Schneiderman seeks to abolish are by law intended for things such as maintaining office space and hiring staff unrelated to any specific candidate or campaign. Critics note that contributions to such accounts are unlimited and their expenditures almost completely obscured under existing law.
The attorney general's proposals do not directly address what he termed New York's exemption-riddled "swiss cheese" tax code, nor do they appear to limit the influence of powerful consulting firms that run politicians' campaigns and then represent business, labor and nonprofit interests seeking government benefits. Mr. Schneiderman himself has come under criticism for his relationship with leading firm SKD Knickerbocker, where his amicable ex-wife Jennifer Cunningham is a partner, and with which his office has sought to avoid disclosing its correspondences.
The attorney general acknowledged that the ability of consulting firms to act as unregulated and unregistered lobbyists is an issue.
"Getting people elected and then lobbying them, that is worthy of consideration also," he told the Observer, though he argued slashing donation limits would reduce consultants' bottom lines. "This is a bill about reforming how the legislature and the state government operates."
Mr. Schneiderman insisted his ideas were not "anti-business," but would rather expand opportunities for honest entrepreneurs by eliminating the possibility of bad actors lobbying for special privileges.
"What we've got in New York is not capitalism. What we've got in New York is crony capitalism, where some businesses buy special deals," he said. "This is about taking our government back for everyone."