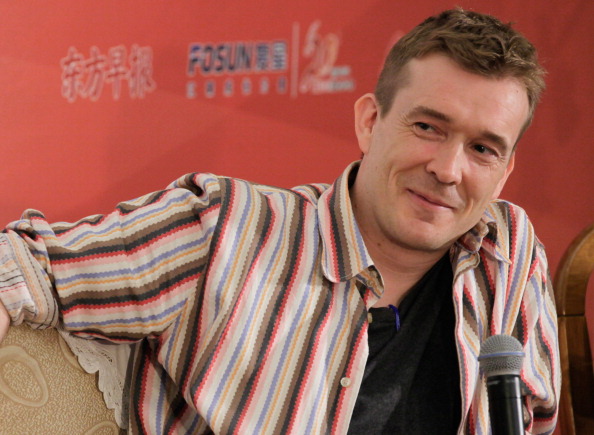 Note to David Mitchell fans, we hope you're patient because if you want to read the British author's latest book you'll be waiting a very long time to get a copy in print—about 100 years to be exact. The award-winning novelist of such titles as Cloud Atlas, number9dream, and The Thousand Autumns of Jacob de Zoet, has been selected as the second writer, after Canadian author Margaret Atwood, to contribute to Scottish artist Katie Paterson's Future Library.
The project is a time capsule of unpublished books that will be compiled over the next century for a special anthology, set to be printed in 2114. As the collection of library of texts grow—a new one will be selected each year—so will its paper source. Ms. Paterson has had 1,000 trees planted in a forest outside of Oslo, Norway that will be harvested after they've fully matured to create the paper pulp for the books.
Katie Paterson, educated at the Edinburgh College of Art and the Slade School of Fine Art, is known for her ambitious reasearch-based projects that often require collaboration with outside experts. She has had solo shows at the Modern Art Museum in Fort Worth, Texas, James Cohan Gallery in New York, and Modern Art Oxford, among others, and her work has been included in exhibitions at the Power Plant in Toronto, the Art Institute of Chicago, the Hayward Gallery in London, in addition to the Whitstable Biennial 2010 and PERFORMA 09 in New York.
"Although we can't read the books," Ms. Paterson told the Observer, "at least our minds can project and imagine the future." The artist envisions a library for future generations—not our own—that will capture how humans think about the future over time.
The year 2114 is pretty far away, so in the interim the manuscripts will be held for safekeeping in a special room at the Deichmanske Public Library in Bjørvika. Selected authors will have one year to complete the work—with no restrictions on length, content, or language—under one condition: no one can read the book until it's published.
"I was especially drawn to Mitchell because of the way his works journey through time," she told us. "Some of the things he writes about could align with what's actually happening in 100 years."
In a statement from Ms. Paterson's gallery, James Cohan, Mr. Mitchell said, "The project is a vote of confidence that, despite the catastrophist shadows under which we live, the future will still be a brightish place willing and able to complete an artistic endeavour begun by long-dead people a century ago."
The first author to participate, Margaret Atwood, is a five-time book nominee, and her book The Blind Assassin finally won the prize in 2000. Other well-known titles by her include The Handmaid's Tale, Cat's Eye, Alias Grace, and her recent MaddAddam trilogy. Her submission, a new work titled Scribbler Moon, was sealed in a special wax and submitted to the Future Library Trust, a group of literary experts that include the artist. The copy now sitting in the city's archives is the only physical copy that exists. However, there's also a digital copy, just in case.
Despite the temptation to read the book, Ms. Paterson refuses to break her own rules. "But I must tell you that Margaret Atwood's piece was quite heavy," she laughed.
And while she knows she won't live to experience the result of her own project, that's not the point, she explained. "I hope that it brings hope to other people. Because in itself, Future Library is hopeful because it does believe that there is going to be a Norway, a forest, a book, in 100 years time. It has a lot of trust in the future because we have to rely on people that aren't born yet."