Neil Giacobbi and Bethany Godsoe moved to Park Slope after graduating from Cornell some 15 years ago, on the advice of friends who'd preceded them to the city in the late '90s.
"They told us, 'if you love Ithaca, you'll love Park Slope. It was true then—it was a little offbeat, kind of crunchy," Mr. Giacobbi said, going on to describe a particularly beloved BYOB falafel place on the corner of 15th Street and 7th Avenue where he spent many an hour drinking six-packs with friends.
But sometime around 2010, he said, Park Slope changed. "It just didn't have the same vibe. Parking became impossible—that's always been a complaint, but we never had a problem, then suddenly we did. You could never get a table at restaurants." The falafel place got replaced by a Thistle Hill, "a casual, seasonal restaurant" serving handcrafted cocktails.
"I mean, I don't want to disparage Thistle Hill, it's an amazing restaurant, but the falafel place was pretty cool. You could just walk in and sit there for two hours," he said somewhat sadly. It felt more urban in the bad ways (crowding), but less urban in others—not as diverse ethnically and socioeconomically. "Park Slope is basically the urban version of Basking Ridge, New Jersey."
So a year and a half ago he and his wife went across the park to Ditmas and bought a six-bedroom house to live in with their three children, joining a cross-Prospect Park migration that has become increasingly common as Manhattanites flood classic brownstone neighborhoods like Carroll Gardens, Cobble Hill, Park Slope and Boerum Hill, trailing crowded sidewalks, chain stores and glassy condos in their wake.
"The people in these neighborhoods have changed—they have different expectations, different levels of tolerance, the mom-and-pops are gone, and so the feel of the community has changed," said Terry Naini, a broker with Town who first noticed the Brownstone Brooklyn-to-Ditmas migration about six years ago, when clients she had helped buy earlier tapped her to sell their places or sought her out as a buyer's broker.
"I feel like once the Starbucks opened on Smith and Wyckoff it was kind of a turning point," Ms. Naini said of the chain's arrival in Cobble Hill. And the restaurants have changed—before people were going to whatever neighborhood place was there, now they expect a certain level of service."
Even the brownstone expectations are different: "Before, when buyers moved into a house, as long as it was renovated to a certain level, people would be like, 'Great, we'll just move right in,' " Ms. Naini said. "Now they come in and gut it completely."
But while some Brooklynites view the appearance of Lululemon and green tea Frappuccinos as a sign that their neighborhoods have finally arrived, a commutation of their outer-borough exile, many long-timers see the Manhattanization of the borough as something of a blight—a professional-grade polish buffing away the slightly funky, laid-back vibe they loved.
And then they notice Ditmas, with its Victorian mansions and capacious lawns; quiet, friendly streets; quirky shops; and abundance of off-street parking, beckoning like a mirage across the park.
***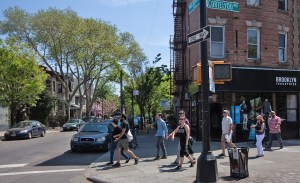 On a recent Thursday afternoon, a smattering of diners sat outside finishing a leisurely lunch at the nouveau Italian place, Lea; a few blocks away a group of mothers gathered by the corner of Cortelyou and Argyle to wait for their kids' school bus. Two mothers walking up Rugby Road compared notes—Literally I took her out of the tub and she pooped on the towel / Does she suck on her thumb? She sucks on everything / In Europe they have very different bedtime habits—as they pushed their carriages through drifts of apple blossoms. It was so peaceful that the blip of an automatic car lock made a passerby start slightly.
Many people describe their first encounter with Ditmas as fairytale-esque. Chermia Hoeffner moved to Argyle in Flatbush as a child. She wasn't allowed to play outside because her mother thought the neighborhood was too dangerous, but she could see Ditmas across the street and it seemed like an enchanted, emerald world. "I knew it was always going to be Ditmas since 1982," said Ms. Hoeffner, who finally bought a 3,000-square-foot house there in 2014.
Laura Rozos, a Corcoran broker who lives in the neighborhood and handles a large share of its transactions, grew up in Prospect Heights and first visited Ditmas during an elementary school sleepover in the 1970s. "I remember getting off the train at Newkirk and I had a bit of a panic attack because I thought I'd gotten off at the wrong stop. It looked like a different world."
Her friend lived on one of the cul-de-sac streets "in something like a castle—the house had all these bedrooms, we had a whole floor to ourselves," Ms. Rozos said, though it was only years later, when she was looking to buy and put off by prices in Park Slope that she thought of Ditmas again. The Park Slope prices are much higher now, of course, but it's not only that—many of her clients are also unhappy with the construction and crowding in the brownstone neighborhoods. "They feel that they're too urban and not private enough."
"In Ditmas, you can see the sky. And there's something kind of grassroots about the people and businesses who move here. It has the feeling of a small town," Ms. Rozos said. "You get to know your neighbors—it's a different level of interaction and support, there are so many rituals." Among them, the popular Ditmas Park progressive dinner, where residents in the Historic District gather at one house for cocktails, split up into groups of 8 or so for dinner at different houses, then meet back up at a third house for coffee and dessert.
"To me, this is not the way Brooklyn was, because I've lived in Brooklyn my entire life and never had this type of experience," Ms. Rozos added.
Such is the close-knit nature of the neighborhood, where a local "scandal" involved the wine store changing ownership and parting ways with long-time manager Cole, who was famous for his witty emails and talking in a quirky British accent. The new owners have been facing an uphill battle ever since, one resident commented, pointing out the somewhat pleading tenor of the chalkboard message out front. (Of course, the neighborhood is not without more serious problems—there has been a recent wave of crime.)
"It has a kind of small-town feeling, but it's filled with diversity. Like right now I can see a Hasidic guy bicycling and texting and a group of Muslim women in burkas crossing the street," said Scott Anderson, whom we reached on the phone while he was relaxing on his front porch. Mr. Anderson moved from Park Slope with his wife Samantha and the six children from their previous two marriages into a sprawling house last July. "Park Slope has a lot of things to recommend it, but it's just another elite neighborhood now."
"We lived on a street in Park Slope that had a block party and it had a very strong community feel, but I never felt as though I could sit outside and talk to people," agreed Ms. Anderson. "Here people will just stop and say hello."
"You don't get that in Park Slope," her husband concurred. "People just want to get where they're going, have to get to the subway or their apartment." Determined to match the neighborhood's overtures, Mr. Anderson even keeps a list of local dog's names.
The charm of Ditmas lies in the fact that it feels like a suburb in the city—a spacious and quiet community, but a diverse one with a brisk connection to Manhattan via the B and Q lines at Newkirk and Church Avenues. And while it's true that Ditmas, with its over-the-top Victorian architecture, private driveways and generous lawns, is an outlier among the Brownstones and working-class rowhouses of many other neighborhoods, it shares its somewhat quixotic raison d'être with its bucolic brethren to the West. As late-19th and early-20th century streetcar suburbs, all were built to evoke a gracious, semi-pastoral lifestyle for city workers, a mien that many say has gone somewhat missing from many Brownstone Brooklyn neighborhoods in the last few years.
"I've lived in Ditmas my whole life; I could never live in brownstone area," said Alexandra Reddish, a broker with Mary Kay Gallagher, a legendary local brokerage founded by Ms. Reddish's grandmother. "My son plays baseball on Dean and Bergen and it's like a zoo. When I got to other places in Brooklyn, it's so crowded and I'm glad to get back to my small, isolated world. It's still nice here, you see people outside, watering their lawns."
"When we said we'll live anywhere, but [that] we don't want to live in Brooklyn Heights or Park Slope, real estate agents thought we were crazy. But we felt like they were the victims of what we thought was starting to happen to Carroll Gardens and Cobble Hill—they were crowded and overrun," said Chris Lindsay-Abaire, an actress and mother of two boys who now lives in a 1905 colonial revival in Ditmas that they bought five years ago. 
In Ms. Lindsay-Abaire's view, Ditmas has all the nice things about the suburbs without the isolation of the suburbs—people walk to the subway instead of driving around in their cars, they don't have to arrange playdates for their sons, the boys just knock on their friends' doors and see if they want to play; they even have a wooden half-pipe in the backyard.
***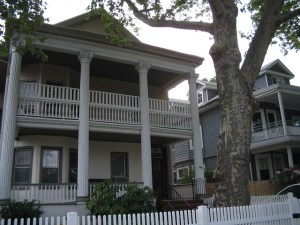 Of course, the prices in Ditmas, though they've risen considerably in the last five years, are much of what have made the neighborhood so alluring to refugees from Brownstone Brooklyn, many of whom moved to the borough for more space and then found themselves squished into 700-square-foot two-bedrooms with kids.
Mr. Giacobbi and his wife owned a rowhouse that they sold for $2 million, but after waiting out the market for a few years as renters, they realized that everything in their price range was basically a downgrade. Especially when they were competing with all-cash buyers.
"We needed a house where our kids could grow up as teenagers," said Mr. Giaccobi. We have good jobs [he's an executive VP of public relations at AT&T and his wife is in administration at NYU], but we couldn't buy a house without a mortgage."
And Ditmas offers more than ample compensation for those willing to make the move. "One of the downsides of Ditmas is that there are infinite numbers of ways to get house envy," said one resident. "It's not how many floors of a brownstone do you occupy, it's 'do you have a widow's walk, a ballroom, more than seven bedrooms, a second story porch, a full third floor'—ours is kind of attic-y."
Dina Rabiner, who works at Corner Media Group, moved into a 4,200 square foot manse with her husband and two kids in December—a huge upgrade from their 1,400-square-foot two-bedroom in Prospect Heights. Part of what made them pick Ditmas, she said, were the layouts of the brownstone apartments they saw. "They're kind of cramped and they'll have two nice-sized bedrooms, but the other one is like a hole. I remember when we looked at apartments before we had kids, my husband said 'I don't want my kid looking at an airshaft.' "
And for those who grew up in Brooklyn, like Ms. Hoeffner, living in a place that still feels something like the Brooklyn they knew is of utmost importance.
"I wanted my kids to grow up like I did. To play up and down the street with the other kids on the street. I want the woman next door to tell me your daughter was outside and she wasn't behaving," Ms. Hoeffner said. "And I can't totally get that anymore, but I want it to the extent that I can."
She was particularly put off by cultural shifts she saw in more progressive public schools like Park Slope's P.S. 321. "They call their teachers by their first names," she said. "I'm like I'm here to raise you, not be your friend. You can say your piece, but I run the show."
Not that Ditmas is immune from the forces that transformed those other formerly quiet, down-to-earth Brooklyn neighborhoods over the last few decades. Still, change is slow to arrive. To wit, one of the difficulties of buying in Ditmas is the slow rate at which houses turn over—almost everything needs a renovation before move-in because the previous owners stayed for decades. A number of newcomers told us that they loved their houses so much, they'd have to be carried out in a box.
There's also a hesitancy among those who fled Boerum Hill or Park Slope to usher in the types of changes that drove them away. After all, there are a dwindling number of Brooklyn redoubts that evoke the Brooklyn they know and love, even if they weren't entirely happy with having to relocate in the first place.
"There was definitely a feeling like we had lost the game and we had to move, but after living in Ditmas Park for a year and a half, we felt like winners. We're a block from the B train and we can have 50 people over to our house," said Mr. Giacobbi. "It just feels like Brooklyn to me, how I remember the city being 10 years ago."

CORRECTION: A previous version of the this story stated that Chris Lindsay-Abaire's broker had been Terry Naini at Town; in fact it was Laura Rozos at Corcoran.