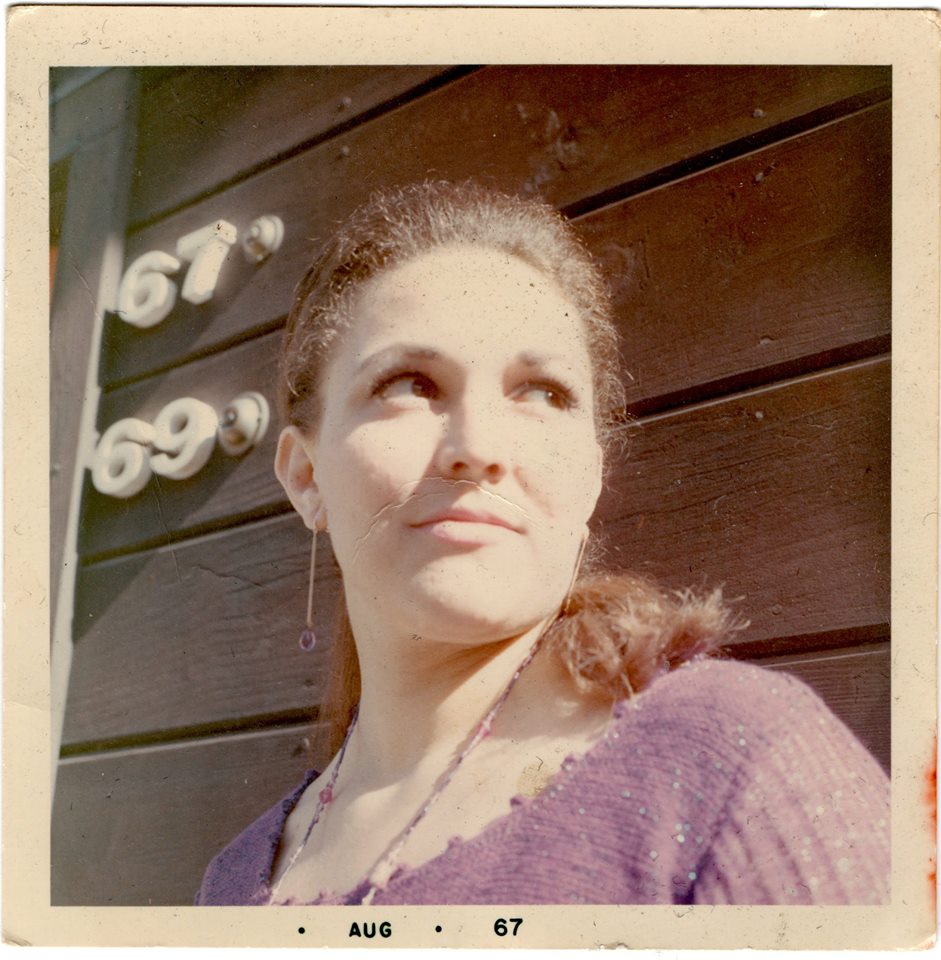 She was adventurous and forever curious. Always open to discovering what was around each corner, the next bend in the road, over the hills and far away, beyond the pines, mountains and mesas of the horizon. We'd often spend days on impromptu and spontaneous road trips to nowhere, just to see, experience and explore the world around us. No destination, no expectations. Just a mutual love of being together and respect for the sublimity of the unknown, the unexpected, the roads less traveled. I'd revel in the expression on her face, and the joy in her heart, as the possibilities and landscape unfolded, pulling us deeper into our own mother/son prodigal bond and adventure. She particularly loved the solitude of the desert…Joshua Tree, the desolate parts of Route 66, the dusty roads of Sonora and Chihuahua. They were mystical and wonderful places to her, and her eyes sparkled with the same hues of blue, pink, purple, ochre, amber and green that are the desert. Sometimes, we both quietly wept as we drove, windows down, the warm desert air leaving trails of dried and streaked salt down the contours of our cheeks. Tears of joy, beauty and despair. Silently, I knew she was sharing her pain and loneliness with me, fully knowing that the landscape amplified the beauty of it. She taught me that sadness is bearable and worth experiencing. She also loved the beach and would drive half a day, just to spend 10 minutes gazing at the ocean, and again, the horizon. To this day, I love to aimlessly drive…anywhere, especially in the desert…and especially with her.
She was a talented jazz singer and bona fide "beat" ingenue. At the age of 17, she would drive all night from Palo Alto, making a 100MPH mad dash down Interstate 5 in her red convertible Fiat Berlinetta, to sneak into the jazz clubs of Los Angeles's Central Avenue and Sunset Strip. She'd sing jazz standards, birth the cool and hang with Gerry Mulligan, Charlie Parker, Chet Baker, Stan Getz, Dexter Gordon and Count Basie, through whom, she would eventually meet and fall in love with my father, the love of her life, Frank Foster. Although she would not pursue a career as a jazz singer, she was a huge supporter of jazz and it's foundations. I think that when my father left, he took the core of her heart, and all her desire to sing with it. She would still sing occasionally to me, the soft sad melodies and complex harmonies of "Lush Life", but the timbre was different, like a dull and painful memory. The tenor of Coltrane's sax, or Mile's trumpet, were constant companions to a breakfast of bacon, eggs and waffles, as mum prepared my sis and I for school. She opened my ears to bossa nova, swing, bebop and free form, exposing my heart to a whirling dervish of sonic delight and wonder. Whenever I hear Sergio Mendes & Brazil 66, Astrid and Joao Gilberto or Monk, I think of her, moving about the kitchen, openly smiling at my revelation. She introduced me to the words of Kerouac, Ginsberg, Ferlinghetti, Burroughs and Bukowski. As a teenager, she'd sometimes catch me in North Beach at the City Light's bookstore or the Savoy Tivoli coffeehouse, smoking hand rolled cigarettes, tilted beret, sunglasses to toes, in tight black wool turtleneck, chinos and desert boots, playing at cool. Again, she'd smile knowingly and walk past in quiet satisfaction. She knew. Now…I knew. She never mocked me for being a rebel. She encouraged it. She was a free spirit and gave me the wings to explore my own, despite her sorrow. When I transformed from a pre-teen, into a hippie, into a punk, into a mod, into a new romantic, into a rocker…she embraced me and my spirit…celebrating the ride. When I wanted to become a ballet dancer, she sent me to the best ballet school in SF; When I wanted to go to a private school because public school sucked, and my grades sucked, she helped me get the marks to get in; When I asked about the mysteries of girls and sex, she gave me a "Playboy", "The Joy Of Sex", "The Kama Sutra" and a box of condoms; When I became a man, she threw me out to experience the realities of life on my own; When I fell in love for the 1st time, she taught me how to respect, appreciate and adore a woman; And when I became a father, she gave me her respect, and my son the love of an adoring grandmother.
She was fearless and brave. She married a black man at a time when marrying a black man was taboo for a white woman, and multi-cultural couples were more than frowned upon, socially ostracized, blacklisted and shunned. Even my dear grandparents, asked her to come through the servant's entrance when she came to visit them and announce her pregnancy, because she chose to marry a black man and bear his children. She stopped visiting. She stopped calling. She stopped everything, except to tell them that they were ignorant, insulting and blind to the truth. They listened and loved my sister and I unconditionally until the end. She was never afraid of standing up for her beliefs or convictions, or defending the rights of others. She once stood down a violent mob of neighborhood men and woman who called her "white bitch" and "nigger lover" because she was with a black man. They threw glass bottles that shattered at her feet, spit at her, and cursed her for the color of her skin and that of her "high yellow" children. She just stood there, staring them down, legs apart, proud, defiant and strong, unwilling to back down. I was 6. She held my hand, looked down and told me that everything would be alright. Although I was terrified and not comprehending why we were being attacked, I believed her. Her immovable stance, the strength in her voice, the power of her will and character, stopped the mob and forever left an impression on me. If anyone in the mob had attempted to harm me, I know now that they would have been good as dead. They knew it too, and never bothered us again. I will never forget that day and the strength of character my mother possessed to stand up for herself, her child and her beliefs. She taught me to stand my ground, against the odds and never back down.
She was an aspiring stage actress, who attended the Pasadena Playhouse, and along with roommates Dustin Hoffman and Gene Hackman, studied the words and works of Shakespeare, Noel Coward and Tennessee Williams. She never told me why she stopped acting. Whenever I asked, she would grow silent, get a distant, sad and dusky look in her eye, then look away. I think it may have been her only regret in life. I could tell, by that look, that she could have won an Oscar. She had all the talent, beauty and makings of a star. As a child, I was fascinated by photographs of her onstage in the theater, dressed as Ophelia, Desdemona, Puck and Maggie…splayed out in front of me in B&W, like tiny portals into a distant, surreal and magical place that only she knew. The photos had that old musky smell to them, only furthering the mystery and fascination, as if she was transported here from some dark, secret and ancient place. Yes, I was a little scared, but she assured me that she was real, and not a sprite, in the form of my mother. I think she enjoyed my fear a little. She knew the fear was not really fear, but exhilaration, proved correct when she took me to my first drama class at 9, at my request, holding my hand and comforting me in that way only a mother can. Again, she fostered my fear into a creative force. That was her nature. To nurture with a little irony, a little pain, a little darkness. Without it, I would have never had the balls. With mum, it was death and rebirth by a thousand cuts, even at 9.
She was a rock n roll maverick. Working for impresario's Bill Graham and Chet Helms, as a girl friday and publicist, she contributed to the musical renaissance of the 1960's from it's epicenter in San Francisco. As the proverbial den mother of Winterland and The Family Dog, she nurtured the careers of The Grateful Dead, The Jefferson Airplane, Quicksilver Messenger Service, The Who, Led Zepplin and a multitude of others. It was not uncommon for my sis and I to wake up from naps, amidst the sounds of these bands rehearsing in our basement, eating out of the fridge or discussing politics, free love, drugs and the manifestos of the cultural revolution at the kitchen table. I often felt that english bands in particular would schedule extra days on tour in SF, just to get too my mums table for her company, and her magnificent home made roast beef, Trifle and Yorkshire pudding. She always treated everyone as family, and they loved her for it. They called her "Sunshine" because that is what she brought to the table. A huge smile, a warm heart and love beyond measure. She was their surrogate mother, friend, queen groupie and mentor. She took me too "be-ins" in Golden Gate Park, concerts at the Fillmore with Hendrix, Janis and The Doors, Civli Rights marches and demonstrations, Black Panther rallies, Hippie communes, Museums, Galleries, Zoos, Aquariums…always encouraging me to explore and experience the world around me with passion, curiosity and abandon. She was the coolest, and I was proud. The bragging rights at school were palpable. The influence undeniable. She introduced me to classic and modern art, all forms of music, science, philosophy, dance, literature, politics, history, architecture, design and aesthetic. When I wanted to become an actor, a poet, an artist, a dancer, a drummer, she gave me the support and tools to reach for the stars and never look back. She was one of the most educated woman I've ever known, and would indulge me in hours of conversations on everything from existentialism to vaudevillian comedy to the importance of flatulence in everyday life. No question was ever inappropriate or annoying, no topic taboo. When I hungered for knowledge, she gave it to me and led the way, often pointing to her massive collection of books and whispering, "Everything you seek, is in there". I'd often hide under my blankets, flashlight in hand, reading until I passed out from exhaustion and dreaming of Tolkien adventures, Shakespearean tragedies and the philosophical implications of Sartre. Again, she unlocked the doors to the sacred in life, and the infinite bounds of my boyish curiosity.
She was always eager to help a friend in need, offer advice and consolation, a bed or a meal. There was always a constant stream of visitors in our home, and mum always made it interesting, telling me stories about our guests, exotic places they had been, things they were doing, the movements of their lives, plans, tragedies and grand adventures. It always seemed so much larger than life, and utterly fascinating. As protective as my mother was of my innocence, she always treated me somewhat as an adult, allowing me to navigate the world around me, unfettered and unafraid. She had so many wonderful friends, who loved and admired her, and who, in some way, as surrogate parents to me, influenced my early and formative years. There was Karen, a famous fashion model who was strung out on heroin, and needed a safe place to call home and clean up (my first crush); Julie Driscoll, Eric Burdon and Jimmy Page, dropping acid and driving us up to the top of a mountain to watch the sunset, then into Muir Woods to dance amongst the mossy redwoods and the fog; Roger & Heather Daltrey, taking us to fancy dinners at The Fairmont Hotel and after show at the Oakland Coliseum; Steve and Pam Marriott (who broke my silly teenage heart, with her beautiful southern twang, charm, beauty and strawberry blonde hair), popping in to say "Hallo" and spend time with mum and the kids. Roz and Fared, my ex-patriot godparents, whom were the epitome of class, style and savior faire; There were my mother's boyfriends: Fernando, a lovely artist and aristocratic man from Portugal, who taught me the finer points of drinking wine from his parents vineyard. After departing, he would send us hand-drawn, storybook-length illustrations of ourselves traveling the world with him as postcards, although we were never there. They came like clockwork 2-3x a year, much to my mum's, sis and my delight; Martine, another aristocrat from Spain, dapper, poetic and brimming with life; Miguel, a handsome Chilean professional soccer player and fireman, who moved in to recuperate from a broken leg obtained by falling down a flight of stairs, while frantically carrying my sister and I to follow a passing firetruck on route to a blazing house fire, who was then thrown out when mum found out it was US he was carrying when he fell down the flight of stairs; There was John Paul & Mo Jones, Bobbi Cowen, Mick Fleetwood, Judy "Wongy" Wong, Miriam El Mosri, John Barbieri, Diane Koslo, Jim Haynie, Sylvia Calloway, Doris Feldman, Anna Pepper, Helen, Claudio & Deborah Silva, Carmie Amata, David Coffin, Ellen Saunders, Cheshire, Huey Newton, Tom Gray, Mike Hennessey, Tony Williams, Sonny Barger, Sam Shepard, Tom Wolfe, Rosie McGhee, Alvinia and Bubba Bridges…artists, writers, poets, musicians, actors, politicians, cops, world travelers, hookers, aristocrats, gangsters, socialites and radicals from Tehran to Paris to New York, who would come to eat at her table. She was a magnet for life, and a magnet of love.
She was briefly a race car driver in the 50's, one of the few woman at the time. She was an equestrian, and had a horse named Rusty, whom she rode until he died, happy and well ridden. She had bright red hair and freckles as a child, and was teased constantly for being "different." She was a single mother, who worked sometimes 2-3 jobs to keep a roof over our heads and food in our bellies. She was Bulgarian and Scottish, and forever fierce as a 6th generation descendant of Mary, Queen of Scots. She loved to dance, especially to The Bee Gees and Donna Summer. She loved England, especially Cornwall and Bath, and would often dream of living there amongst the horses and fairies, tending to her garden. She loved plants, trees, flowers and all living, growing things. She could create a garden oasis from a tiny pile of dirt. She loved Art Nouveau and cherished the works of Alphonse Mucha, Henri de Toulouse-Lautrec and Maxfield Parish. She also loved surrealism and would delight at the sight of a Picasso, Man Ray or Dali. She loved horses, and would take us riding whenever possible. She drove an old cream Mercedes, that smelled like glove leather and tobacco, and she would occasionally speed for fun. She adored dogs, and made sure we did too. She also adored the holidays, and would have the most spectacular holiday dinners which I will never forget. Her cooking and ability to entertain guests was sublime. She often liked to be alone, but would never show it. She was vulnerable, but would never show it. She was lonely sometimes, but would never show it.
She once dropped acid with Ken Kesey and Timothy Leary, but always warned me about the serious and implicit dangers of doing drugs. I didn't listen. She was the one who found me when, hopelessly addicted to drugs as a young man, I OD'd and flatlined. She was the one who saved me when I nearly drowned twice, when I attempted suicide, when I got my first, 2nd and 3rd divorces, when my nose was bloodied, my ribs broken, my spirit shattered…whenever I fell from grace, or fell into the black hole of an abyss, or suffered the million slings and arrows of life's outrageous fortune, she was there. She was always there. She was my guardian angel. She never judged me. She never abandoned me. She never let me go, always pulling me back to this beautiful mortal coil. She was a survivor, and her spirit, saved me from the darkest parts of myself. After the birth of my son Griffin, I truly understood what she was preparing me for. I fully realized the power of the precious gifts she had given me, the foremost being life and love.
So how would I define her life in one word? I'd say 'love.' Thank you Mum for creating me in love. Thank you for delivering me so that I could perpetuate and create life through love…Love for my precious children, love for my sweet wife Sarah, love for Beth, the mother of my son, love for my family and friends, love for my life, my soul and my existence…love for humanity. And, thank you for being, simply…my Mum. I will miss you beyond the beyond, and love you eternally, in this life and the next. You were a gift from God and will never fade.
Aaron A. Brooks is a drummer and composer who co-founded the bands The Little Death and The Mars Bonfire. He currently plays drums for Leisure Cruise.