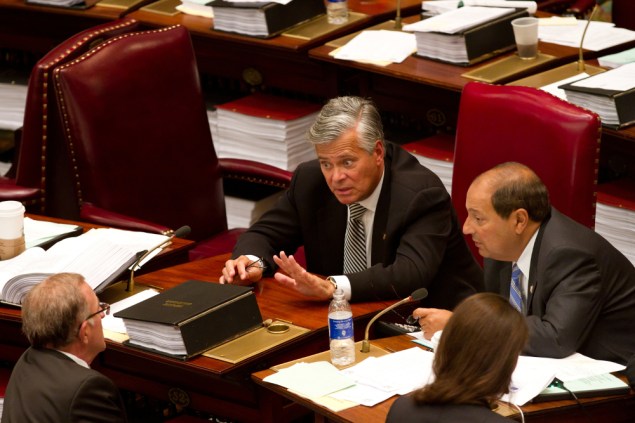 State Senate Majority Leader Dean Skelos would not say whether he would step down from his powerful position perch as he departed a Manhattan federal courthouse following his bail hearing on corruption charges.
Mr. Skelos, a Republican, spoke briefly to the press after Judge Henry Pitman ordered him and his son Adam Skelos to give up their firearms and travel documents and to restrict their travel to the continental United States pending grand jury proceedings on the six counts of extortion, bribery and conspiracy they face. The GOP power broker mostly reiterated the claim his office made this morning—that the charges brought by U.S. Attorney Preet Bharara are baseless—but would not speak of whether he intended to give up his role as one the "three men in a room" in Albany who steer state government.
"At the conclusion of this process, I know that I will be found not only not guilty, but innocent. I have absolute confidence and respect for our judicial system here in the United States of America, and utmost respect for our judges and our jurors. And that's why I will be found innocent," he said.
He then faced a flurry of questions from reporters as to whether he would follow indicted ex-Assembly Speaker Sheldon Silver—also facing corruption charges brought by Mr. Bharara—who stepped down from his influential perch in January despite proclaiming his innocence. Instead, Mr. Skelos, his son, their security and their attorneys pushed past the crowd of journalists, who repeatedly asked about whether he would resign his leadership role, in silence to an unmarked Nassau County Sheriff's vehicle parked nearby.
Mr. Skelos' attorney, Robert Gage, returned a few moments later to echo his client's remarks—and his silence on his political future.
"We look forward to trying this case in the courtroom. And we fully expect Senator Skelos, and his son, to be exonerated," he said, refusing to take further questions.