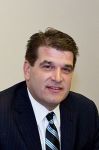 As if it couldn't get any more weird on the evening prior to voters going to the polls for nonpartisan elections in West New York, North Bergen and Perth Amboy.
Fort Lee Mayor Mark Sokolich is running for reelection this year and just kicked off his campaign at a big, symbolic event attended by numerous Democratic Party insiders, including Bergen County Democratic Party Chairman Lou Stellato and Jersey City Mayor Steven Fulop.
One source at the kickoff described the event as a "Bridgegate-fest," helmed, of course, by the mayor former Port Authority official David Wildstein said he and his cohorts were trying to punish for not backing Gov. Chris Christie in 2013.