SPARTA — Political contests are already primed for controversy in this part of the state, where fiercely held social beliefs on issues like abortion and gun rights routinely serve as flash points for debate at the local town hall. But throw in a botched solar energy program — so botched, in fact, that it compelled the freeholder boards of three counties involved to buy out contractors' litigation costs at taxpayers' expense last month — and you get something more interesting.
Something, that is, more akin to this year's Assembly and freeholder races in Sussex County.
In both races, it's the county's recent decision to approve a $8 million settlement to get a derailed 2011 solar program back on track that is creating tensions between officials and serving as the true battle line between candidates with just under a week to go before a June 2 primary election. The issue has driven a wedge between freeholder candidates, who have used it to distance themselves from one another in an otherwise subdued race. But it's also helped generate backlash against two establishment Assembly candidates, one a former freeholder who voted in favor of the initial 2011 program and the other a current freeholder who voted against the more recent settlement.
Outside of a few superficial disagreements on issues like education and gay marriage, it's the only real issue that seems to differentiate the candidates at this point in the race.
First passed back in 2011, the original tri-county project — which, along with Sussex, included Somerset and Morris Counties — sought to increase the use of solar energy at schools and municipal buildings through a sort of public-private bond financing whereby electricity produced would help pay of public debt. It was based on the "Morris Model", an earlier program in that county which had used a similar type of financing to fund solar energy projects there, and gained attention from environmental and clean energy advocates for its potential to serve as a national template for public-private solar programs elsewhere.
It also followed on Gov. Chris Christie's ambitious undertaking at the time to build and stabilize the state's solar energy industry, one likewise celebrated by renewable energy proponents. (Christie was, in fact, at the Morris project's first groundbreaking in 2010).
According to members of participating county freeholder boards, but specifically in Sussex, the initiative was seen as a boon: in the aftermath of the 2008 economic crisis, with the state's foreclosure and unemployment rates still high, counties would reap the benefits of the program by way of the much-needed cost savings the use of solar energy would produce over the following years. Additionally, private solar contractors — who would be paid through bond proceeds issued by the counties, as well as through federal tax credits and the sale of New Solar Renewable Energy Certificates — would own and operate and ultimately be responsible for the maintenance of the solar panels installed.
It was, as Sussex County Freeholder Richard Vohden, who voted for the initial program in 2011, told PolitickerNJ, a "win-win."
"We were looking for any place where we can make savings," Vohden said. "We voted on the solar issue, and not one person showed up."
Vohden, who is not running for reelection this year, is one of the officials at the center of the controversy. As he explained following an Assembly debate in Sparta earlier this week, he and Sussex County's other freeholders unanimously approved the project at a  June meeting back in 2011, and were met with little public opposition. The three counties ended up borrowing a collective $88 million to finance construction, which ensued over the following months and years.
Until, that is, things began to fall apart.
"The SRECs dropped. There were some delays. There was a weather problem. They started fighting with each other. They both ran up legal bills, and the project went bad," Vohden said. "They called in an arbitrator, they went to court, there were a couple judicial decisions. We were going to be in court for the next 10 or 15 years probably."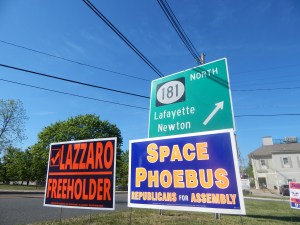 According to Vohden and others, project cost overruns, driven partly by the plummeting solar subsidy prices, resulted in massive litigation between the contractor, Power Partners MasTec, and the developer, SunLight General Capital LLC. According to reports, arbitrators awarded $66.3 million to the former, while the latter used some $700,000 in public funds to hire a bankruptcy lawyer. Meanwhile, construction in all three counties stopped, leaving more than half of the work unfinished in Morris and Sussex.
That prompted the settlements, which saw all three counties agreeing to pump an additional $21 million into the program to cover litigation costs between MasTec and SunLight.
But in Sussex — and to a similar extent in Morris, where another feisty freeholder races rages — the decision didn't come without controversy. Passed narrowly in Sussex by a 3-2 margin back in March, the settlement's approval was met with criticism from skeptics who called on officials to disclose details of the deal to the public before it was taken to a vote. They included lawmakers at the state level like state Senator Steve Oroho (R-24), but also Sussex County Freeholder Gail Phoebus, one of the establishment candidates vying to replace outgoing Assemblywoman Allison Littel McHose (R-24) on the ballot this year. They also included two local mayors running for freeholder this year: Fredon Mayor Carl Lazzaro and Sussex Borough Mayor Jonathan Rose, both of whom oppose it.
The issue is now serving as a wedge to separate the "true conservatives" from the others in both the Assembly and freeholder races, if their public sparring is any indication. Both incumbent Freeholder Dennis Mudrick, who voted for the settlement this year, and his unofficial runningmate, Frankford Mayor Gary Larson, have defended the move at recent debates as one that "invests in taxpayer money to save taxpayer money." Lazzaro and Rose, meanwhile, have hit back, casting themselves as protectors of taxpayers' interests.
Additionally, Phoebus, who initially led the charge to make public the settlement before its approval, is now similarly leading a charge to dismantle it. She and her running-mate, incumbent Assemblyman Parker Space (R-24), have initiated investigations into alleged "trust fund diversions" with the U.S. Securities and Exchange Commission, the U.S. Department of Justice, and the New Jersey Attorney General. They too have sought to use their opposition to distance themselves from their challengers, including Marie Bilik, executive director of the National School Boards Association, at recent debates, suggesting that residents were duped into the original project and are now being forced to dump more money into it, with little return.
"If the residents of Sussex County are aware of it, and they have been, then I think the more they understand that this is something that they really need to take seriously, because I don't know if this settlement is the correct thing for the county and the taxpayers," Phoebus said. "And I think that when you go to the polls, they need to take this seriously, because they need to make a choice. There are two candidates for it and two candidates not for it."
Bilik, for her part, has been adamant that the issue is a "county-level" one, and not relevant to the Assembly race — though she does, on her "on the issues" section of her campaign website, call the decision to launch an investigation into the settlement's details "reckless." She's also said were she a freeholder at the time, she would have voted no. Otherwise, though, she's largely stayed out of the debate, sparring only lightly with Space and Phoebus over the issue at recent debates — a concession that seems strange in the eyes of some political observers, because it's not for lack of available ammunition.
Space was a freeholder in 2011 and voted up the original energy initiative, in a decision that seems to stand at direct odds not only with his running-mate's stance, but also, more recently, his own.
Space has since defended his about-face on the issue by arguing that he was misled by experts when the proposal first was brought before the freeholder board, kind of like "if you have an electrician come to your house — you trust the professionals." But the position has made for some awkward moments at recent debates, such as one hosted on Tuesday night by this town's local Tea Party organization. There, almost with the same breath she used to contend Space has handled the issue well, Phoebus too called the county's original decision to approve the 2011 program without proper scrutiny "reckless."
It was a minor contradiction — and opportunity for critique — that was largely passed over by both Bilik and those in attendance.
But the hard-line stance against the settlement has cost Space and Phoebus support elsewhere, at least according to Phoebus. She claims that the two have been "ostracized" — despite still retaining the support of the reigning party establishment — from the rest of the party for their opposition to the settlement. While they did receive the endorsement of incumbent Freeholder George Graham, who is not up for reelection this year, an otherwise natural alliance between Phoebus' ticket and Mudrick's ticket has not materialized.
Others, however, have come to the pair's defense, including local resident and paid political consultant for Space's campaign, Kelly Anne Hart. In a recent letter to the editor on the website NJInsideScene.com, Hart alleged being the victim of "hate mail" and "acts of violence" against her friends and family by a "cabal of bankers, bureaucrats, vendors, lawyers, and consultants" for her opposition to the solar settlement.
"What I don't understand, and it's very bothering to me, is I don't understand why they're so angry about this," Phoebus told PolitickerNJ. "I've sat on Andover townships council and the freeholder board, and you can have differences of opinion, and you don't all necessarily vote the same, but the minute that George Graham and I decided we were not comfortable with this settlement and voted against it, we really have become ostracized. It's really so bizarre."
Vohden, who is supporting Bilik in the Assembly race, has chalked the whole thing up to "political theater," saying if it wasn't an election year, it wouldn't pose such an issue. Reflecting on his own decision to support the project back in 2011, he still contends it was a good idea at the time, and takes "total blame" for how it turned out. That includes the follow-up settlement, which he also voted for in order to save what remains of the initiative.
He later slammed Hart for trying to conceal her identity as a political operative — she helped run audio at Tuesday's debate, which Vohden said was heavily biased toward Space and Phoebus.
(On Thursday, Bilik's campaign sent Hart a cease and desist letter over her harassment allegations).
"We have to pay back the $24 million, we complete this project, we continue to collect federal funding, we continue to collect cheaper electric bills, and we move forward," he said. "It's going to cost $6 and a half million over thirteen years for Sussex County. That's a few thousand per home. That's not a lot of money — it's bad, but had we not settled, we still would have had to pay back the $24 million, and we get nothing."
Per the settlement, Mastech and SunLight will continue work on several of the unfinished locations, including Sussex County Technical School and Kittatinny Regional School District. But Phoebus said details of the deal are still murky — and she'll continue her fight to uncover them.
"It had nothing to do with solar. It's the deal. It's the actual deal. That's what you have to look at. Because we never completed the solar projects in Sussex County," she said. "I got elected by the taxpayers of Sussex County, and I intend to do that."
The Republican Party's primary in LD24 takes place on Tuesday.