We'll let other publications summon their best efforts at airlifting national terms like "light blue" and "light red" onto New Jersey's districts and play-calling the general election over and under dynamics of, say, LD33.
The reality is there are only two (semi) competitive primary districts and three competitive general election districts this year. The rest of the results are set in cement.
So we prefer to examine potential district changes in two years and how they might impact the fast-developing 2017 race for governor and the makeup of legislative leadership in the epoch after Gov. Chris Christie.
Senate President Steve Sweeney (D-3), Jersey City Mayor Steven Fulop, and former U.S. Ambassador to Germany Phil Murphy are all jockeying to succeed Christie.
There may be others.
Keep in mind that legislators – driven by their own ambitions, not those of a handful of rivals running for governor – will mostly want love not war and will do everything possible to avoid conflict. Such a predilection for peace means that those gubernatorial contenders not on the line will face a serious challenge when they try to summon allies for tickets and attempt to coax split tickets and war.
The 2017 wildcard is the potential impact of independent expenditure political action committees (PACs) on New Jersey politics, and whether the presence of a PAC sufficiently connected and aggressive can indeed disrupt the slumber of the establishment and reconfigure a district. That question makes what is happening right now in Morris County, for example, especially interesting.
Below find a district-by-district examination of the main political dynamics. Note that we've included the principals' most recent cash reserve filings, according to the state Election Law Enforcement Commission (ELEC); numbers that provide only a snapshot in time and that should not – particularly in an IE world – be read as conclusive about anyone's career two years removed from 2017…
LD1. D. U.S. Rep. Frank LoBiondo (R-2) has spent much of his career with state Senator Jeff Van Drew (D-1) ($35,000 cash on hand, according to April ELEC filings) circling above like a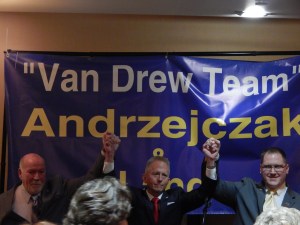 bird of prey. Will 2016 be the year Van Drew runs? If Van Drew protege Assemblyman Rob Andrzejczak loses his reelection bid in November, Van Drew will feel the pressure to stay put. He won't be allowed to leave, in fact, at least not until after the 2017 elections. Based on his performance record, Van Drew's a reelection lock. But if Andrzejczak wins and looks good in the win, Van Drew could be persuaded to go after LoBo in a presidential year. Our guess is he won't. He's too prized a commodity in the South Jersey political establishment. South Jersey can lose one or two and maintain its influence with wins elsewhere. Why give up a sure thing, in this Van Drew? Another hint was LD1 Democrats' decision this year to run as "The Van Drew Team." That could mean the senator wants traction heading into 2016, but what's more likely (again, given the stakes for South Jersey) is the senator's insistence on owning the district ahead of his own reelection bid in 2017.
LD2. D. Assemblyman Vince Mazzeo has to accomplish in 2 what Andrzejczak does in 1. He has to look like someone who can shoulder the district and carry it into the future. Democrats have spent the last year making Andrzejcazk and Mazzeo look like the Gilbert and Sullivan of legislation-writing, two parlor room geniuses as devoted to lawmaking as Lennon and McCartney were to generating hit songs. Whether that will soak in off the glossy mailers in a financially-besieged Atlantic City-dominant district is a curious general election question. In any event, sources have told PolitickerNJ that establishment Democrats had to persuade incumbent state Senator Jim Whelan (D-2) ($16,400 cash on hand, as of April, according to ELEC) to come off his stool for a reelection run in 2013. That kind of murmoring has made it difficult to picture the veteran Whelan running again in 2017. He may be one of two or three incumbent Democrats down south who do not pursue reelection. Based on what we've heard from sources now for some time, Whelan's less likely to go again than Van Drew. If either Van Drew or Whelan decides not to go, the other will look like a hero if he runs.
LD3. D. If state Senate President Steve Sweeney ($935,552 cash-on-hand, according to ELEC) runs for Governor it will presumably be time for Burzichelli to step up and shoulder the district. Maybe only as a placeholder, depending on Sweeney's interest in reelection. If Sweeney loses a primary for governor, he could always return district-wide in time for the general election. Our guess is that short of a repeat as senate prez, Sweeney won't want to return to the legislature and will eye other possibilities: a vacant U.S. Senate, for example, or the congressional seat currently belonging to U.S. Rep. Donald Norcross (D-1) if Norcross moves up to claim the statewide senate seat.
LD4. D. State Senator Fred Madden ($40,340 cash on hand). Similar buzz heard around Van Drew and Whelan dogs the veteran chairman of the Senate Labor Committee. They could all end up running again one last time with Senate President Sweeney atop the ticket and then swapping out post Election Day. But if Madden leaves, look for Assemblyman Paul Moriarty or Assemblywoman Gabriella Mosquera to make a move.
LD5. D. Expect to see Senator Nilsa Cruz-Perez (COH NA) sit there as long as she's needed.
LD6. D. If Senator Jim Beach ($33,191 cash-on-hand) doesn't want to run again, the Democratic-leaning district will be in safe hands with Greenwald. Of
Course, Greenwald wants to be governor, or at least speaker, not one of 40. But state senator may be the 2017 move that makes the most sense, and not a bad one either if he could step into the senate president's chair. Greenwald – and a promoted Burzichelli and/or Assemblyman Troy Singleton (D-7) must all be considered senate presidency material in the event that South Jersey maintains (even if somewhat reconfigured) a voting bloc that forces other regions to the negotiating table. If the governor comes from the north, for example, the south conceivably could have a play in forwarding U.S. Rep. Donald Norcross for U.S. Senate, or – and this makes more sense from a statewide power standpoint – maintaining the senate presidency. If sitting Senate President Steve Sweeney (D-3) gets the nomination for governor, he will do so by pulling Essex, Bergen and Hudson with statehouse prizes. That means Vincent Prieto and/or Gary Schaer for Speaker of the Assembly and state Senator Paul Sarlo and/or M. Teresa Ruiz or Nia Gill for Senate President. But if the south can't get the governorship, it will consolidate power for a repeat of domination in the legislature, and that starts with the senate presidency. That puts freshmen Burzichelli, Greenwald and Singleton (along with, presumably, the right of first refusal by Jeff Van Drew and Jim Whelan) in the mix as potential senate presidency successors to Sweeney.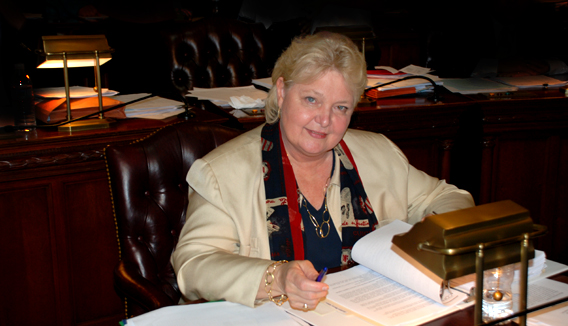 LD7. R. People expect Republican Senator Diane Allen (above) ($163,204 cash-on-hand) to retire. If she does, that sets up the ultimate gladiatorial spectacle in a Democratic Primary between Assemblymen Herb Conaway and Troy Singleton. A South Jersey Democratic victory here could either put a garnish on top of an existing voter bloc, or be the crucial win Norcross needs to maintain a display of power. If, for example, Democrats can't hold onto 1 or 2 or 4, a pick up in 7 would offset the loss and show a seamless power flexing northward. This is the one South Jersey district where a bloody primary is likely. Those anti-establishment gubernatorial contenders won't want to rile machine politics farther south by repeating on a Democratic Primary scale the mistake Tom Kean, Jr. made in 2013 when he riled Sweeney-land. But LD7 is different. Presumably Singleton – wired into the Building Trades – will get the establishment line. But the veteran Conaway has his own base and a very credible runway upward alongside a gubernatorial contender. If the rest of South Jersey largely slumbers during a Democratic Primary, look for this district to erupt. Keep an eye on Singleton in any event, as either a statewide possibility and conceivably South Jersey's most obvious choice if Sweeney decides not to run for governor, or as senate president or LG.
LD8. R. Barring a resurfacing of Carl Lewis, state Senator Dawn Addiego ($5,456 cash-on-hand) appears dug in for as long as she and the BurlCo GOP want her there.
LD9. R. State Senator Chris Connors ( $11,026) is likely to run again. It's difficult to envision changes here.
LD10. R. State Senator Jim Holzapfel ($57,414 COH) began his service in 2012. He looks to be on course for reelection in 2017.
LD11. R. State Senator Jennifer Beck ($44,631 COH)  appears entrenched and unbeatable. Monmouth Dems will take a run at her in what most assume will be a Democratic year, but it's hard to picture her losing.
LD12. R. If 80-year old state Senator Sam Thompson ($54,861 COH) retires, Assemblyman Robert Clifton appears best positioned to succeed him.
LD13. R. State Senator Joe Kyrillos ($154,331 COH) has been in the senate for over 20 years. He threw in early with Jeb Bush, a move that makes him a potential choice for the Bush administration if Bush wins the presidency. A Kyrillos departure would set up a claymation death match primary between veteran Assemblywoman Amy Handlin and Assemblyman Declan O'Scanlon. If Monmouth County's own Lieutenant Governor Kim Guadagno runs for governor in 2017, expect to see one of the two assembly people as her senate candidate and the other tempted (but likely to resist) a run off the line with Guadagno's primary challenger.
LD14. D. She got her bell run in that CD12 contest, but the ever active state Senator Linda Greenstein ($829 COH) appears poised to run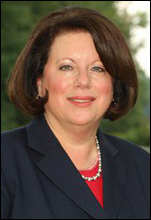 again. The amount of money South Jersey's historically poured into 14 coupled with a possible loss of another senator deeper south makes LD14 – like LD7 – a district whose control by Norcross could offset the perception of a retiring senator (or two). In a Democratic Primary for governor, Greenstein could, of course, find her ticket split, and if that happens, look for Assemblyman Wayne DeAngelo – a Central Jersey building trades trooper and the 14th's top vote-getter – to run with ironworker Senate President Steve Sweeney (D-3) or the other South Jersey-branded gubernatorial candidate against Greenstein, who would in such a scenario find herself teamed with Jersey City Mayor Steven Fulop or former Goldman Sachs executive Phil Murphy.
LD15. D. State Senator Shirley Turner. There's seldom any intrigue around the steady Turner, but as in the 14th, internal dynamics exist here that could throw the district into chaos. It is not outlandish, for example, to consider Mercer County Freeholder Chairman Sam Frisby ( a close ally of Trenton Mayor Eric Jackson) going for a senate seat on a ticket with Murphy and South Jersey (and Sweeney) attempting to further consolidate its power with protection money for Turner. One word about that. Whoever goes after the veteran senator better be heavily armed. She already has $624,352 in the bank.
LD16. R. State Senator Kip Bateman ($818 COH) will run again. He has higher aspirations – like governor. But like many Republicans alert to the political terrain, 2017 won't be Bateman's time. Convinced of a Democratic year, Dems will go hard at the senator. Maybe the challenger will be popular Democratic Party insider Zenon Christodoulou, who for years has flirted with a run for higher office. More curious is Assemblyman Jack Ciattarelli, who wants to take a crack at higher office, sources say sooner rather than later. If Assembly Minority Leader Jon Bramnick (R-21) (see below) doesn't run in 2017, look for Ciattarelli – who doesn't want to drag out a decades-long career in the lower house – to take a shot. A run for governor by Ciattarelli would open up the possibility for someone (Freeholder Chairman Mark Caliguire comes to mind) to run with Bateman and Assemblywoman Donna Simon.
LD17. D. Organized and well-connected State Senator Bob Smith appear($393,799 COH) s in control and unbeatable. Since the departure of Assemblyman Upendra Chivukula,
however, to the state BPU, the district has lacked an Indian American voice in the legislature. In the event of a statewide civil war, look for the possibility of an off-line challenger to Smith recruiting an Indian-American champion to run against the veteran senator in a Democratic Primary. Remember too the challenge Smith has politically in his home county of Middlesex, where a simmering divide between him and County Chairman Kevin McCabe threatens to tug at the loyalties of both parties as different gubernatorial candidates come knocking for support. It's conceivable that Smith could find himself allied with Jersey City Mayor Steven Fulop and running off the line against a county backing Goldman Sachs executive Phil Murphy, who has close ties to the McCabe wing of the Middlesex County Democratic Party.
LD18. D. State Senator Pete Barnes ($25,420 COH) apparently wants a judgeship and could be gone by 2017. The district has similar dynamics to LD17 and could turn into a primary fight if Fulop – who was born in Edison and has every intention of competing hard for Middlesex support – does not get the county line and backs a challenger to Barnes or Assemblyman Pat Diegnan in the event that Barnes does not again run. The smart money is on top dog Barnes running again in the name of primary strength projection and later disappearing into judge's robes.
LD19. D. State Senator Joe Vitale ($101,125) will run again. Consider that he's also discussed as a lieutenant governor choice depending on the candidate at the top of the ticket. Assemblyman Craig Coughlin will likely be back, pursuing the seat he currently occupies. The person here to watch is Assemblyman John Wisniewski, a veteran of the legislature for 20 years who clearly wants to run for governor. Will Wisniewski chuck everything at a gubernatorial run even if it appears difficult for him to get line support in his own county? Or will he play the game to the last minute to see if there is a leadership position (like Speaker) for him with the right break in action? Or will Wisniewski run against Vitale on a ticket with Fulop or some other candidate for governor likley not named Phil Murphy? Any primary in the 19th puts Latono-majority Perth Amboy into play in a big way. On paper, it's the most Democratic town in the district (7-1) and yet the district lacks Latino representation. If Wisniewski opts to run for the senate, look for him to run with two Latino candidates for the assembly as he attempts to take the smaller towns to war against Woodbridge. Look, too, for Votale to shore up his team with the addition of a Perth Amboy Latino.
LD20. D. If state Senator Ray Lesniak ($17,486 COH) goes out in a blaze of glory and indeed runs for governor as he insists he intends to do instead of running for reelection, look for the Elizabeth Board of Education to mount their best challenge since 2011 with either Rafael Fajardo or Carlos Cedeno at the top of the ticket. Look at the numbers of Assembly people Annette Quijano of Elizabeth and Jamel Holley of Roselle in next week's Democratic Primary. The higher vote-getter will be able to lay claim to succeeding Lesniak as the upper chamber candidate. If Lesniak runs for reelection to the state senate and backs, for example, Sweeney, Fulop or Murphy, the dynamic of a Democratic Primary will still lure the Elizabeth Board of Ed into battle and a partnership with whomever Lesniak does not support.
LD21. R. Senate Minority Leader Tom Kean, Jr. ($121,974 COH) and Assembly Minority Leader Jon Bramnick both continue to soft shoe runs for higher office. For some, statewide workaholic Bramnick has eclipsed Kean for the moment as a viable statewide brand and threatens Guadagano's hold on the party establishment as the 2017 nominee for governor. But GOP sources insist that Bramnick is too smart to run statewide in 2017, widely assumed to be a Democratic year, and will instead run for reelection. Sources say Kean likes the idea of succeeding U.S. Rep. Leonard Lance (R-7) in Congress.
LD22. D. State Senator Nick Scutari ($383,408) will run again with the support of Union County Chairman Jerry Green and on paper be in a strong position to beat an off-the-line challenger. Green and Scutari both have done a good job bringing in Linden Mayor Derek Armstead, who might have been a strong challenger to Scutari, and Rahway with the addition to the ticket of former Mayor Jim Kennedy. Depending on the potential for Union County to fall into a Civil War with the likes of state Senator Ray Lesniak/Green and Scutari on one side and Sheriff Joe Cryan on the other, don't rule out the potential for Fanwood Mayor Colleen Mahr to climb back in the ring come 2017 with a challenge to Scutari. She's right now the most likely challenger if the establishment sticks with Sweeney (as Green has telegraphed is his preference) or if Lesniak runs for governor to ensure victory in those areas he wants his allies to win (namely LD20 and LD22).
LD23. R. Watch out. If state Senator Mike Doherty ($242 COH) decides against a run for reelection and instead pursues a gubernatorial run, slate mates John DiMaio and Erik Peterson will square off in a Republican Primary for Doherty's seat. It's safe to say that with or without establishment support in Wild West Hunterdon and Warren Counties, the person aligned with Doherty will have an edge.
LD24. R. State Senator Steve Oroho ($37,539 COH) will run again.
LD25. R. State Senator Tony Bucco, Sr. ($109,319 COH) could retire in 2017, opening up the possibility for his son, Assemblyman Tony Bucco, Jr. to succeed him. Bucco probably wouldn't run without a challenge from Assemblyman Michael Patrick Carroll (R-25) and or Freeholder Doug Cabana (in a rematch of 2009). Bucco's not backing anyone publicly in next week's freeholder contest, but most of his allies (Freeholder Tom Mastrangelo among them) support the Krickus/Scappecchio/Smith ticket. if Krickus and company lose, a perception of weakness (fairly or not) could boomerang on the Buccos.
LD26. R. State Senator Joe Pennacchio's ($268,701 COH) the only legislator backing John Cesaro in next week's freeholder primary. The senator's presence in the GOP contest has caused some backroom hissing and whispers of a primary challenge come 2017. One must always keep an eye on Assemblyman Jay Webber (R-26), a GOP star and possible future contender for governor or congress.
LD27. D. Assemblyman John McKeon is much more active and visible than in years past, leading to speculation that state Senator Dick Codey (in the senate since 1982) won't pursue reelection. If Codey does run and someone goes after him, that person needs to be heavily armed. Codey has name ID, organizational chops and $683,689 stockpiled.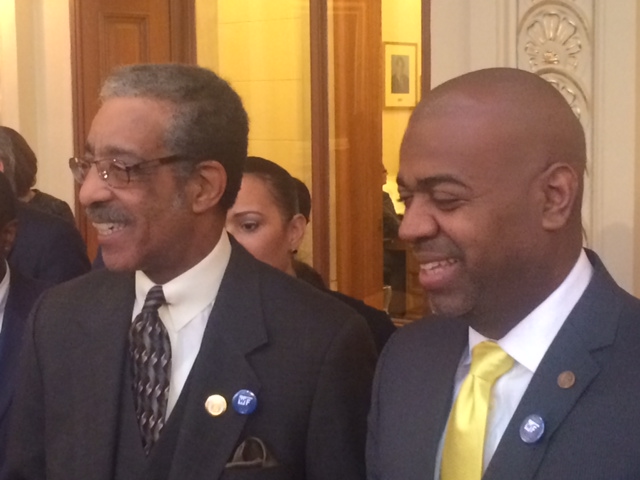 LD28. D. Interesting. At least in terms of visibility, veteran state Senator Ronald L. Rice shows no signs of slowing down. Sources say he's toying with a gubernatorial endorsement of Murphy, who's close to Rice's old pal Codey. But Rice is too close to Newark Mayor Ras Baraka and Baraka in turn is too close to Jersey City Mayor Steven Fulop to picture the 28th District senator (despite his chastisement of Fulop earlier this year) going anywhere but into the Fulop/Baraka column. The question is whether that will be on (in the event that Fulop gets the support of Essex County Democrats) or off the line (if Fulop fails to charm Essex County Chairman Leroy Jones). Keep in mind that in the event civil war erupts and Essex County fails to achieve what it did this year in striking a peace accord with Baraka, 2014 gubernatorial candidate Shavar Jeffries resides in LD28 and could be an establishment challenger to Rice. It's unlikely. Jeffries doesn't want to amass a record solely of going up against community icons. But if Essex becomes unglued, anything could happen. Moreover, Rice didn't file a statement in April, according to ELEC.
LD29. D. State Senator M. Teresa Ruiz ($6,798 COH) has a district tailor-made for her and appears ready to run again with establishment support. If Essex doesn't back Fulop and Newark Mayor Ras Baraka stays loyal to the Jersey City Mayor, look for an off-the-line challenge to Ruiz (and a coalescing by City Hall around Rice, see below). Sources say Tai Cooper is a potential challenger to Ruiz. Baraka, too, would want the installation of his own assembly people in the legislature, which he toyed with this yar until he and Essex County Chairman Jones reached a peace agreement.
LD30. R. Having once already muscled Sean Kean out of the way when the two senators found themselves mashed into the same district by a 2011 Democratic redistricting map, veteran Senator Bob Singer ($3,495) looks strong in the 30th. But don't underestimate Kean if 2017 turns into a Republican Civil War. Under the right circumstances, Kean could beat Singer. There's also the possibility, of course, that Singer – who's served in the state senate since 1993 – could retire, which would mean a return by Kean to the upper house.
LD31. D. Relations between Jersey City Mayor Steven Fulop and state Senator Sandy Cunningham (COH NA) have soured, with each
election cycle bringing yet another demonstration of mayoral muscling. Fulop dumped Jeff Dublin in place of his own freeholder. Then this year he swapped out the Cunningham-backed Charles Mainor for his own choice, ultimately Angela McKnight. It's tough to go after a community icon (just as it's tough to win off the line, although the late Glenn Cunningham did it) and with that in mind, it's likely negotiations will occur around a 2017 run by Fulop for governor. If the two parties can't reach an agreement, look for Cunningham to have the backing of South Jersey on a South Jersey-supported ticket against Fulop and company.
LD32. D. Following his 65% mayoral reelection win, Senator Nick Sacco ($108,688 COH) sparked multiple sources speculating about his future and the likelihood that the North Bergen icon won't run again for the state senate in 2017. Sacco's best known protege, Assembly Speaker Vincent Prieto (D-32), appears poised to succeed U.S. Rep. Albio Sires (D-8). But don't rule out, under the right circumstances, Prieto going for Sacco's senate seat. Other possible candidates include Assemblywoman Angelica Jimenez, Freeholder Anthony Vainieri, Commissioner Julio Marenco, Commissioner Hugo Cabrera, and Commissioner Allen Pascual. In the aftermath of Sacco, give the strong edge to an Hispanic to hold the seat in what is on paper the state's most Hispanic district.
LD33. D. State Senator Brian P. Stack (No ELEC filing available) will stay planted. Just keep an eye on Assemblyman Raj Mukherji, a possible successor to Fulop as mayor of Jersey City, who has deep fundraising connections statewide and an early reputation in Trenton as a competent player.
LD34. D. State Senator Nia Gill ($41,768 COH) appears poised to run again. The only person she really has to fear is her longtime running mate, Assemblywoman Sheila Oliver, who could always throw a wrench into a carefully negotiated arrangement by running (very credibly, as her base is East Orange, the biggest town in the district, in addition to her strong name ID and reputation) off the line for senate. That's unlikely to happen, however.
LD35. D. Passaic County Democratic Chairman John Currie is too deeply in touch with state Senator Nellie Pou ($85K COH), Assemblywoman Shavonda Sumter and Assemblyman Benie Wimberly to let the LD35 slate get shredded by gubernatorial politics. Pou – very close to Mayor Jose "Joey" Torres, who smashed the county citywide last year – is likely to run again.
LD36. D. State Senator Paul Sarlo's ($430,113 COH) best designs on the senate presidency likely hinge on Senate President Sweeney's ascent to Drumthwacket, a likelihood that day by day appears imperiled by the increased presence in the gubernatorial contest of Murphy. For his part, Schaer – who's close to Passaic County Democratic Chairman John Currie and Bergen County Democratic Chairman Lou Stellato – appears well positioned to make a run at the speakership of the General Assembly. At the very least, Schaer is on a short list.
LD37. D. If Senate Majority Leader Loretta Weinberg ($50,499) retires, look for the district to erupt in a civil war between Assemblywoman Valerie Vainieri and Assemblyman Gordon Johnson, with the two candidates dragging opposing gubernatorial contenders with them.
LD38. D. Look for State Senator Bob Gordon ($81,220 COH) to run for reelection with his running mates Tim Eustace and Joe Lagana. The general election in the assembly this year will feature an intra-party money-raising war between Bergen Democrats and the staunchest North Jersey allies of Chairman Lou Stellato and South Jersey. South Jersey's George Norcross will want to put his fingerprints on Democratic victors come November (just as he pumped considerable cash into Gordon's 2013 reelection effort) to display up-state influence.
LD39. R. It's possible state Senator Gerald Cardinale ($120,890 COH) won't run again. He has been in the senate since 1982 and looks to be winding down. His departure would open up the ascent to the upper chamber of highly regarded Assemblywoman Holly Schepisi.
LD40. R. Dinged somewhat by his closeness to Governor Christie and not as visible or active as he was even just two years ago, state Senator Kevin O'Toole ($295,645 COH) nonetheless has has own alliances and abilities. He's likely to return.