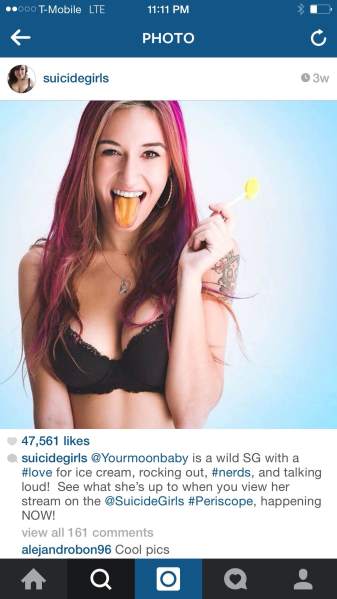 The fire that Richard Prince started last September has apparently been stoked anew, thanks to this month's Frieze art fair.
There the artist exhibited a new set of his appropriated Instagram photographs in the cavernous Gagosian Gallery booth. One of the pics was of a stylish doll maker who is becoming a fashion trendsetter, but most of the images in Mr. Prince's artworks were taken from a feed belonging to the Suicide Girls, a community of "alternative" female models. The showing has set off a new torrent of shock, confusion, and outrage in the mainstream media.
The 65-year-old artist's blown-up Instagram pictures—which supposedly cost close to $100,000 a piece—were panned by many including this critic, but high-powered collectors can't seem to get enough of this latest body of work.
Mr. Prince's sticky-fingered brand of appropriation is by no means new. Since the early '80s he has adopted images from Marlboro Man adverts, celebrity head shots, and even the first edition Catcher in the Rye, all in the name of art.
But he has also had to fend off multiple lawsuits over the years due to this unique artistic approach, the most recent being a 2008 claim brought by photographer Patrick Cairou alleging that Mr. Prince illegally used 35 images from his photography book Yes Rasta. Though he was forced to destroy the rest of his Cairou-based works, Mr. Prince won his appeal and no copyright infringement was found.
So when Suicide Girls founder Selena Mooney a.k.a. Missy Suicide caught wind of Prince's latest infraction, she opted for a different approach, instead choosing to reverse Mr. Prince's tactic but at an affordable price. The following was recently posted by Mooney on the Suicide Girls website:
Everyone has been asking me what I thought about famous controversial artist Richard Prince taking a series of SuicideGirls Instagram posts and printing them out and selling them at a recent gallery show at the Gagosian Gallery of Beverly Hills for $90,000 a piece.

My first thought was I don't know anyone who can spend $90,000 on anything other than a house. Maybe I know a few people who can spend it on a car. As to the copyright issue? If I had a nickel for every time someone used our images without our permission in a commercial endeavor I'd be able to spend $90,000 on art. I was once really annoyed by Forever 21 selling shirts with our slightly altered images on them, but an Artist?

Richard Prince is an artist and he found the images our girls and we publish on Instagram as representative of something worth commenting on, part of the zeitgeist, I guess? Thanks Richard!

Do we have Mr. Prince's permission to sell these prints? We have the same permission from him that he had from us. 

I'm just bummed that his art is out of reach for people like me and the people portrayed in the art he is selling.

So we at SuicideGirls are going to sell the exact same prints people payed $90,000 for $90 each.

I hope you love them. Beautiful Art, 99.9% off the original price. 

https://suicidegirls.com/shop/instagram-art-1/
https://suicidegirls.com/shop/instagram-art-2/
https://suicidegirls.com/shop/instagram-art-3/
https://suicidegirls.com/shop/instagram-art-4/
https://suicidegirls.com/shop/instagram-art-5/

We will be donating the profits from sales to EFF.org. Urban art publisher Eyes On Walls (EyesOnWalls.com) is supporting the project by fulfilling the large canvas reproductions at cost.

xoxo
Missy