The Bachelorette is so good, it's frustrating that we have to cap it off at a measly two hours per week. That's why each Tuesday, we'll be having a Bachelorette Morning-After Rose Ceremony to celebrate the people, places and moments that really made the previous night's episode shine.
A rose to that time Chris Harrison pretended the ol' double-Bachelorette crap-tavaganza was orchestrated for any other reason than raking in ratings.
"Hopefully it'll lead to a better chance for true love to blossom," Chris says, smiling philanthropically at the camera while quietly envisioning the roaring applause of the After the Final Rose audience.
A rose to the amount of B.S. Kaitlyn is prepared to take tonight, which is approximately zero ounces of B.S. (Just for the record, this Canadian is #TeamKaitlyn all the way.)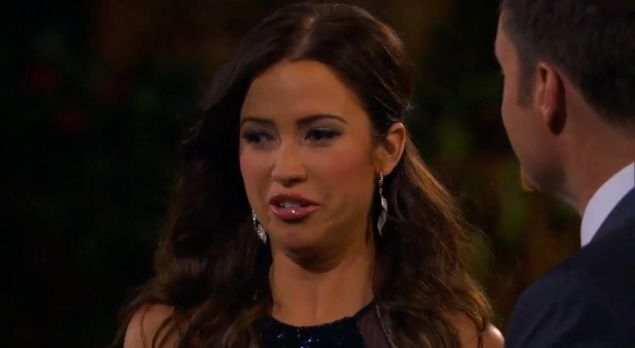 No roses to Jared, the contestant whose alter ego is "Kevin" in We Need to Talk About Kevin a weird fake superhero called "Love Man" that Jared is taking way, way too seriously. "He's going to rescue the Bachelorette from all the evil men in the world," Jared tells the camera, completely without humor. Jared wears a Love Man shirt to the first night cocktail party. Jared thinks Love Man is real. Jared is the 2015 equivalent of Casey, he of "guard and protect your heart" fame.
A rose to Ian, who is not just hot. as. fuck. (as I have previously expressed), but who also has a backstory so beautiful, I almost feel bad for objectifying him so much at the start of this sentence. Ian ran track in college, but then got in a car crash and was told he'd never run again. But then he defied all odds and taught himself to run again and now he's super hot and running on the beach and IAN THERE ARE ALSO BEACHES NEAR MY APARTMENT IN QUEENS THAT ARE ONLY SLIGHTLY MORE GARBAGE-FILLED THAN THE ONES IN CALIFORNIA.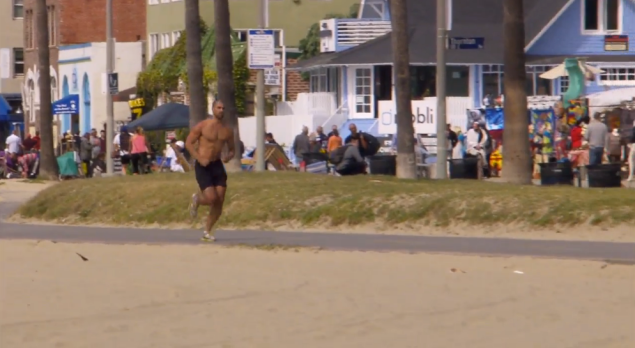 Roses to all the contestants' friends who smiled robotically with dead eyes and said, "Yes, it's a totally good and very sexy idea to arrive in a car full of water and then slap around the mansion for the rest of the night in wet socks." Or to greet the women after sucking in mouthfuls of helium.
Or to arrive like this: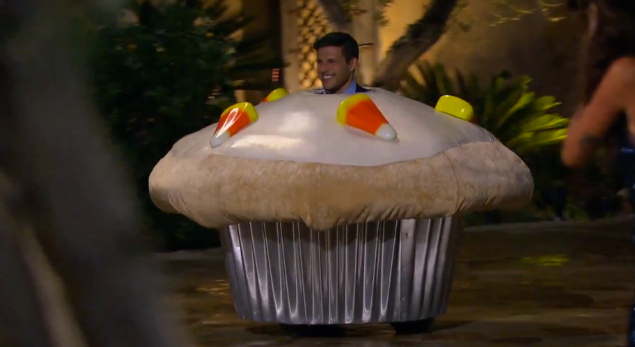 A rose to that time Ben H. used his limo ride to log onto Worldvision.org and sponsor, like, seven impoverished children in Britt's name.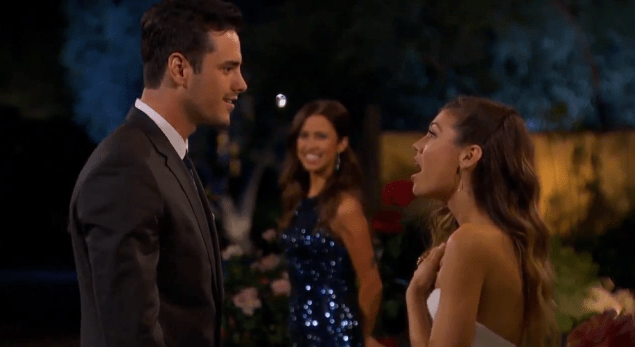 A rose to the greatest unsolved mystery of this episode, or perhaps of our time: Tony's black eye. Is it a yoga and/or pilates injury? Did he get punched? Did somebody finally slip on the perpetually-wet ground outside the mansion???
A rose to Kupah for proving why men on The Bachelorette definitely don't need more power (spoiler alert: it's because they are dumb): "Britt is more of your trophy wife, and Kaitlyn is more of your wife," he says sagely. "Your natural wife." Honestly Kupah, consider it a trophy if the Bachelorette remembers your name come Rose Ceremony time.
A rose to junkyard specialist Ryan, whose story is supremely tragic, and not just because his job title is "junkyard specialist."
Ryan starts by hollering "Honeys, I'm home!" (brb barfing) and ends by getting booted off the show by Chris Harrison himself. Along the way, he visits milestones like getting wasted, picking fights with the other dudes, asking if this is the "gay Bachelor" (omg I wish), yelling "I APOLOGIZE FOR NOTHING," entering the pool in a very miniature Speedo, whipping his ~voting rose~ at the wall, and grabbing Kaitlyn's butt without permission.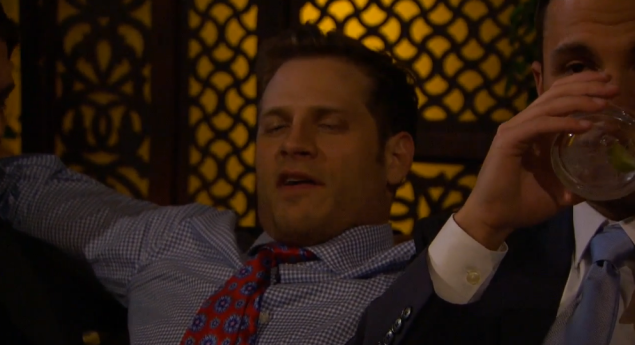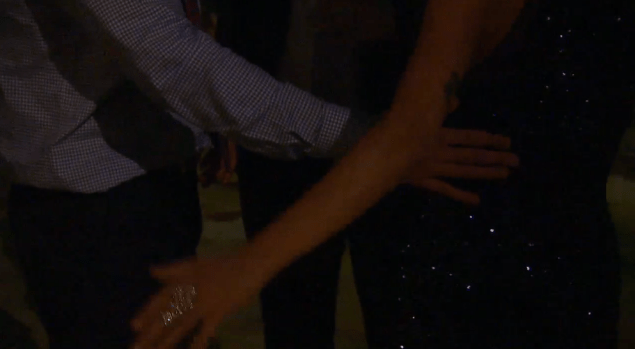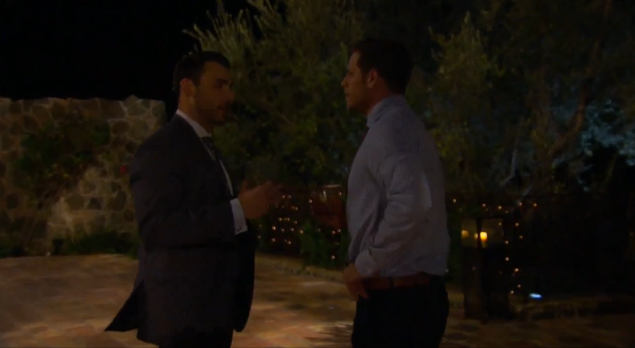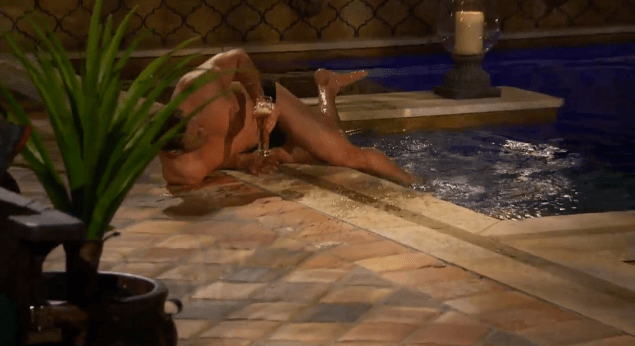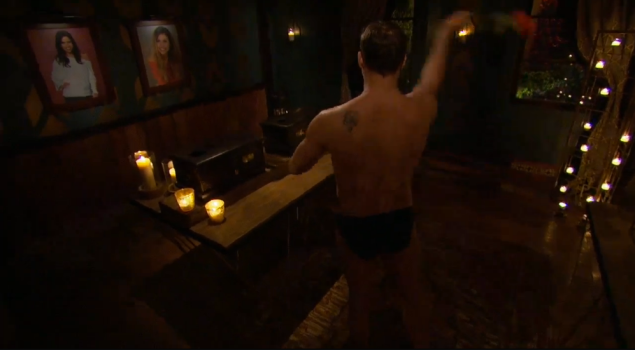 Needless to say, junkyard specialist Ryan grabs a ride home in the white van of shame. Next stop, Bachelor in Paradise.
A rose to Chris Harrison for putting Bachelorette #branding above all else. "It wasn't just what happened with Kaitlyn," Chris says after sending Ryan home. "Clearly this guy is not here for the right reasons."
Elsewhere, an ABC exec strokes a hairless cat and whispers, "Yes, Harrison, yesssssss."
A rose to the pivotal moment around 90 minutes into the episode, when Britt and Kaitlyn devolve into validation-starved lunatics in their attempt to win as many votes as possible, and all of a sudden Hair Gel Joe is looking pretty damn attractive: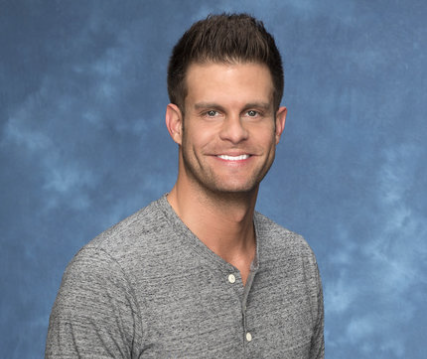 A rose to Shawn, whose nephew may be really shitty at drawing, but who's nevertheless a total front-runner on #TeamKaitlyn. "You smell delightful," Kaitlyn tells Shawn, and later, to the camera, "This is the closest I've felt to love at first sight." I can only infer that Shawn has not yet told Kaitlyn that One Direction is one of his favorite musical artists. Whatever, gurl. That means more Ian for me.
A rose to Chris Harrison's large, leather-capped henchman whose name I sincerely hope is Igor, and whose incredibly specific job description involves summoning rowdy contestants for stern talking-tos, and unlocking the holy rose boxes that contain Britt and Kaitlyn's fate. What is the career path for this job, and where did I go wrong?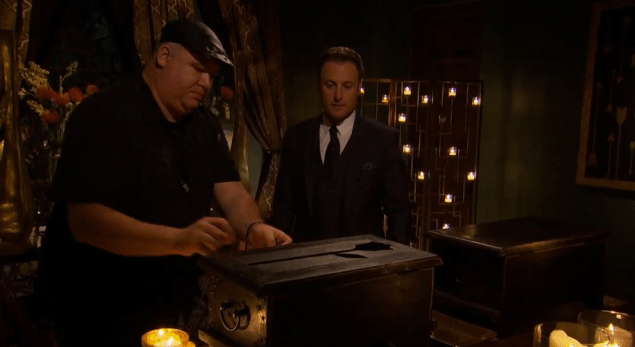 Goddammit, no roses to the "To Be Continued" screen at the end of this episode. As if I need a cliffhanger to convince me to watch another hour of this glorious, glorious show tomorrow night.