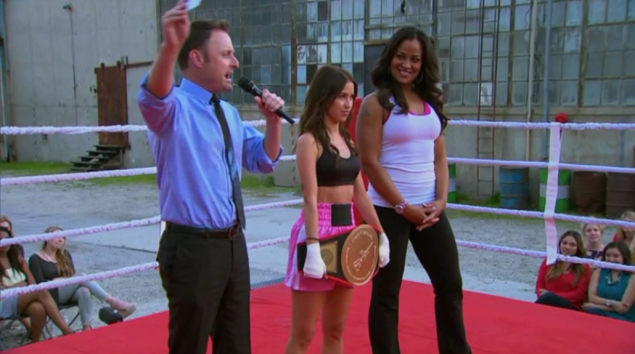 The Bachelorette is so good, it's frustrating that we have to cap it off at a measly two hours per week. That's why each Tuesday, we'll be having a Bachelorette Morning-After Rose Ceremony to celebrate the people, places and moments that really made the previous night's episode shine.
The most pity-filled pity rose to Britt, who—after failing to secure the Bachelorette crown—changes out of her gown and into her 748 plastic beaded bracelets, and cries via iPhone to her mom about Bachelor in Paradise now being her only chance to find love the shock of not being chosen.
Britt wants love so badly. Britt would probably jump into the amateur sex coach's dirty ass "car pool" right now, if given the chance. Of course she lets Brady into her hotel room.
A rose to Laila Ali, undefeated professional boxer and daughter of boxing legend Muhammad Ali, who on last night's first group date was forced to explain why "boxing is a lot like relationships."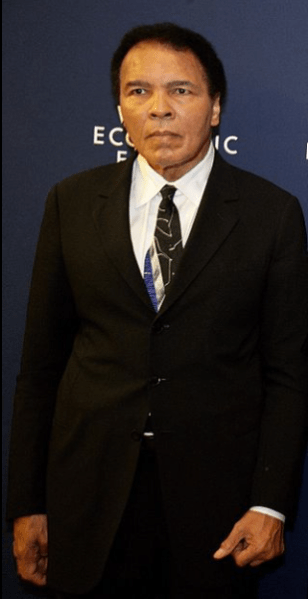 No roses to the Bachelorette producers who still evidently think boxing dates are a good idea, despite Ames Brown losing 96 percent of his cognitive function four seasons ago in his quest to win Ashley Hebert's heart.
In the final round of boxing, Ben Z. punches Scary Jared so hard in his small scary head, Jared is forced to hit up the hospital. "That was my biggest fear going into this," Kaitlyn says, "that someone would get hurt." Life hack: Do not plan a date where people punch each other's heads.
And yet, a rose to the aspect of this date that's truly the scariest: that Scary Jared, though pasty and largely muscly-less, proved adept enough at fighting to advance to the final round. As though he's been practicing. As though hand-to-hand combat were a skill he thought he might need to film a reality TV dating show. As though Scary Jared believes the superhero he invented is real.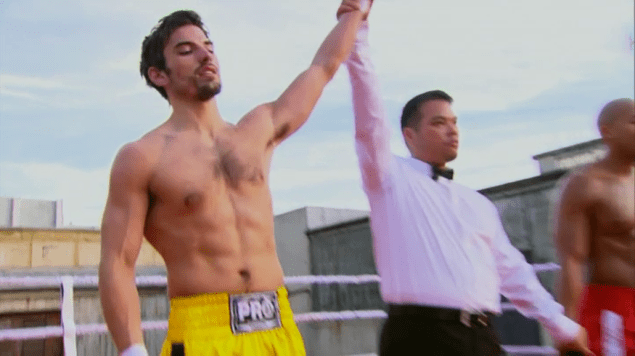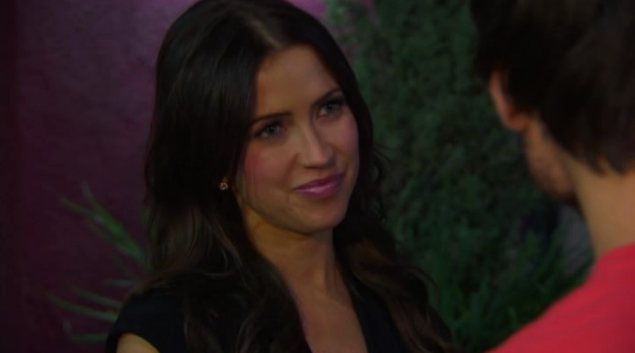 No roses to Kaitlyn, who did not send Justin home on the spot. It is a fact universally acknowledged that he who names his son "Aurelius" gives not a flying fuck about other people's happiness.
A rose to the most gut-wrenching sob story ever to sob its way into the annals of sob story-dom: the tragic tale of Ben Z.'s mom. Ben Z.'s mom broke her back… and in getting x-rays, found out she had cancer… and ultimately died… when Ben Z. was 14. Good god. And even more heartbreaking, Ben Z. still smiles and laughs and does kewl things like coming on The Bachelorette. Love u Ben Z. And so does Kaitlyn—she gives Ben Z. the group date rose.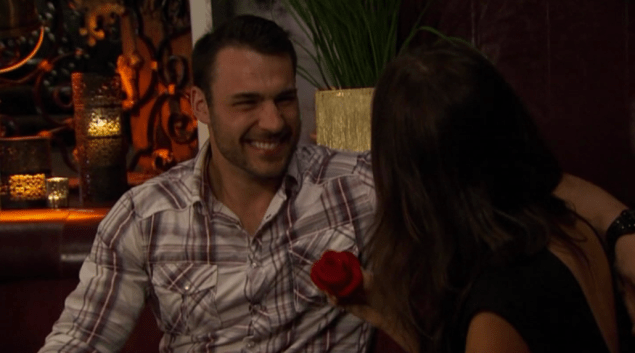 A rose to my back-up career plan should writing not pan out: "conceptual underwater photographer." I am exceedingly confident this will work out, as I excel at photographs, water, and also concepts.
A rose to this super astute observation I made last night re: Clint's physical appearance:
A rose to Clint and Kaitlyn's sexy pool make-out sesh, which—DEAR GOD, WHAT IS THAT BOIL/BUBONIC PLAGUE/INSECT'S EGG SAC ON CLINT'S NECK?! Has he been covering it up with make-up all this time, only to have it washed away in the conceptual underwater photoshoot? I can't look away. It's all I see.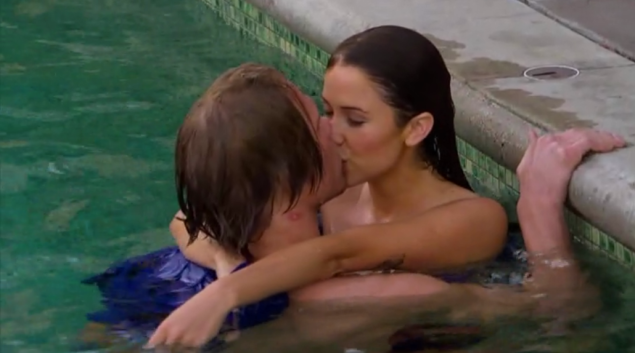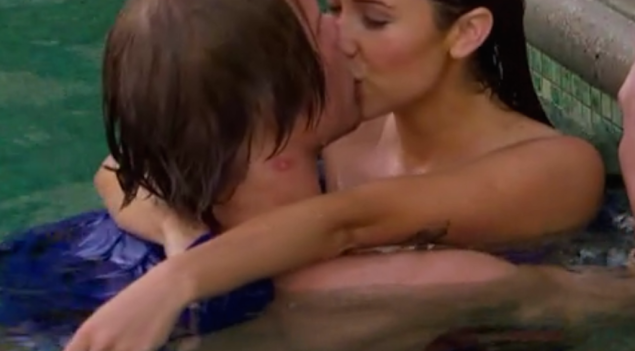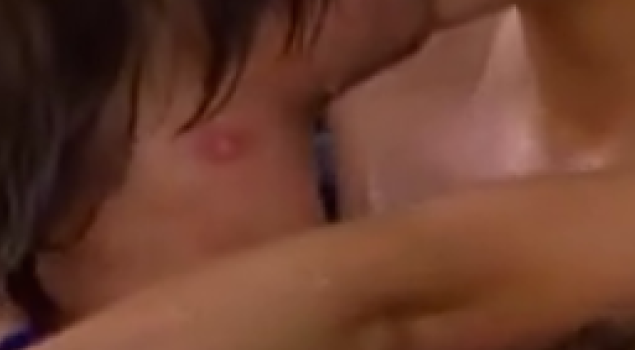 Later they go for dinner BOIL and kiss some more BOIL and Clint BOIL gets a BOIL rose.
A rose to J.J., this season's self-proclaimed new villain.
On the comedy-themed group date, J.J. acts like he's above the other participants—including Her Royal Highness Amy Schumer. "I think I'm too smart for 90 percent of the audience," says J.J., a person who signed up to find love on reality television.
A rose to Amy Schumer for condensing all of America's J.J.-fueled rage into a single glance at the camera.
A rose to Tony, who perhaps isn't so much a mystery as he is this season's Onion Girl equivalent—in other words, he exists outside the space-time continuum and might not know where he is right now. Or ever. On the stand-up date, Tony begins his set with a solemn speech about how "everything is a learning lesson." And at the cocktail party, he vows he will "open myself up fully to Kaitlyn but still pay attention to the signs the universe presents." Cool cool makes sense!
Just F.Y.I., Tony also makes facial expressions like this: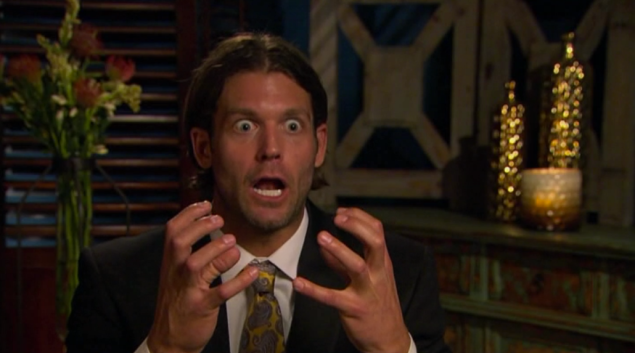 A thousand roses to Kaitlyn's totally bizarre reaction faces every time a dude shares his tragic backstory.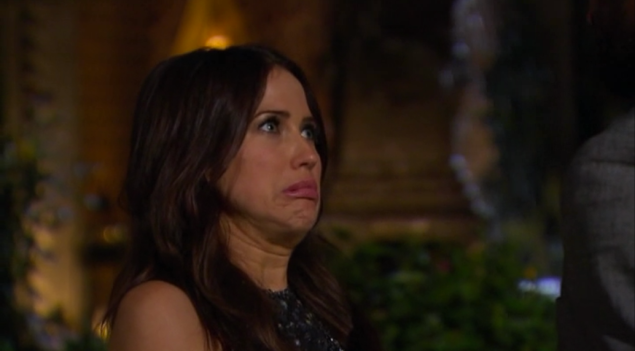 A rose to Kupah for the most spectacular crash-and-burn so far this season—yes, arguably even more spectacular than Ryan's drunken first night antics. It's hard to figure out where, in Kupah's dazzling spew of word vomit, the exact tipping point occurs. Is it when he accuses Kaitlyn of not talking to him on the group date, when he spent the entirety of the time in the corner of the room furiously hitting the punching bag, actually caring about boxing? Is it when he suggests Kaitlyn is only keeping him around because of his race? Or is it when he tells Kaitlyn, "You're a pretty girl. You're witty. Sarcastic. That's dope."? I'm not exactly sure, but here's how Kaitlyn's feeling:
A rose to Phase Two of Kupah's brief, yet great, decline: resisting being sent home.
"I don't want to go home," he tells Kaitlyn, "I think you're hot. I think you're sexy. I think you're pretty." "There's more to me than that," Kaitlyn says.
And then a thousand more roses to Kupah's follow-up attempt at proving he and Kailtyn have a great relationship: "You like movies and movie quotes. Yes or no?"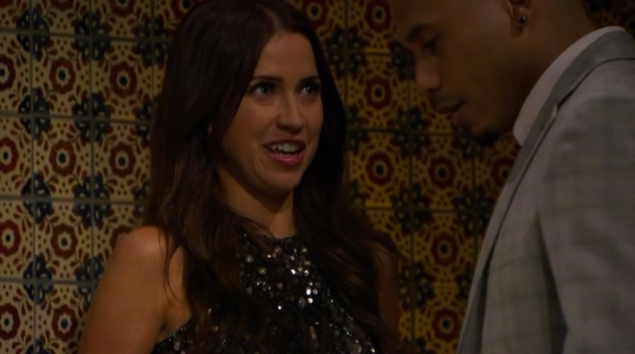 And finally, a rose to Phase Three of Kupah's all-out self destruction. Tbh I don't even know what's happening here.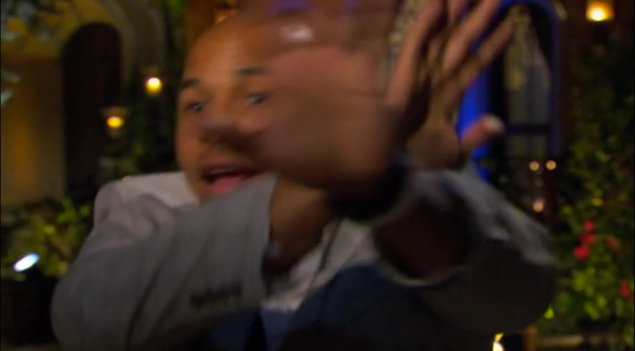 A rose to Shawn B.—the fitness trainer who was literally the NUMBER ONE FRONTRUNNER last week—who this episode received zero screen time and presumably spent the week playing Uno with Chris Harrison or something.
A rose to Britt, who wants you to know she is, like, totes okay with not being the Bachelorette, okay? It's, like, #NBD!!!
She and Desi from Girls Brady have spent every day together doing fun activities like ice cream and walking places while touching each other's arms, and now they're officially dating.
"The reason I wanted to do The Bachelorette was to meet someone, and I think we are beginning a very beautiful relationship," Britt says, twitching.