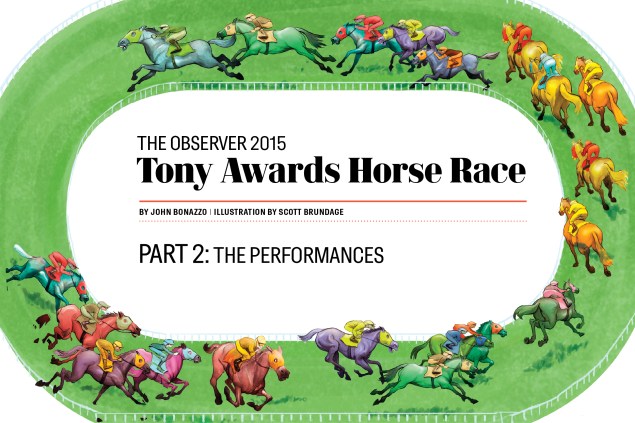 The 20 lead actors and actresses who were nominated in the Tony Awards "Best" categories all want to hear their names called at Radio City Music Hall on June 7. But only four will get that career-making thrill.
Here, a look at who's ahead, who can upset and who should just be happy to be there.
BEST ACTOR IN A MUSICAL
Michael Cerveris, Fun Home
As Bruce Bechdel, the closeted father of author Allison Bechdel, Mr. Cerveris gives a raw performance that hits all the right notes musically and emotionally. Already a Tony winner in the featured category for Assassins, he will likely add another trophy to the mantle. Voters who already are giving this show other awards (It is nominated in 12 categories0, however, may opt to spread the wealth and opt for…..
Robert Fairchild, An American in Paris
Mr. Fairchild received deafening praise for his sensual dancing, and this show is going on a national tour that would be aided by a win for its freshly minted star. He may stay in his seat clapping this time, but not the next.
Brian d'Arcy James, Something Rotten
Mr. d'Arcy James tears into the role of Nick Bottom, rival to Shakespeare, with comic relish. Front and center during several showstoppers, he will triumph if Tony voters are in a laughing mood, but this show is more likely to take the Featured Actor prize.
Ken Watanabe, The King and I
Rumors flew during previews that Mr. Watanabe was struggling with English and not a capable singer. By opening night, however, the Oscar nominee was earning comparisons to Yul Brynner.
Tony Yazbeck, On the Town
As Gabey, the leader of a trio of sailors taking New York by storm, Mr. Yazbeck charismatically kicked his way into audiences' hearts. But sadly, nobody is paying attention to his show anymore.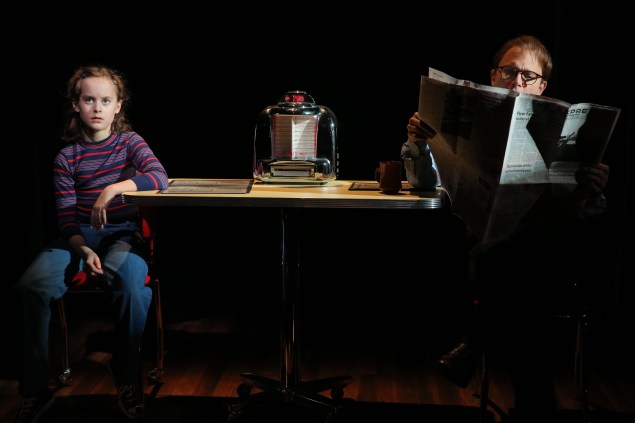 BEST ACTOR IN A PLAY
Alex Sharp, The Curious Incident of the Dog in the Night-Time
Mr. Sharp has been the favorite in this category all season for playing Christopher Boone, a 15-year-old math whiz with autism. His performance earned praise from critics and audiences, and Tony voters will embrace him as well.
Steven Boyer, Hand to God
If anyone has a chance of ruining Mr. Sharp's Tony party, it's Mr. Boyer, who has played the role of Jason/Tyrone since Hand to God's Off-Off-Broadway premiere in 2011. Given that the show got five nominations, voters may want to reward Mr. Boyer's dedication.
Bradley Cooper, The Elephant Man
Mr. Cooper's portrayal of John Merrick, which relied on subtle gestures instead of big theatrics, was hailed as a masterwork early in the season, but the show feels like it opened a century ago.
Bill Nighy, Skylight
As Tom Sergeant, an older man reuniting with his younger lover, Mr. Nighy passionately expresses his character's roiling emotions. Younger competitors, however, have generated more pre-Tony buzz.
Ben Miles, Wolf Hall Parts 1 and 2
Mr. Miles' quietly powerful performance as Thomas Cromwell deserved recognition, but the six-hour marathon won't be enough for him to grab the statue; expect Nathaniel Parker as Henry VIII, though. to take home the Featured prize for this play.
BEST ACTRESS IN A MUSICAL
Kelli O'Hara, The King and I
The sixth time will be the charm for this perpetual bridesmaid, Having played second fiddle to Patti LuPone and Audra McDonald, among others, Ms. O'Hara will finally "whistle a happy tune" to the podium.
Chita Rivera, The Visit
Ms. Rivera could steal the award for her long-awaited return to Broadway; her fierce, memorable performance as the vengeful Claire Zachanassian was universally praised. The Visit, however, was not, which lessens the 82-year-old's chances of a win.
Kristin Chenoweth, On the Twentieth Century
Playing high maintenance movie star Lilly Garland, Ms. Chenoweth flexes her musical comedy chops with ease. A win for her would be strategic, giving the show a boost that the other shows in this category either might not need or might not benefit from.
Beth Malone, Fun Home
Ms. Malone tenderly brings across the adult Alison Bechdel's inner conflict as she struggles with her sexuality. But this is one of the few categories in which Fun Home doesn't stand a chance.
Leanne Cope, An American in Paris
Like Mr. Fairchild, Ms. Cope is a classically trained dancer, but her performance has virtually no Tony buzz.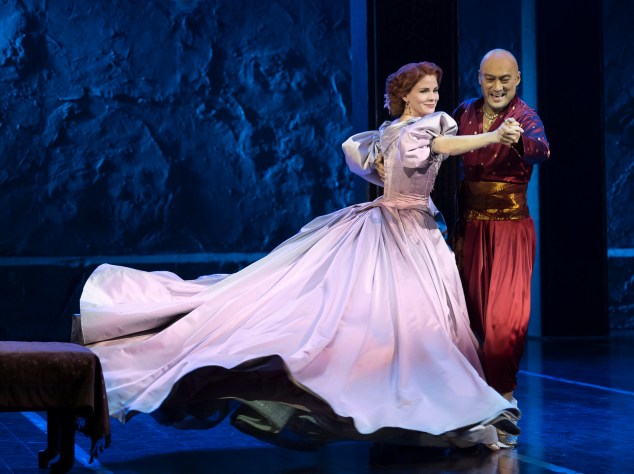 BEST ACTRESS IN A PLAY
Helen Mirren, The Audience
All hail the Queen. In one of the only locks of the night, Dame Helen will add a Tony to the Oscar and Olivier award she's already won for playing Queen Elizabeth II. The other nominees should just be glad to bask in her glow.
Carey Mulligan, Skylight
As Kyra, the young lover reunited with an old flame, Ms. Mulligan's complex performance would be a lock to win in any other season; it's just bad luck that Ms. Mirren stands in her way.
Ruth Wilson, Constellations
Before Ms. Mirren stormed Broadway, it looked like Ms. Wilson might win the Tony for her brilliant Broadway debut. She represents her play's only nomination, however, which shows it didn't have widespread support to begin with.
Elisabeth Moss, The Heidi Chronicles
Producers tried to capitalize on Ms. Moss' popularity from Mad Men by casting her in this history play about 1960s women's liberation and feminism. But the dated production, rather than her performance, flopped.
Geneva Carr, Hand to God
Playing a mother who finally gets to release her repressed sexual urges, Ms. Carr is an absolute dynamo. Her show, however, is irreverent even by Book of Mormon standards, so voters will likely be hesitant to give her the prize.