It was two days of festivities at The British Embassy in Washington, D.C., all thanks to Bentley Motors. The luxe purveyor of automobiles assembled a unique set of 30 guests for the first evening of celebration to usher in a partnership with London's famed mecca of suiting, Savile Row. Four tailoring power houses- Henry Poole, Huntsman, Gieves & Hawkes, and Dege & Skinner -produced a host of well-cut jackets inspired by the Bentley GT Speed. Luckily, guests could compare the jackets on display to the car itself parked on the back lawn of the embassy. The rest of the lavish home acted as a gallery space showcasing the historic designs of each of the four suiting houses in a show aptly titled Savile Row And America: A Sartorial Special Relationship.
Nick Foulkes, curator of the show, led the charge, and gave an in depth look at each garment. "It's about the stimulation of desire, and the chance to dream for many people," Mr. Foulkes said standing next to Gregory Peck's Huntsman jacket. "Savile Row means something. Most people will never get a chance to visit Savile Row, but when they see a garment from there, they will know that its a sacred object."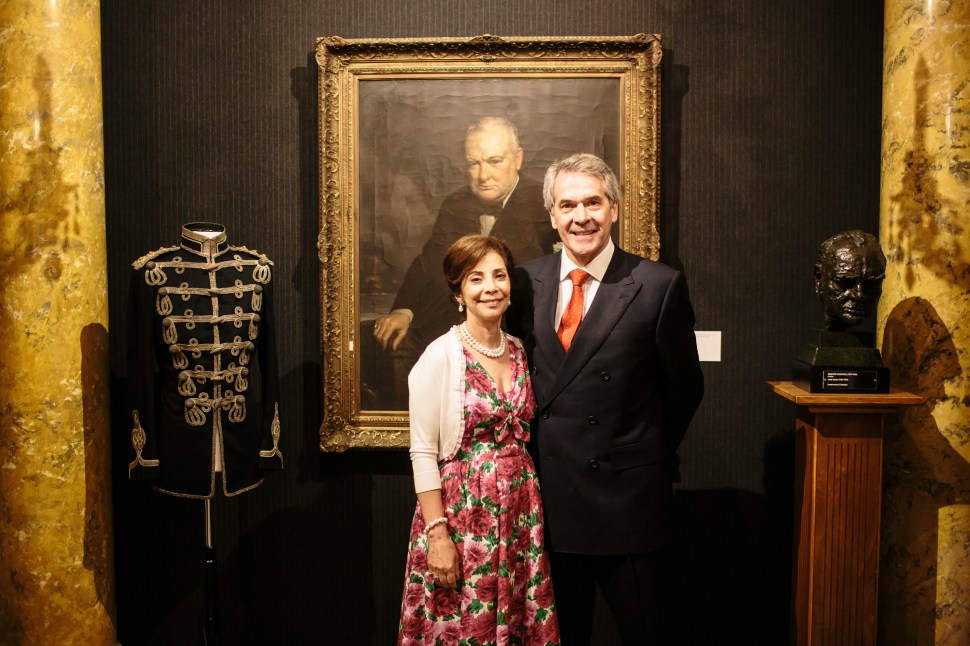 The tour was followed by dinner, helmed by the embassy's full-time residents, Ambassador Sir Peter Westmacott with his wife, Lady Westmacott. The couple also welcomed a contingent of menswear regulars like A Continuos Lean's Michael Williams and Sartorialist Scott Schuman. "I have to take a second lap," Schuman confessed during dinner. I later came across him admiring each suit up close. The evening came to a close with a toast on the terrace, replete with rare Macallan whisky.
The next evening was far less intimate. A lucky 400 guests flocked to the embassy's gates. DC's finest recounted their first bespoke experiences, and their continued support of their expensive habit for well tailored garments. One anonymous elected official even admitted his Savile Row suits are the sort of garments you can get drunk in, fall asleep in a gutter wearing, and still go to work the next day looking great. "It's just one street in central London," Mr. Foulkes admitted at the evening a close, smoking a cigar and sporting one of the Bentley x Savile Row jackets he commandeered from a nearby mannequin. "It may be a small place, but it makes amazing miracles happen."