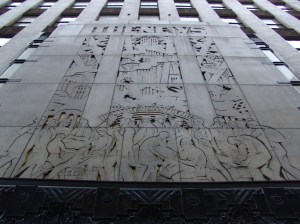 The Daily News made the most of its gossip page today by taking shots at a New York Times story about the sale of The Daily News. Times media reporter (and possible new media columnist) Jonathan Mahler wrote a column analyzing the prospects for a sale of the tabloid, which Daily News owner Mort Zuckerman first announced he was considering back in February.
"The New York Times gives its readers all the news that they selectively believe is fit to print," the item begins, before going on to explain that the sale of the tabloid is "understandably the hottest topic in all of media right now."
According to the Times story, the three most likely bidders are John Catsimatidis, the talkative owner the Gristedes supermarket chain and a former longshot mayoral candidate; Jimmy Finkelstein, who owns The Hill; and a Hollywood hairstylist turned Hollywood mogul named Jon Peters. Mr. Finkelstein is, according to Mr. Mahler's analysis, the most likely of the three, although the sale process is a secret which makes "it tough to handicap."
The Daily News, in its rebuttal, uses the secretive nature to challenge Mr. Mahler's assertions. "That certainly came as news to our 'sources,' who are quite a bit closer to the proceedings," the News wrote of Mr. Peters' inclusion on the list.
The Daily News also took issue with the contention that a decline in print circulation is making the tabloid a difficult sale. "The Gray Lady must be getting forgetful in her elder years. The Times failed to mention that its own newsstand sales have dropped considerably during this period," the News punchily reported before mentioning the Times' print woes.
Well, one thing's for sure. No publication can refute an article about itself quite as amusingly as a tabloid.