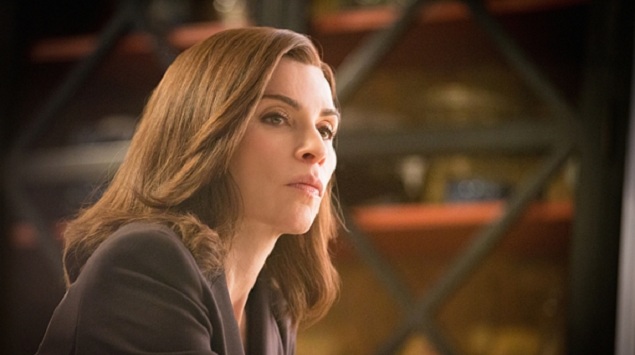 You know that moment when you come home from college and realize your mom has turned your bedroom into the exercise/knitting/tchotchke storage room? That's what Zach Florrick is about to face when he gets home. Alicia has decided what she wants to do. She wants to write a memoir and then start her own firm, one where she can take only the cases she believes in.
Oh. And also so she can hire Finn and not make out with him.
This penultimate episode of Season 6 was one of the most procedural episodes the show has turned out in ages, although seeing Ruben from Southland is never a bad thing. We even got to see ASA Matan Brody, who was a fixture in Season 1 and then all but disappeared. It's good to know that he's still super bitter about the Florricks, though.
While thanking donors over the phone, Alicia stumbles across a former client whose attempted murder case got upgraded after the victim died. The client wants Alicia to represent him again, but she's not sure she can do it. She tells Finn she's having a crisis of confidence and she "can't take another failure," to which Finn ever-so-helpfully replies, "don't fail." She's still on the fence as she watches the client's new lawyer flailing in court. It's not until Matan throws an oak tree's worth of shade at her and Peter that she finally decides to take the case. And as she combs through the records of the 2009 trial, she listens to tapes of her investigation, which become a device for us to flash back to simpler days. In other words, they took all the product out of Cary's hair so that he would look six years younger. The case is won by essentially ruining the reputation of a detective, something this show loves to do.
The case had its customary twists and turns, and an eleventh-hour contempt threat from a judge who never really liked Alicia to begin with, but for my money, this episode spent far too much time on its case of the week. Especially since the entire case centered on an alibi. Honestly, I was most invested when Alicia was in that awful baseball cap at the hardware store. After the debacle of her State's Attorney campaign (which stretched over the better part of seven months of our lives), The Good Wife could afford to spend some time figuring out who post-election Alicia is. The Alicia who would work so fervently on this old case leaves me with a lot of questions. Is Mrs. Florrick returning to her idealistic legal-eagle roots, or is she just trying to stay busy to avoid the emptiness of her life? She was quite uncomfortable trying out domestic life — sanding a door, looking in her fridge, staring at the clock, wearing the Worst Baseball Cap of All Time — so I'm just not sure whether she really means to start a hippie dippie do-gooder law firm. Alicia just strikes me now as a woman who has a hard time filling the hours.
Anyway, the flashbacks worked well for those of us who have been with the show since the beginning. We got to see the old team of Alicia and Cary on the case, competing with each other for that prized associate slot. We got to hear Alicia call Diane "Ms. Lockhart." Best of all, we got to see the days when Alicia and Kalinda were pals, chatting away the hours in bars while they waxed poetic about law and life. (Sidenote: did anyone notice how craftily shot that last Alicia-Kalinda scene was?)
This episode had some beautiful grace notes — literally, Grace helps Alicia convert Zach's bedroom into an office, right before he calls to say he wants to come home — but it felt very much like an episode 11 or 12, not an episode 21. In 2015, we count on penultimate episodes to deliver serious blows (e.g. Red Wedding), so the quieter tone this week felt strange by comparison. I couldn't tell you what to expect from the finale after watching last night's episode, and I don't know whether or not that's an issue. All I know is that if I don't see something really go down between Finn and Alicia, I'm gonna be upset.
P.S. Apparently, not only will Archie Panjabi be back for the finale, but we can also expect to see some Wallace Shawn. I ain't mad.
P.P.S. Can we talk about that moment when Cary thought he saw Kalinda, but it was just some other vaguely ethnic woman in a leather jacket? Heartbreaking.
P.P.S. My favorite exchange of the episode:
Alicia: I'm thinking of starting my own firm….it would be to help people I wanted to help.
Grace: Can you make money doing that?