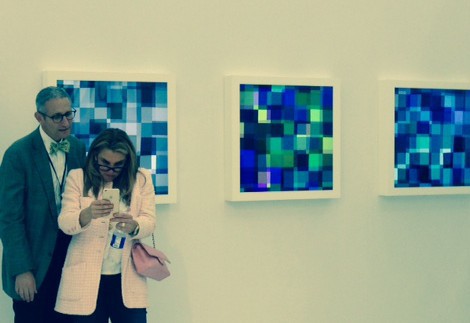 Spring finally arrived in New York City, the Frieze Art Fair with it.
The high-end, two-hundred dealer event that takes over Randall's Island and pitches a city of a tent opened this morning to VIP's, Leonardo DiCaprio among them.
The aisles are filled with sculpture, a surprising slew of it dangling from the ceiling, and there are almost giddy installations with a playpen feel — draw a circle here, go through a maze there, pick up a free button. It's Art, for good or ill, with winsome exclamation points.
But the money is real, and it tells you something that Acquavella gallery with its seven and eight-figure Picassos and the like is as busy as Gagosian, who showed art inspired by Instagram.
While there are certainly darker notes and deeper thoughts throughout the giant event, there's a lot of 'smiling and shiny,' art including a naked man painted silver to the tip of his penis.
The spiritual godfather of this art season, with its $179.4 million price for a crazily colored Picasso harem scene earlier this week, is Henri Matisse and the recent Museum of Art blockbuster exhibition of his vivid cut-outs.
Here, a few hours on to the mall-meets-museum extravaganza, is what it looks like.