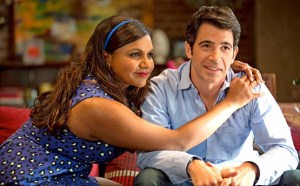 A week ago, we asked where you were when you heard The Mindy Project had been cancelled by FOX. Oh, how fast the times change. Now, the question is: where were you when you heard The Mindy Project has been brought back from the dead by the streaming graces of Hulu, where numerous reruns of Mindy are already in place?
"I am thrilled The Mindy Project has found a new home on Hulu, where so many of our fans are already watching the show. It's such an exciting place to be," Mindy Kaling, who both stars and executive-produces, said in a statement.
What do we know so far? Not too much. Hulu has ordered 26 new episodes—a whole chunk of Mindy Projec—which will still count as a fourth season of the show. Beyond that, there's no talk about a release date quite yet, and no word on whether or not the show will be released weekly or as a Mindy bomb all at once. But really, does it matter? The show lives on!
The Mindy Project is the first victim of the this years cancel-pocalypse to find life elsewhere, but probably not the last in this TV landscape where cancelled is a temporary term if a show proves to have a strong enough following.