Last year, the Observer did its first-ever Brooklyn Influencers list, a map of the borough's human power grid across the realms of culture, politics, the arts, education and more. The roster included dozens of people: real estate potentates and fringe artists, political leaders side by side with jewelry makers. This time, when it came to pulling together a Brooklyn-themed issue, we decided to take the short view: not reprising our entire list—because how much would it really change?—so much as highlighting individuals who are making waves this year in a variety of fields. Here, you'll meet a lifelong activist at the center of the Black Lives Matter movement, a fashion designer who's setting out to revive local manufacturing and a Williamsburg developer who is always one step ahead of the market. There's an art-world agenda setter, a congressman who's poised for bigger things and a Crown Heights entrepreneur who's putting a new business on practically every block.This is not by any means a list of the most powerful people in Brooklyn—but it's the makings of one hell of a dinner party.
Elizabeth Sackler: Steering Brooklyn Museum
Last June, Elizabeth Sackler became the first chairwoman of the board of trustees of the Brooklyn Museum, an institution plagued by the same phenomenon that dogs the borough's hospitals: playing second fiddle to competitors across the East River. Ms. Sackler, a 15-year board member who will play a major role in choosing a successor to director Arnold Lehman, has vowed to turn things around. "Brooklyn has been sort of the stepchild to Manhattan museums for maybe 75 years and it's just not going to be the case anymore," Ms. Sackler told The New York Times in the wake of her appointment. Ms. Sackler, who notably calls herself a "matron" rather than a patron of the arts, endowed an eponymous center for feminist art, the first of its kind in the United States. Mr. Lehman steps down next month, and the art world is watching.
Phong Bui: Art World Connector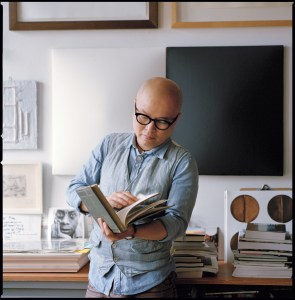 Phong Bui, the co-founder, editor in chief and publisher of the Brooklyn Rail, is a ringmaster of sorts in the Kings County art world. From his paper-y perch, Mr. Bui curates not only one of the city's most influential art world journals—which might be described as a kind of cross between Artforum and n+1—but also some of its most talked-about shows. Mr. Bui, a former curatorial advisor for MoMA PS1, started Rail Curatorial Projects two years ago, which "seeks to establish dialogues between artists, curators, dealers, critics, collectors and art historians," as its website puts it. His curatorial endeavors have been lauded by The New York Times as well as New York magazine.
Mark Winston Griffith: Making #blacklivesmatter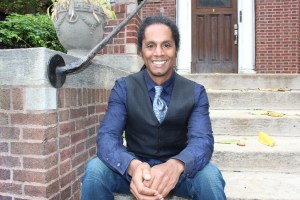 Many people thought Mark Winston Griffith was destined for elected office. In 2009, while on leave from his post as executive director of the Drum Major Institute for Public Policy, a nonpartisan research group, he nearly dethroned one of the legendary political figures in central Brooklyn, Al Vann, in a City Council race that pitted two generations of African-American activists and politicians against each other. Mr. Griffith never ran for office again; in a recent 2014 op-ed piece, he said the organization he now leads "may prove to deliver more social change than I could as a councilman." Along with NY1 host Errol Louis, he founded a neighborhood credit union in the 1990s and found life after losing a race. (Mr. Louis ran for office as well.) As the executive director of the Brooklyn Movement Center, the cerebral Mr. Griffith is at the forefront of the Black Lives Matter movement in New York City—and unafraid to hold fellow liberals' feet to the fire over reform of the NYPD and gentrification.
Toby Moskovits: Williamsburg Visionary
There's no denying that Toby Moskovits has chutzpah. After launching her career in technology venture capital, the 37-year-old founded Heritage Equity Partners as a wealth management firm in 2008, and in the process of looking for investments became so convinced that Williamsburg's distressed real estate was poised to boom she became a developer herself. She was right, of course, and her new projects bear the mark of someone determined to stay ahead of the curve. There is, for example, the fact that Equity shifted its focus to commercial projects when residential prices soared—like, for example, the 150-room Williamsburg Hotel currently under construction on North 10th Street; 215 North Moore, which she will turn into creative and tech office space; and the 400,000-square-foot office complex Ms. Moskovits intends to build on Kent and North 12th Street, should rezoning ensue. She also understands her demographic, even if the Tel Aviv-educated single mother lives in Queens herself. Asked in a recent Crain's New York Business interview why she didn't simply knock down St. Vincent de Paul Church and build new, Ms. Moskovits responded that she'd found that "in buildings that are renovations and are styled as that authentic Williamsburg loft building … we're generally getting a 10 to 15 percent premium."
Michael de Zayas: A Business on Every Block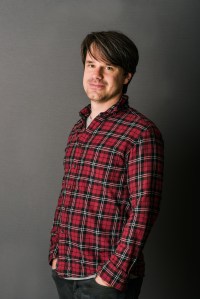 Chances are, if you've been to a tiny shop with a too-cute name in Crown Heights, Michael de Zayas is behind it. After selling Neighborhoodies, a company he founded that sold hoodies and T-shirts customized with New York neighborhoods (or anything else you wanted) in 2010, Mr. de Zayas opened Little Zelda, a miniscule coffee shop on Franklin Avenue with wife Kate Blumm (then a publicist at Brooklyn Botanic Garden, now a communications advisor for Mayor de Blasio), followed by Wedge, a wee cheese shop next door that has since been shuttered, though there's a new de Zayas venture in the space: Nagel's Bagels. After Wedge came the postage-stamped sized Hullabaloo Books and now he seems intent on expanding his empire to Nostrand Avenue, where his two new businesses are slightly larger and less cloyingly named: Two Saints, a coffee shop/bar, and Deck, a hair salon, which he co-owns with the stylist. "We want you to feel at home, like you own the place," Mr. de Zayas crooned to a Brooklyn Magazine reporter touring Two Saints in March. We guess he's pretty familiar with that feeling by now.
Hakeem Jeffries: The Reformer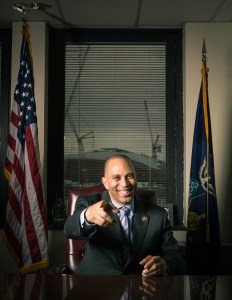 Appealing to both white and black voters, the suave Mr. Jeffries has already been dubbed the next Barack Obama. In a congressional delegation made of members who rarely seem to distinguish themselves, second-term Congressman Hakeem Jeffries stands out. A rising political player in predominantly central Brooklyn, Mr. Jeffries has taken a leading and high-profile role in pushing for police reform at the federal level, most recently introducing legislation to outlaw police chokeholds under federal civil rights laws. If a U.S. Senate seat opens anytime soon, expect Mr. Jeffries to have his eye on it. (Mr. Jeffries' district also includes parts of Queens, but we won't hold that against him.)
Theo Peck: Gastronomic Revivalist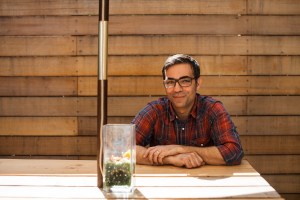 Last year, the gregarious deli man Theo Peck opened his artisanal Jewish grocery store, Peck's, along Myrtle Avenue in Clinton Hill, whose burgeoning food scene seems to produce a new restaurant every other week. And in a neighborhood that often feels like a palimpsest of its former self, Mr. Peck's store—which offers a plentiful assortment of rotisserie chickens, Gefilteria pickles and the best corn muffins this side of the East River—stands out for its authentic loyalty to the past. (Such devotion prompted Julia Moskin, writing in The New York Times, to include Mr. Peck's shop in a piece on the "new golden age of Jewish-American deli food.") Mr. Peck, whose great-grandfather founded Ratner's, is simultaneously keeping history alive while melding his vision with the new Brooklyn. Peck's proves that innovation and tradition are not mutually exclusive—a good model for any Brooklyn entrepreneur to keep in mind.
Rachel Timoner: Inheritor to the Throne
Rachel Timoner will have a big pulpit to fill when she takes over as senior rabbi at Congregation Beth Elohim in Park Slope. The synagogue's current leader, Andy Bachman, who steps down this summer, gave Beth Elohim a deeply distinct identity based on his pluralistic, non-denominational philosophy. Membership doubled under his tutelage as he transformed the Reform synagogue into a Brooklyn redoubt replete with cultural events and charitable endeavors. Ms. Timoner, a married lesbian who hails from Los Angeles where she was an assistant rabbi at Leo Baeck Temple, will no doubt fit in well at the socially conscious synagogue. All signs point to the strong possibility that she will wield the synagogue's potential with great force, given her background in social justice issues outside of Judaism. It also doesn't hurt that Ms. Timoner has already written a book, Breath of Life: God as Spirit in Judaism: Beth Elohim is a particularly literary synagogue, with members including Jonathan Safran Foer and Jodi Kantor.
Bob Bland: New Industrialist
After tours as a clothing and graphic designer for Marc Jacobs, Tommy Hilfiger and Banana Republic, along with a brief foray into Williamsburg boutique and bar ownership, Bob Bland had a growing sense that the apparel supply chain was ripe for a redo. Moribund factories were becoming condos, and emerging talents had to choose between stitching their way to Etsy fame or outsourcing to Chinese factories with prohibitive piece minimums. In 2012, Ms. Bland hatched Manufacture New York, a fashion incubator and factory where independent designers could find not only professional mentorship, but an affordable production process. In December, the city awarded her group $3.5 million to build out a 160,000-square-foot fashion manufacturing hub in Sunset Park's Liberty View Industrial Plaza. The space, currently in progress, will include job training for 200 to 1,000 people a year, a wearable tech R&D center, a small-run factory to test ideas and a wet lab for inventing new fabric. As a sign of just how ambitious MNY is, consider its architect: Ole Andreson, who did the Brooklyn headquarters for Etsy and Kickstarter.
Jonathan Rosen: Master Strategist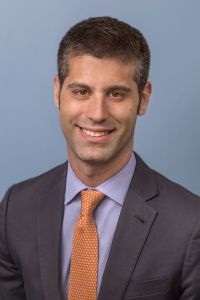 Bill de Blasio may have fled Brooklyn for the Upper East Side, but one of his closest advisors still calls the borough home—Jonathan Rosen, co-founder of the progressive-aligned consulting firm BerlinRosen. He helped run Mr. de Blasio's underdog campaign and now remains an outside advisor to Mr. de Blasio—raising eyebrows, because as a consultant rather than a lobbyist, Mr. Rosen is not required to disclose the firm's clients, payments or meetings at City Hall. And at the same time he offers advice to the mayor, Mr. Rosen's firm represents clients with business before the city—including some key real estate firms who will be major players in Mr. de Blasio's push to build affordable housing in Brooklyn and beyond.
Alex Blumberg: Podcast Evangelist
He had a prestigious and dependable gig as the co-host of NPR's acclaimed Planet Money when he decided to strike out on his own to start a high-quality podcast network. The timing was right. Soon after Alex Blumberg launched Gimlet Media, megahit Serial got listeners hooked on the medium—and they wanted more. Instead of just starting the business, Mr. Blumberg used his unfair advantage. The result was StartUp, a meta-podcast about starting a podcast company that chronicled the twist and turns of starting a company. The second season is up and running, as is another show, Reply All. The company now has more than a dozen frantic but happy employees who work out of a loft in downtown Brooklyn, within walking distance from the apartment Mr. Blumberg shares with his wife and two kids. Turns out that an added benefit of starting your own business is never having to leave Brooklyn again.
Katy Clark: Cultural Igniter
She wasn't the obvious choice as the new president of BAM, arguably the premier cultural institution in a borough lauded for its cultural institutions. But then, true Brooklynites are seldom obvious. Katy Clark, a 46-year-old Welsh violinist, has run the Orchestra of St. Luke's for the past four years and is credited with elevating the freelance classical ensemble into a top-notch institution. With her new appointment, Ms. Clark's own profile is being elevated: the annual budget at BAM is $54 million compared to that of the Orchestra of St. Luke's, which is $7.1 million. Oh, and the new job means that Ms. Clark is relocating her family from the northernmost tip of Manhattan to the borough of Kings. BAM!
Contributors: Kara Bloomgarden-Smoke, Jill Jorgensen, Matthew Kassel, Kim Velsey, Ross Barkan, Faye Penn