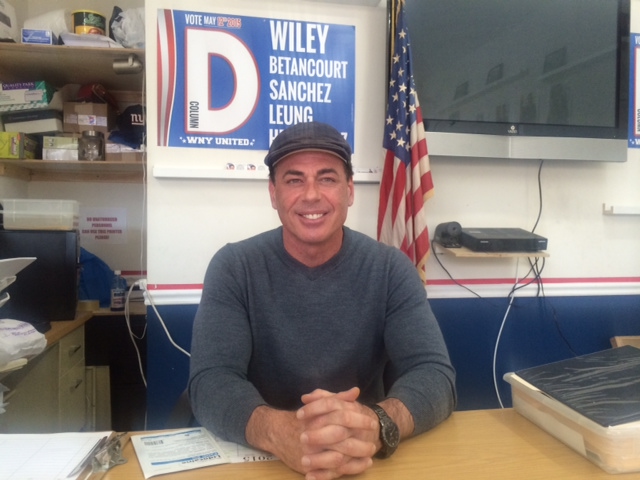 A chiropractor by trade, West New York Commissioner Count Wiley thinks he's got what it takes to straighten out West New York and take out incumbent Mayor Felix Roque. Wiley sized up Roque in an interview as he looked at the issues facing the Hudson County town.
PolitickerNJ: Your opponent, Mayor Roque, was acquitted in 2013 of federal charges filed against him for allegedly hacking a website set up by then-Hudson County Freeholder Jose Munoz that aimed to recall him. What effect do you think his past legal struggles will have on the May 12 municipal election, and is it a big part of your strategy to hammer Roque on his past legal problems?
Count Wiley: Number one, I don't like hurting people, including putting people in jail. But I do believe that there is a proper way to act when you're in politics. In truth, I know he did do this because I know who he is. There hasn't been nothing but problems from this mayor from day one. He has no idea what he's doing. He's put this town 11 more million dollars in debt, with $8 million in lawsuits. He's got to go.
PNJ: In 2011, you ran without the support of the Hudson County Democratic Organization (HCDO) as part of Roque's slate against then-Mayor Sal Vega and won. Now, your opponent is backed by the HCDO against you. How do you explain Mayor Roque's shifting relationship with the HCDO?
CW: The question is why would they support him this time around. When it comes to the party, I've never gotten ten cents from them. When I asked some of the [HCDO] leaders why they support this guy, the answer I always get back is "Well, he's the mayor. Mayors don't attack other mayors." That's funny. I'm a commissioner. I'm part of the party, I'm a Democrat. There are these little business and political cliques who have been running this town for the past 10 or 15 years. Choosing Roque had nothing to do with the people. It had to do with power and control.
PNJ: In years past, having the support of the HCDO almost always assured victory for candidates. But the HCDO has experienced several stumbles recently, including the Roque slate's win off the line in 2011. In 2014, Hudson County Freeholder Anthony "Stick" Romano also won without HCDO support. State Senator and North Bergen Mayor Nick Sacco (D-32) is exchanging accusations of voter fraud with his mayoral race rival, Larry Wainstein, weeks after two North Bergen Department of Parks and Recreation employees were charged with theft by the state Attorney General's Office. And the New Jersey politician most closely associated with Hudson County, U.S. Senator Bob Menendez (D-N.J.) is fighting a 14-count federal corruption indictment filed against him last month.
Do you think the HCDO label still has the same power and authority for organization-backed candidates?
CW: Right now? No. I think they're weak. They have to really revamp the whole organization. You already have a new mayor in Bayonne, Jimmy Davis, and a youngblood mayor in Jersey City, Steve Fulop. The generation is changing, and the people in power now are past their peak.
PNJ: J: Does what's happening to Menendez, who hails from neighboring Union City, cast a shadow on your mayoral race and all of Hudson County?
CW: It's great to be endorsed by a U.S. Senator or U.S. Congressman. And people in West New York are not ignorant about what's going on, especially in a town like this where there is a need for a lot of services. I have a lot of respect for Senator Menendez. He's very articulate, super-knowledgeable, and he's done a lot of things for the community. But this election has nothing to do with Senator Bob Menendez. This has to with Wiley, Roque and what's going on locally.
PNJ: Residents have expressed the desire for a new recreation center, new senior center and for hiring more cops in West New York. There has been no municipal tax increase in the town for four years. With the state in fiscal trouble, and therefore little chance of serious municipal aid, do you think that eventually you will be compelled to raise taxes to improve and maintain municipal services if you are elected mayor?
CW: After the last four years, Roque has done nothing creative and done nothing to save money. He's overhired people with high salaries and has taken care of his cronies. He's used up all the surplus, otherwise there would have been a tax raise, without a doubt. When I ran the Department of Pubic Works, I counted over 500 businesses in West New York, a lot of businesses for a town small in size. People here pay for their garbage removal three days a week. We should privatize it. This is a way to start saving money, then do other things with it.
PNJ: Some West New York residents have pointed to a two-pronged problem concerning development. First, West New York is becoming residentially overdeveloped; second, too much residential development has led to a dearth of parking. How do you solve these problems?
CW: I understand that we need ratables, and we want to see redevelopment. But we want to see responsible redevelopment. What I've noticed is that I've seen the same four people for the past four years who get the construction permits. We have a community where there is a lack of housing. As mayor, I'm not here to get rid of the people who made the town what it is, which is where I feel Roque is going with his development plan. One of my goals is to try to get another affordable housing building in here again closer to Kennedy Boulevard. There is a 12-year waiting list for public housing, and we don't want anybody to end up in the street. Eventually, our old buildings are going to get bought up and refurbished, just like Hoboken.
PNJ: During Mayor Roque's term of office, the state of New Jersey released a report accusing him of allegedly meddling in school district personnel matters for political reasons. However, Roque's supporters won the subsequent school board election. Can you count on the support of West New York voters on a grass-roots level, concerned about their schools, on Election Day?
CW: The administration of the Board of Education is very top-heavy, with salaries way too high, especially the political friends of [former West New York Mayor and U.S. Rep.] Albio Sires, which I don't really appreciate too much. If they kept the politics out of education and just did their jobs, things would probably work a lot more efficiently and teachers wouldn't be harassed. I've always fought for the teachers. I believe that the teachers come first and the administrators come second. And the teachers never forgot that I fought for them.
PNJ: You and your opponent, Mayor Roque, used to be political allies. You were a member of Roque's victorious 2011 slate. Now, you and Roque are at odds, accusing each other of voter fraud among other issues. What went wrong between you and Roque?
CW: When I came into this administration together as a slate, I thought we were going to be close. I thought we were going to be like a family. And I believed that Roque was going to do what he said he was going to do, that we were going to do the right thing without any intimidation. I just wanted to run my department. Then they tried to push cronies on me, I said no and that bothered them.
PNJ: Mayor Roque claims that your attitude toward him changed dramatically after he was indicted and that you have been "on a power trip" since then in order to become mayor yourself.
CW: I could care less about his job. But I do care that he's not doing what he should be doing. Roque is a very angry man. He's not a person who will let things go and forgive. But to be honest with you about his accusations about me, I forgive the guy, I really do, no matter how many times he's tried to attack me. I'm trying to fight for the people. That's why I fought to recall him. And that's why I'm fighting him now. The people have the right to change.
PNJ: At a commissioners' meeting in 2012, you were censured for conduct unbecoming of an elected official. You admitted that some town employees from neighboring North Bergen had painted your office the previous year. Your father, James Wiley, had resigned as the head of public works in North Bergen, and pleaded guilty to state charges of having North Bergen employees do personal chores at his home while being paid by the township. How do you react to you and your father's face being plastered on fliers all over town reminding them of this incident?
CW: It was two different things. My town hall office was painted as part of shared services. It wasn't a private house. I love my father and that will never change. And I think people know that I'm my own man. In fact, I think this is going to backfire. I'm transparent, and I always have been. I'm not going to do anything illegal.
PNJ: The well-known veteran political operative Pablo Fonseca is running Roque's campaign this year. Are you prepared for what Fonseca has planned for you on Election Day, and have you prepared counter-measures?
CW: Pablo Fonseca – I'm not impressed. I don't think he's the quality of a campaign manager that they make him out to be. You could be the best campaign manager in the world, but it's not going to matter because you're still representing Felix Roque. I've been taking hits for years from these guys. I don't even take it serious anymore. It's just another day in West New York. Nobody is paying attention to what they say. I don't expect anything else from Pablo Fonseca but the way he's acting, which is dirty.
PNJ: What about your life experience has prepared you to be the mayor of West New York?
CW: I've seen suffering, and I've been through suffering. In four years, I've learned what I could in twelve years. All this struggle, as crazy as it's been with politics, it's made me a better man and a better leader. If it's God's will, things will all come together at the end. As the election is getting closer, I'm getting calmer. I have the heart to follow through and finish the story. In my heart, I know I won already.