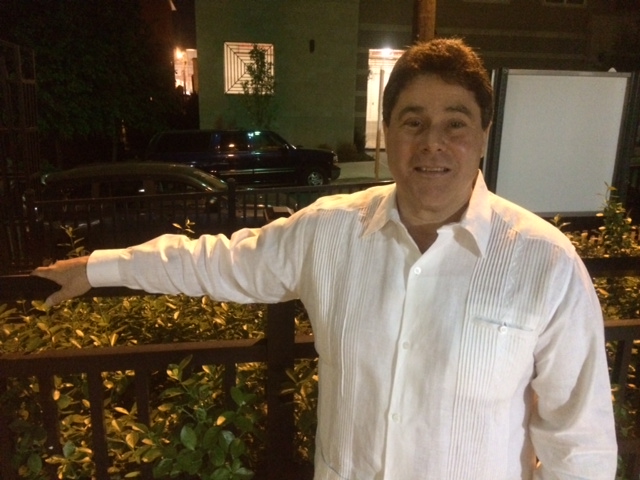 Days away from facing voters in the May 12 municipal election, West New York Mayor Felix Roque addressed the issues that have arisen in a classically contentious Hudson County political campaign. Roque talked about a lifetime trip that has taken him from his boyhood home in Cuba to a career as a doctor and a second career in political life.
PolitickerNJ: Federal charges were filed against you and your son in 2012 for allegedly hacking a website set up by then-Hudson County Freeholder Jose Munoz that aimed to recall you. You were acquitted of the charges in October 2013; your son, Joseph, was convicted of a misdemeanor. What did you learn from that experience, and are you concerned that it will hurt you politically at the ballot box?
Felix Roque: I'm not concerned at all. I believe that the Feds did a fantastic job in court. I think they realized that they had the wrong person. They saw my record. I was active in the Army reserves and the commander of a hospital, and had a clean record.
I'm sad for my son, of course. I believe in my heart that I could have gotten him off. The one that started this whole craziness was [former] Freeholder Munoz with that website. They used my son as a scapegoat to try to get me to plead out. I never did, because I knew in my heart that I was innocent. And I'm extremely proud of my son.
PNJ: Are you surprised that Munoz, who testified against you and your son at your trial, did not run against you for mayor, or join Wiley's ticket?
FR: No, I'm not surprised. I always figured that deep down inside, he knew what he did was wrong. I think he also wants to be close to his family right now.
PNJ: In 2011, you ran without the support of the Hudson County Democratic Organization (HCDO) against then-Mayor Sal Vega and won. Now, you are backed by the HCDO against your opponent in the May 12 West New York mayoral election, Commissioner Count Wiley. How do you explain this shift?
FR: I used to fight the regime, and now I became part of the machine (smiles). But when you look at it from the other side, you actually see gallant men and women trying to make a difference, and they are honorable people. There are people like [State Assembly Speaker and HCDO Chairman] Vinny Prieto (D-32). I grew up with Vinny. When he came from Cuba, he lived in my house in Union City. He comes from great stock, and he's in the HCDO.
PNJ: In years past, having the support of the HCDO almost always assured victory for candidates. But the HCDO has experienced several stumbles recently, including your win off the line in 2011. In 2014, Hudson County Freeholder Anthony "Stick" Romano also won without HCDO support. State Senator and North Bergen Mayor Nick Sacco (D-32) is exchanging accusations of voter fraud with his mayoral race rival, Larry Wainstein, weeks after two North Bergen Department of Parks and Recreation employees were charged with theft by the state Attorney General's Office. And the New Jersey politician most closely associated with Hudson County, U.S. Senator Bob Menendez (D-N.J.) is fighting a 14-count federal corruption indictment filed against him last month.
Do you think the HCDO label still has the same power and authority for organization-backed candidates?
FR: Here in West New York, it doesn't affect us at all. People are home-grown, and are worried about the local politics. They don't worry about what happens in the county. They're not listening to what's going on out there.
PNJ: You have publicly expressed your support for Senator Menendez during his legal difficulties. Does what's happening to Menendez, who hails from neighboring Union City, cast a shadow on your mayoral race and all of Hudson County?
FR: No. I can tell from the way people express themselves. People around here have made Menendez an icon. For some people, he's bigger than light. He has been the shepherd for the Cuban-Americans and others ever since he started his career in public service. Now, I believe he will cash in on all those chips that he put out there. A lot of people believe that the government is trying to go after him for whatever reason. I haven't seen one person yet who tells me that Senator Menendez is guilty. Not one.
PNJ: You initially backed state Senator Joseph Kyrillos (R-13) against Menendez in the 2012 U.S. Senate race, an election the incumbent Democrat won by a decisive margin. You have stated before that this initial endorsement was a mistake.
FR: The day when I became mayor, I didn't even know what the process was about. I was a little political turtle crawling on the beach, going to get eaten up. A reporter called me up and asked me if I endorsed Kyrillos. In my mind, an endorsement meant that I thought I was saying he was a nice guy, so I said yes. I could say that Mr. Kyrillos seems like very good man, but the reality is that I believe and trust in Senator Menendez.
PNJ: Some of your critics in West New York have pointed to a two-pronged problem concerning development. First, West New York is becoming residentially overdeveloped; second, too much residential development has led to a dearth of parking. How do you solve these problems?
FR: We've started a master plan, which hadn't been revisited for about 30 to 40 years. My administrator and I are working on a project to build a series of parking garages. Of course we're going to need more services, but we're bonding for that. There is room for growth in this town. There are a lot of abandoned factories in this town that can be knocked down for apartments and parks.
PNJ: Some of your critics have also claimed that many of the development contracts in West New York have been awarded to your political friends and allies.
FR: To me, everybody is my friend. I'm honest about that. I work with every developer, is doesn't matter who it is, as long as their goal is to grow the town in a responsible way. In the nature of transparency, I'm having both my administrator meet with developers, then with my attorneys from the law firm of Scarinci Hollenbeck, then I sit down with them. They are keeping my town safe and helping us to practice good government and grow the town responsibly.
PNJ: During your term in office, the state of New Jersey released a report accusing you of allegedly meddling in school district personnel matters for political reasons. Are you worried that West New York voters on a grass-roots level, concerned about their schools, could come out against you on May 12?
FR: When I got elected mayor, we had an appointed school board. Then the town decided that it should be an elected board, which I agree with. We won the election, and the people that I recommended are there now. We're planning to lead our children into a better future.
PNJ: You've mentioned your hopes for a new recreation center, new senior center and for hiring more cops in West New York. There has been no municipal tax increase in the town for four years. With the state in fiscal trouble, and therefore little chance of serious municipal aid, do you think that eventually you will be compelled to raise taxes to improve and maintain municipal services?
FR: I'm a business man. I have 17 employees working for me. I believe that when you have a lot of waste, that's when you have to raise taxes. The idea is you get rid of the waste. You do that by making people accountable for their jobs. Through attrition, and by replacing town workers with part-timers so we save on health insurance, we've been able to keep taxes level. We're trying to hold the line and cut back on expenditures. We've done a fiscal tourniquet on this town, and it's working.
PNJ: You and your opponent, Count Wiley, used to be political allies. Wiley was on your victorious 2011 slate. Now, you and Wiley are at odds, accusing each other of voter fraud among other issues. What went wrong between you and Wiley?
FR: It's called betrayal. I always was very fond of Commissioner Wiley. I considered him a friend. But on the day of my indictment, things changed dramatically. He's been hammering me ever since and he tried to recall me. He's on a power trip. He's hungry to become the mayor, but like they say in the military, you have to earn your stripes. I've earned my stripes, so let him keep trying. Count Wiley, to me, is a zero. He doesn't count at all.
PNJ: The well-known veteran political operative Pablo Fonseca is running your campaign this year. PolitickerNJ has been told that you have provided Fonseca with $150,000 from your own pocket to help him run your campaign. What is Fonseca about to unleash on Election Day on your behalf?
FR: Pablo is probably like one of the best brigade commanders I saw when I was on active duty in the military. Pablo is focused like a sniper. This guy doesn't throw grenades. As a sniper, he just knocks people out. He's one of the best operatives that I've ever seen. I'm extremely blessed to have him on my campaign.
I've lent the campaign approximately $130,000. I could say that I have another $600,000 ready to go out of my pocket. If Pablo asks me for it tomorrow, I would give it to him, because that's what I put away for this campaign. I'm ready. I would hate for somebody to come in and mess up what we have done for this town.
PNJ: What about going through the immigrant experience and being a doctor prepared you for politics?
FR: When I was growing up, I always had this anger, this fire inside. I got mistreated when I was in Cuba under the Castro regime. I remember getting beat up fighting in the streets with the gangs. Being an immigrant taught me to be humble and to help the community. Being a doctor gave me the opportunity to help society. My father got me to go to military school, and he saved me. I saw leadership, I found focus and structure for all of my energies. That's what did it. I found the way to use my drive. I knew that I was going to beat the machine. I knew I was going to win. And when I'm done here, I want to go back to Cuba and make a difference. You don't quit. You continue the march.