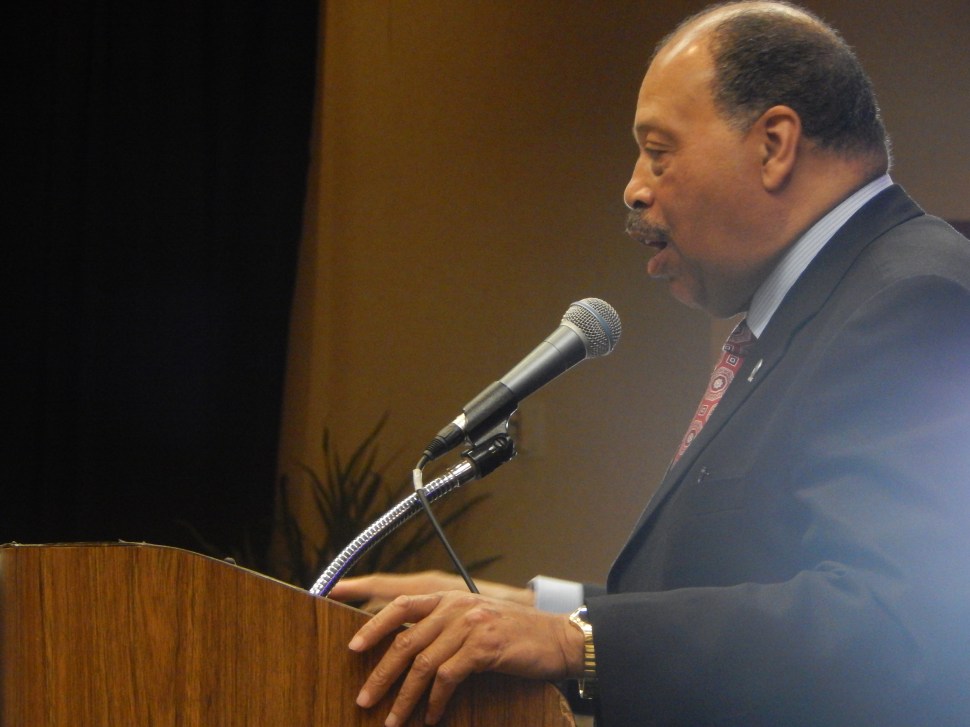 ATLANTIC CITY — When Bill Maer, a prominent lobbyist at Public Strategies Impact, considers the career of his boss, New Jersey Democratic State Committee Chairman John Currie, he sees a litany of milestones that make supporting the septuagenarian, in his words, a "no-brainer." It's "impressive," Maer says, as he rattles off a list of elections Currie helped win that have resulted in candidates — from Hispanic to African American in ethnicity — holding seats previously unoccupied by minorities of their color. In 1996, it was the Passaic County freeholder board's first minority member; in 2000, the first female Hispanic member, who went on to become the board's first Hispanic director four years later. "We were with him when we started in 1990 as chair, and so we saw what he inherited," Maer says, referring also to Keith Furlong, another Currie spokesman. "He's built the county, and by default has built the region, and by default built the party."
Then, leaving little room for debate on the matter, Maer adds: "Like your job is the easy one to write this article because he's done all these things."
Putting aside for the moment the question of difficulty in distilling the 25-year career of one of New Jersey's leading Democratic figures, Currie's is a legacy that does indeed seem to be defined by firsts. Tapped as a sort of compromise between then-candidate for governor Barbara Buono and Senate President Stephen Sweeney (D-13) back in 2013, he's helped bring the party back from the disorder that year's gubernatorial race incurred, employing a leadership style both meticulously diplomatic and, in many ways, grandfather-like. In October of 2013, the state elected its first African American U.S. Senator, Cory Booker, an event for which Currie is particularly proud. Most recently, there's former Assemblywoman Bonnie Watson Coleman, elected last year as the state's first female African American congresswoman. In fact, Currie himself is a first in New Jersey politics: he's the first African American to have been elected chair of the party in his home Passaic County, a position he still holds.
It's all part of a design Currie himself says is aimed at "growing the party" and "bringing people together." Sitting in a cordoned-off section of Harrah's Resort and Casino during the committee's annual convention this weekend, the North Carolina native explained his approach to leading the party for the last two years — and touched also on a range of other issues, from gubernatorial to presidential politics.
****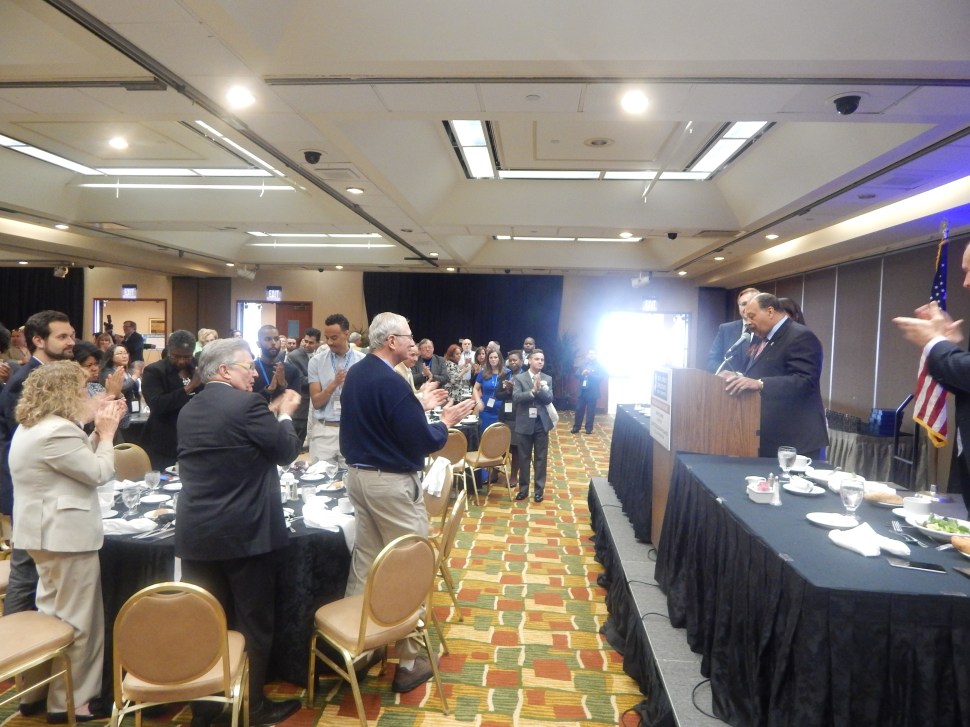 Before we dive into this year's convention and the political dynamics featured therein, I want to ask you about how you got into politics. You've been in the game for some time — you were first elected to chair the party in Passaic County in 1990, but you've inhabited several roles following and during and prior to that. How has it all prepared you for the job you've got now?
Yes, I grew up in Paterson. Got involved in politics through Congressman Pascrell and others. Of course you know I've been the Passaic County chair for over 20 years. When I took over the Republicans had had control of Passaic County, every office, for 12 years. I worked to build our party there, started bringing people together, took control of the freeholder board in 1997, we've been able to maintain Democratic control since then to present day, thank God. We've had a few times where we were a 4-3 board with seven members but we've maintained control.
To give you an example of what's happening in Passaic County that's different than what's happening with Chris Christie, over the last two years we've had five bond upgrades, where the state under Chris Christie's administration has had nine downgrades. So I think that shows you the effectiveness of good Democratic government, and we haven't cut one service — if anything we've increased services. We have a very, very strong service department that's very supportive of the 16 municipalities, as well as with our senior services. We have one of the best county colleges in the state, and also one of the best technical high schools. They will probably have to turn away well over 3,000 kids this year, which is how many applied, but they can only accept 900 each year.
So I think we have a lot of success. Economic development is always a challenge, but we're working, our workforce development program is doing an excellent job with job training. We're working on bringing on an extensive reentry program into Passaic County, modeled after the one Gov. McGreevey is running in Jersey City that has been quite successful. So we're doing some good things. I'm very, very positive about Passaic County and what the government is doing there.
You were elected as a sort of compromise candidate for your current chairman role in 2013, after state Senator Barbara Buono and Senate President Steve Sweeney failed to agree on Buono's choice for the position, which was Assemblyman Jason O'Donnell. Sweeney feared the choice might divide the party. Is 'compromise' an accurate characterization? 
Well, I would first of all say yes I was a compromise candidate in one area. But the facts of the story are this. Senator Sweeney and others in this state did not want to work, for whatever reason, with the person that Senator Barbara Buono wanted to choose for state chair. I've been a friend of Senator Buono's for a long time. She had named me her senior adviser. I'm a very loyal person, and when I give her my word, I keep it. Senator Sweeney put an entire group in the room and told me, 'I want you to be state chair.' And I refused them because I didn't want to go against Barbara Buono. I was supporting her choice. So whenever and whatever, I wasn't there, they were there at this meeting, when it came down to it, they looked at it and they said the one guy I think we both can work with is John Currie. So if you want to call that a compromise candidate, fine. Was I seeking the position? No, I was very happy as chair of the Passaic County Democrats. But
The first term was a six month term, I was reelected after that in December. We had the largest turnout that we've had in the election. I was unanimously selected, I was sworn in by Sena I'm a Democrat. And if I needed to step up to do what's right for our party, I was going to do that.tor Sweeney, and we've been just growing from there. That is the accurate story on that.
---

"They all have donated to the state committee. I'm just grateful that they all are looking at the party and understanding how important it is to me to continue to grow the party."

---
What do you feel has been your most important job as chairman?
My most important job is growing the party and bringing people together. Diversity has always been very, very important to me. I would have to think back to a number of firsts I had in Passaic County, going back there over the years. I elected the first African American to the freeholder board, and have elected a number since then. The first Latino to the freeholder board. I have presently a Latino surrogate, first in Passaic County. I have a Latino that is now the director of my freeholder board. I've literally elected and supported in a nonpartisan election the first Latino Dominican mayor in the country in Doctor Alex Blanco, he will tell you himself that I was very instrumental in his first election. And I'm sure there are other first that I'm not even thinking about. And of course I'm very proud of Cory Booker.
If you go back through the history, some of the party members before I became chair weren't getting along very well. And I have to say 2013 was somewhat of a tough year, but I think we've been bringing people together and I think it's growing from there. And of course, in 2013, picking up and actually keeping seats in the legislature when you have a Republican governor who's winning by 20 points. I mean, that's huge. It's actually unheard of, and first of showed that we actually did a good job, and second of all, we took away his coattails.
Some — particularly state Senator Mike Doherty — have argued that Christie, in campaigning as he did in 2013, where part of his focus was actually on bringing Democrats into the fold and cutting deals with Democratic leaders in certain districts, ultimately hurt Republicans. Could that have also benefited Democrats, insofar as certain potential battleground districts were left alone?
I don't think it benefited us, as far as I could tell. We just stayed focused on what we needed to do with our state legislators, because that's what was important. We made sure we didn't lose focus and kept people together on that end, and thank God we were successful. And I'm looking forward to another successful year as well. We're going to have to protect some seats heavy, particularly LD1, LD2, and LD38. We've got some other districts where we're going looking at as we move forward where possibly we'll be able to pick up a few more seats.
It's Friday, the second day of the committee's convention down here. Earlier you said the event is seeing a greater turnout this year than any other in your time as chairman. What do you think that says about the party right now? 
Well, I think the state of the party right now is strong as ever, and growing. I think one thing I've done is instituting the many caucuses we have, I was just in the Jewish caucus, which we hold early to let people get home for the Sabbath. And we have caucuses all afternoon, I bet you the women's caucus will have as many as 75-100 women in it, and all the other caucus' that are going on, different people hosting receptions all last night. You know, north, south, we have people from all over the state here.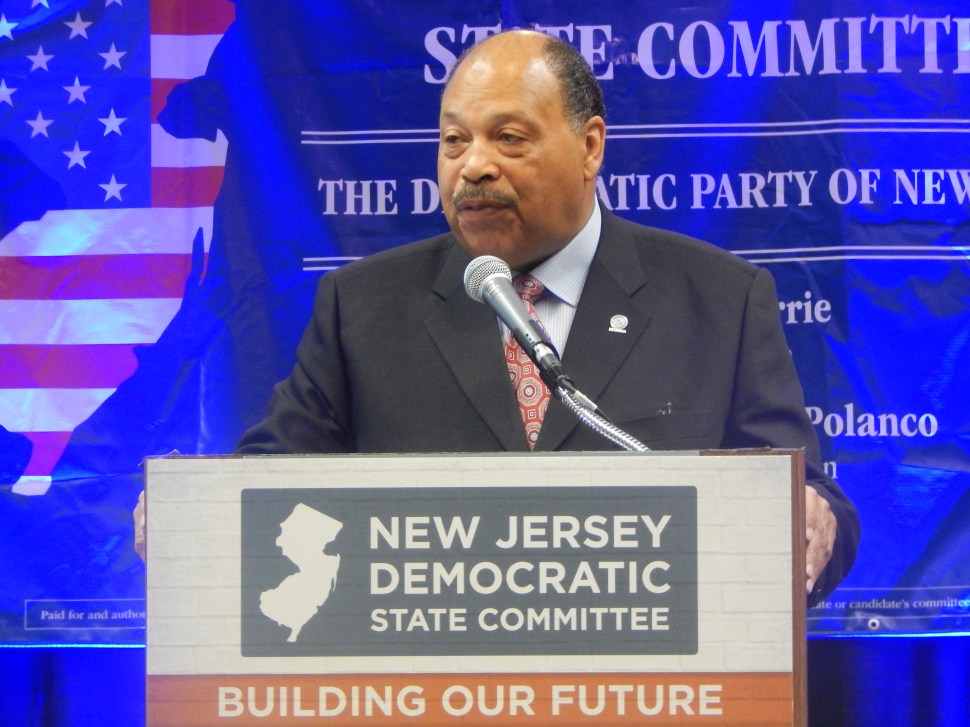 Gubernatorial primary politics is of course again at the forefront of discussion this weekend, as it was last year during the state's annual League of Municipalities Conference. Jersey City Mayor Steven Fulop was not here. Senate President Steve Sweeney was here. State Senator Ray Lesniak — who looks to be taking concrete steps toward a run — is also here. But it was former Germany Ambassador Phil Murphy who many say stole the show. What do you think?
He's a presence down here. Steve Fulop had a family commitment but, boy was he supportive of the administration. Gov. McGreevey is here. And well, I guess he had h'ordeuvres more than anything else, but Senator Sweeney and I sat together during a chairman's dinner I had started last year, inviting all the chairmen and leaders of the legislature. So we had a nice event, and Dean attended that last night as well. Senator Lesniak was there. Assemblyman Wisniewski was there. It was more of a social thing. But I'm very, very happy with the turnout.
What's your sense of all of these guys at this point?
They're all nice guys, they're all quite qualified. I think Senator Lesniak was just as active, being in the same room as Phil Murphy. Assemblyman Wisniewski was just as active, he was one of the primary speakers at breakfast this morning. They all have been supportive of this conference, every single one of them. So, yes, we're appreciative of what Phil Murphy did, but I think they have all been active. They all have been around when they could. I saw Senator Lesniak at breakfast, he was around all night, as was Assemblyman Wisniewski, and the only reason Fulop was not here is because he had a family commitment. But he supported the conference financially.
And they all have donated to the state committee. I'm just grateful that they all are looking at the party and understanding how important it is to me to continue to grow the party.
Do you feel the attention placed on the race at this point is ultimately detracting from other issues, like Sweeney's work in Trenton or Fulop's in Jersey City?
I think it's a hindrance right now, but if we had a Democratic governor it would help it a lot. I think when it comes time that we have a Democratic governor, and I think we will have a Democratic governor in 2017, these things will continue to flourish. But I don't think these alliances right now, they're definitely not geared toward one individual. Speaking for myself, I have an open mind on everybody who's interested. I'm talking to everyone who's interested, and if someone has made a commitment to someone I'm not aware of it.
Nobody owns it. And we'll wait and see what happens when the times comes.
Do you see U.S. Senator Cory Booker — who many see as a field-clearing candidate were he to run — as a potential candidate? Has the field set, or do you see other candidates jumping in?
I've seen stranger things happen in politics. I've seen that happen before. I think you would have to ask the Senator and his people. But I can tell you he's working hard in Washington, he's doing good things there, he's working on great bi-partisan legislation. So that remains to be seen. Talk me a year from now. He might look at it differently. I don't know. There's always a possibility one or two might jump in, and there's always the possibility one or two might change their mind. I think it's much too early.
With Mayor Joey Torres in Paterson, your county seems to have developed a natural alliance with Steve Fulop in Jersey City, as well as Ras Baraka in Newark, through this tri-city collaboration that the three announced last year. Is that something you've been involved with?
Well, listen, I'm friends with all of them, I support them all. When you look at on the resource side, that when you can match your resources to gain the most — like buying, for example, body cameras that the three got together and purchased — and save costs. And they're working on issues of crime, as well as economic development, and I think that's a good thing. Listen, when people are talking to each other and when it's common values, and common issues, I think it's a good thing that people are working together, talking together, because that doesn't always happen.
---

"The only thing I will say is if she is our Democratic candidate, and there's a good chance she will be, she will win New Jersey, and win New Jersey big. You can't take my word on that."

---
On the issue of economic development, the state has what looks to be a serious problem right here in Atlantic City. Shrinking property tax base, shuttering casinos. Some believe it could be looking at bankruptcy in the near future. How did we get into this mess, and why has it been allowed to get so bad?
Listen, my heart goes out to the people of Atlantic City who have lost their jobs. I don't really have a point of view on that other than the situation has changed. As you walk through these casinos now, and walk through these casinos eight, ten years ago, they were packed. And one of the reasons they were packed is because your didn't have the gaming in Pennsylvania and New York that you have now. So I think that's been an impact on what's happened here. On the government side, I'm not that familiar, but I believe that all governments are local. I think the economics of it is truly that it's been a changing of the economy, and where people go to spend their money.
But I'm confident that Atlantic City will come back as a great success. One reason I like coming here with the state committee to this place, is we're really coming to support a union casino. We're probably going to bring an extra 600 to 700 hundred people through this casino from Thursday to Saturday, and some will probably stay over the weekend. I think things like that are important. So the state Democratic Party is trying to do it's part in bringing revenue into Atlantic City.
Many lawmakers — including Senate President Steve Sweeney — have promoted North Jersey Casinos as a solution to the economic problems down here. Do you see that as viable?
Well, listen, in the way I understand the legislation, if casinos were built in North Jersey, part of the revenue would go to support the casinos here in Atlantic City. Listen, if we can lure people from New York to come up to New Jersey, and stop the people from North Jersey from going to New York, or to Pennsylvania and gamble, I think that would be a good thing. But I'll leave that part up to the state legislature.
How much of an issue do you think that will be here in LD2, where Democratic Assemblyman Vince Mazzeo and Freeholder Colin Bell are taking on Republican Assemblyman Chris Brown and Will Pauls?
I'm sure that will work itself out. To be honest, when it comes to those local issues between the two, I try to let the local chairman deal with that. I don't get heavily involved in it. And, you know, my focus is really bringing people together, getting people to work together as Democrats.
Are there any primaries that the party is worried about this year?
There's a few primaries throughout the state. I know we have one down in the 20th district, I think it's a three person primary, and I think that's the biggest one. But listen, in the end they're all Democrats and that will work itself out.
You've been a strong supporter of Hillary Clinton, who seems to have the party's nomination locked down even now. But some observers say that has been accompanied by a lack of enthusiasm among supporters, especially at a grassroots level. Is that true for New Jersey as well?
Listen, first and foremost, we're focused on 2015. I mean, our goal, our extremely tough goal, would be to break this veto proof bond in the Assembly. So we're are going to focused on getting our Assembly people re-elected, getting our freeholders re-elected, getting our mayors and council people re-elected. That's where the party's focus is going to be right now.
But as far as Hillary Clinton's campaign, I have to say that we actually went in to her national headquarters week and a half ago to meet with her key people, and to start to layout her vision. Listen, we're very, very excited about having a woman president. But we have a process, and that process will play itself out going forward. Is the Hillary campaign active right now in New Jersey? It is. They're working with volunteers, they have a young person coordinating that, actually it's someone who used to work for me in the state party who goes by the name of Jenny Davis. So she's actively starting to do the groundwork. And we'll see how that plays out.
What will be the state party's role in the race?
Well, let's wait and see who gets into the race. I've supported the Clinton family since 1991, Of course I'm a big fan of president Clinton, I'm a big fan of Secretary Clinton and former U.S. Senator Clinton. So we'll be working hard. The only thing I will say is if she is our Democratic candidate, and there's a good chance she'll be, she will win New Jersey, and win New Jersey big. You can't take my word on that.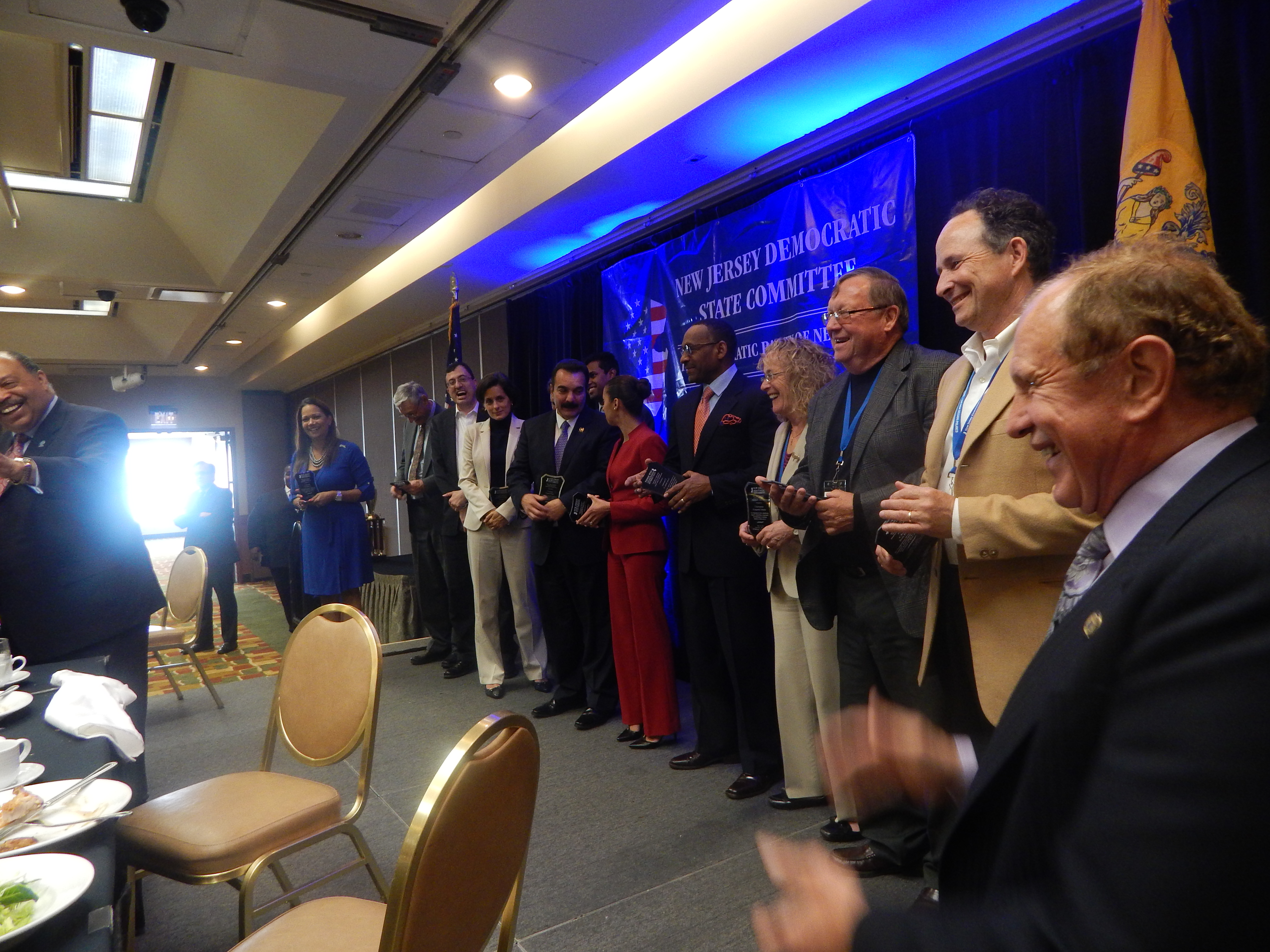 To pivot back to local politics, North Bergen recently bore witness to a contentious mayoral race last week. Nick Sacco, the state senator and Democratic incumbent, defeated his opponent by something like 4,000 votes. Some see that win exposing points of vulnerability for Sacco, specifically because it was closer than most challenges Sacco has faced in his 25 year career. The same goes for Mayor Felix Roque in West New York. Do you agree with that assessment, and what do you think it says about the county organization there?
I don't see it being vulnerable when I guy spends a million dollars in a race in a town of 60,000 people and still gets beat 2-1. I think it's a pretty significant win, maybe one of his better wins at 66 percent of the vote. You know, when you have those kinds of resources spent against you.
I don't want to speak for Hudson County, because Speaker Prieto is a dear friend and I think he's doing a great job bringing that organization back into the days when it was one of the most prominent organizations in the state of New Jersey, as well as Essex, for their sizes. Listen, being an establishment candidate and doing a good job — I don't see anything wrong with that. I mean, the people reelected them both 2-1, with 66 percent. I think it's a positive thing, and it allows them to continue the good work that they're doing.
How about Essex County Joe Divincenzo's relationship with Mayor Ras Baraka in Newark — which at one point looked like it was stressed?
They both have tough jobs. The one thing I can say is Chairman Leroy Jones is doing an excellent job as chairman of Essex County, and I see him bringing the folks together over there as well. I've been to some of their events, they're packed, and they're working very closely with the chairman. So I see it as being very positive.
Another possible sign of weakness, if not for Hudson County than for the state Democratic Party, is the indictment of U.S. Senator Bob Menendez. It seems to have a least temporarily removed him from the scene in places like Hudson, where he was expected to play an important role in 2017's gubernatorial race. How big of an issue do you think that might become?
First of all I want to say that Senator Menenedez is a dear friend. I think he's done a fantastic job representing this state. He tells me he's innocent, I will believe him, and we'll let the process go forward. I make no qualms about it. I'm a supporter of Bob Menendez.
I don't know if he's removed from the scene. I think he's doing what he was elected to do, and that is to represent New Jersey and the nation in Washington. And I don't think he's slacked up one bit with that. I think over time the politics and everything else will take care of itself, including this case.