NORTH BERGEN — To get a sense of how diabolically vicious mayoral races can get in this small Hudson County borough, one has only to listen to the town's current executive, Nick Sacco, explain how he's decided to shut down the schools next Tuesday in order to keep the politics out of the classrooms on election day. "We just can't subject our student body to it, if this is going to be as nasty as it is," Sacco says.
Yes, in North Bergen, even the kids become bargaining chips in the fierce political standoffs that take place across street corners and doorsteps all over town. This year, Sacco himself is one party in that battle, a 25 year incumbent looking to fend off a challenge by local businessman and notorious establishment agitator Larry Wainstein. The two camps have lobbed accusation after accusation at one another these last few weeks, from questions of residency, to voter fraud, to general allegations of impropriety and misconduct. Inevitably, the race has gotten ugly.
But mayor isn't the only job title Sacco holds. An old school power broker whose triangulating breed of politics was deemed unethical back in 2010 with the demise of dual office-holding, a grandfathered Sacco is simultaneously keeping up his duties as legislator (he's a state senator since 1995) in addition to director of primary and secondary education for the town's schools, which he calls his "true vocation"– and collects a salary from each. As he wages war with Wainstein, he jumps from his office in North Bergen to his office in Trenton, where he chairs the Senate Transportation Committee and sits on the Law and Public Safety Committee.
With just four days to go before the final culmination of the race next Tuesday, PolitickerNJ spoke with Sacco about his reelection bid, what it's like to balance three different public official jobs, as well as why he has reason to believe a longtime nemesis and convicted felon named Joe Mocco might be running his opponent's campaign.
PNJ: We're into the home stretch of the race here, with election day on May 12. What's your take on how things have gone so far?
SACCO: The campaign went a lot longer this year. Statutorily, they made the filing date earlier. And I liked it, because without it being earlier, it would be impossible to reach every district. And my focus on the campaign was to visit every district in town. There are 39. As of this moment, I have visited 38. And I will visit the next one on Friday. That doesn't mean every voter, because you can't possibly meet every voter, people work, it gets to be nine at night and it's no longer feasible. But I had a great time doing this, there were so many people I haven't seen in a while. But the longer campaign gave me the time to do it, and I used every night. There was nothing more important than going, even the HCDO dinner, I just set it aside. It's more important that I'm out here meeting the people of North Bergen.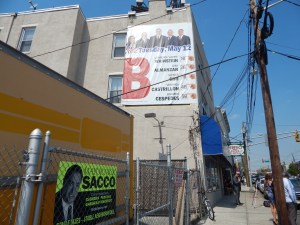 With a longer campaign though, it seems like there would be more time for political mudslinging, for the race to get ugly. And this race has gotten ugly. 
It started ugly, it's very ugly right now. They're coming to the high school. Five days in a row. And they actually committed an assault on a security guard. Come on, the kids shouldn't be in this. In fact, we're closing school on Tuesday, because we just can't subject our student body to it, if this is going to as nasty as it is. We have our snow days left over, and we're going to use one, because we just can't let this type of viciousness take place outside and inside schools. So we're doing the right thing, and just punting it away, and leaving the schools closed so the children are left unaffected.
The accusations and allegations have been flying. Wainstein has accused you of promoting voter fraud. You have questioned his residency, as well as alleged that Joe Mocco, the former township clerk convicted for racketeering in the 80's, is running his campaign. What's that about?
Oh yeah, he's clearly with Joe Mocco. We knew it from the very beginning, we have pictures of them being together from before the campaign started, at parades with him being with Joe Mocco's daughter. We also have people from his campaign that have joined us and told us that Joe Mocco ran their campaign a couple years ago. They call him Frank, he doesn't use his last name. But we saw him a couple nights ago, he came to the board of elections meeting, him, his son, his daughter they came with Cananico, so they're gearing up with the election day activities. He's the one dealing with the really sleazy literature, and they're trying to pretend it's two different campaign, but we know it's one. They must think everybody is really dopey.
See, Joe Mocco is a man loaded with hate. In 1987 I fired him, and he's been fighting me every election, except for the short time he was in jail for four years. But when he came out, he was not allowed to be involved in politics when he was on parol. And even on parol he was after us and risking going back to jail. But it's sheer hate. He found the perfect dupe in Larry Wainstein, a man whose ego is so big that he told someone the other day that, 'I have money, but now I want power.' And he found deep pockets. I think Joe Mocco is making a ton of money off Larry Wainstein this election.
Is all the negativity working?
It's not good politics what he's doing. It's almost like at scorch and burn. Because at the end of this, he'll just have so many deep enemies, that if they ever through some weird miracle won an election, they would not have the people they need to run this town. Because of the hatred that they spewed, and the lies. It's almost like from The Exorcist. You know, the devil throws a little bit of lies to hide the truth. That's what it is.
It's very personally insulting. I'll give you one great example, they had one piece of a woman who got caught stealing in town hall. We felt badly, she was the first Latina in a high position. But she lost her job, and she had to take a plea, and they put her in the newspaper, in a Halloween costume, and you know, she was looking kind of sexy, and they said that she was my 'special friend,' and she's still working in town hall for $50,000 dollars a year. It was just a sad thing, she was really humiliated. That's the type of thing that's really discouraging.
---

"I feel very badly on the day that there are no local officials serving in the legislature, because the legislature has a tendency to think they have all the answers. They don't even know what the questions are half the time."

---
Is the something about Hudson County, or North Bergen specifically — the demographics, the politics — that makes local races here so messy?
What he did, is he decided to race bait. This town has always been known for everyone getting along, as it move from German and Irish to Italian to Latino, and know with a strong Indian and Arab population. Everyone got along really well here. And he's divided it. He's even put some race baiting literature out, like, very simply, they say 'oh the pool should be free, and it's not because we don't want this type of child in there.' And they show a child in a t-shirt looking forlorn. Like really sad. And it fools people because they don't understand the implications of a free pool, and that it would be open to anyone from anywhere, and that North Bergen residents wouldn't be able to get in it because the Walmart shoppers would be in it. And taxes would have to rise to pay for it.
It's the simple thing, when they give people the message, but it's not a true message. It's probably the worst race-baiting campaign I've ever seen, and I'm hoping that it has no real success, but dividing the town has to be the most disturbing thing they've done.
In addition to mayor, you're also a school principal and state senator. You were in Trenton just today for two committee meetings. Wainstein himself has criticized you for double-dipping. How do you respond to that, and what's it like juggling those responsibilities? 
OK, let's analyze it. I became a school employee back in 1968, and have continued all these years. And that's really what my vocation has been. I ran for local elected official in 1985 and won, and then six years later became the mayor. We weren't receiving respect county-wide or statewide, so I ended up running for senator. So I ended up since 1994 in all three positions. It takes a lot of time to do what I'm doing. And I make sure that one job adds to another. I understand as a mayor what legislation means to the cities. And I'm often a leading voice in explaining that good county legislation could be bad for the people of the state. And I feel very badly on the day that there are no local officials serving in the legislature, because the legislature has a tendency to think they have all the answers. They don't even know what the questions are half the time.
So one is my real position, and the other two are both part time, and I put in endless hours to make sure that people are being serviced by me in the areas I'm supposed to be servicing them. And people ask me, how long can I go on. I don't know. But I know one thing, I intend to re-win the mayor's spot and do a really good job over the next four years.
Wainstein has long been a thorn in the side of your administration and the county establishment. But this time he's finally jumped into the race, and looks like he's really trying to give you a run. And he's put money — lots, it seems like — into it. Just from what he's reported so far, he's already put some $90,000 of his own money into the campaign. What's your confidence level like at this juncture?
I think I've never seen this kind of money spent. I think at the end, I'm really going to scrutinize his reports, because this has been a million dollar campaign. If it comes out anything less than $1.5 million dollars, that means it's cash and it's being hidden. And they have to be very careful, because one mistake like that will put them in jail. So, that may be the reason why they're splitting the campaign like it's two different entities. But even so, we've had some real tough elections. '91 was very tough, '95 was very tough and very physical. This is probably the most money spent against, and the most vicious and mean-spirited. The race baiting has made it somethin ghtrat has divided the community, even in the schools, reaching down to children and telling them that your schools are no good, when in fact the schools are very good.
One of our students approached Wainstein outside the school yesterday, he's high in the class, and he said, 'I'm going to a terrific four year college starting next year. You make it sound like when we walk into the school, we're stepping on rats. You're disgracing our school.' So that's where we are now. But it's drawing to a close, and I expect probably a very unpleasant election day. But no community should have to undergo this type of negativity.
You are going through some controversy at this time, though, with the arrests of two of your parks department employees following last month's raid on town hall. And Wainstein has attacked you on that as well. Are his criticisms not legitimate?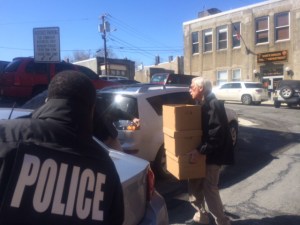 Look, you break down the raid on the town hall. You have two employees accused of falsifying time sheets. And that meant there was a full scale raid with empty boxes being carried out. And a rush to judgement before a grand jury even sits on it. So I'm looking at that, and they're both very important employees, and I'm hoping that they do well. In my heart I want them to do well. But we're cooperating, and if they did anything wrong, I guess they're going to pay the price for it.
Right now they're both suspended without pay, and until their names are cleared, they will not be working in the town of North Bergen.
You're also a key player at the county level, with the Hudson County Democratic Organization. Some would say the HCDO is united as it's ever been. And yet North Bergen is in the midst of a heated mayoral race, as is West New York, where incumbent Felix Roque is fending off a challenge by commissioner Count Wiley. On a higher level, U.S. Senator Bob Menendez, a Hudson County native who you have called a 'warrior', is under indictment. How do you view the state of the organization at this time?
I see it as very strong. It's an adaptable organization, it's not rigid. Over the years, different administrations have come and gone, and the new ones have been absorbed. And that's just a continual evolution. Vinnie Prieto is doing a great job leading it. They had a beautiful fundraiser the other night. I wasn't able to go because I was campaigning. But they are really putting things together now and I'm feeling that the county organization is very important. No one can win a statewide election in New Jersey without the Democratic organization.
Steve Fulop also came in and is doing very well. Usually what happens is you have a mayor's race in Jersey City and you have a power struggle between old and new, and instead he came in and made sure that there were no wounds that needed to be healed over when it was over. He became the new mayor, he was accepted by everybody, and he stands in his rightful place as one of the major leaders in Hudson County.
Too early to assume Hudson County will be behind Fulop for governor in 2017 then?
There is no governor's race, so it's too early to say anything about a governor's race yet. People are maneuvering for it, and waiting for Chris Christie to leave in 2016, but it's not there yet. Steve Fulop certainly seems to be someone who is at the forefront of that race, but it's too early yet. Right now I'm focusing on my own election.
Word is Phil Murphy might pay a visit to North Bergen on Tuesday. 
He hasn't made any functions yet, but I heard he was going to stop down, and if he does, he's certainly welcome. We're not excluding anybody. There are no sides to pick, because there aren't any sides yet.