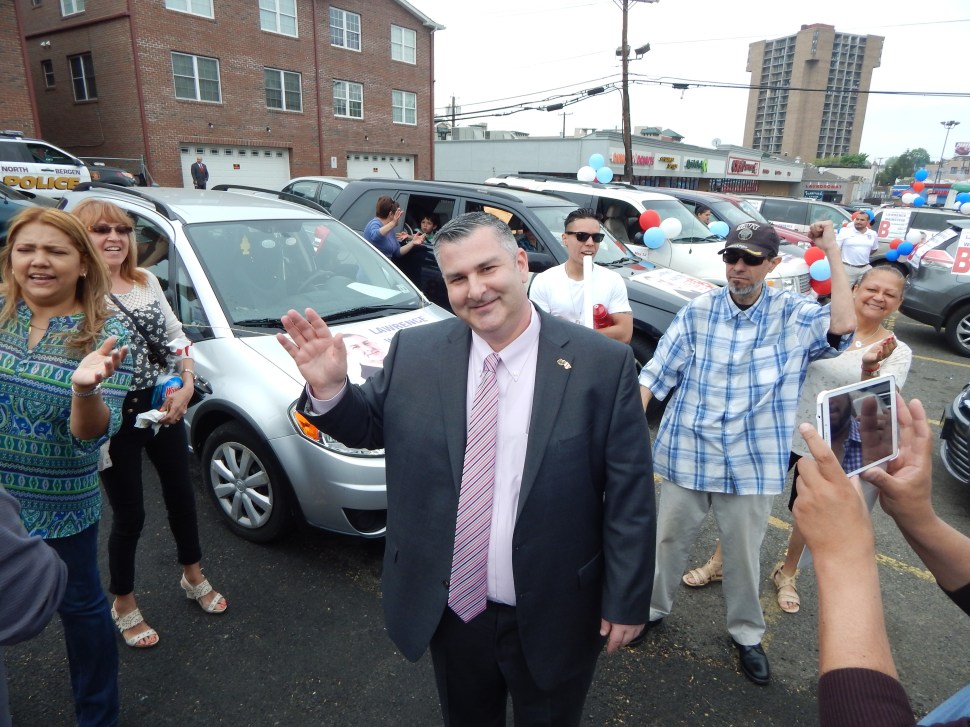 NORTH BERGEN — Horns blared. Supporters brandished campaign signs and literature, chanting "Larry, Larry" as Latin music blasted from the open windows of idling cars. They flooded the empty parking lot off of Bergenline Ave. — the site where Lawrence "Larry" Wainstein, the wealthy local businessman challenging incumbent Nick Sacco in the town's nonpartisan mayoral race, held his latest rally ahead of Tuesday's election.
It wasn't long before the police showed up.
"Constant. Constant. We get chased by the police department all over town," Wainstein, with two North Bergen patrolman standing by, told PolitickerNJ in the midst of the chaos on Saturday. "And that's OK. But the police department is working politically, and their hands are tied. We need to unleash the cuffs from the police department so they could do their jobs, honestly and truthfully. We need to take politics out of the school system, and we need to take politics out of the police department."
This, then, is the struggle for Wainstein, a longtime thorn in the side of the establishment here who's made a career out of lambasting Sacco and his administration's leadership. After years of agitating behind the scenes, the founder of North Bergen Concerned Citizens — the non-profit citizens advocacy group through which he's done most of the agitating — finally finds himself on the ballot this year, waging war with Sacco in one of the most vitriolic races the town has likely ever seen. There's been accusations of voter fraud. Allegations of impropriety and corruption. Also, a rumor that a convicted former township clerk — who Sacco fired in 1987 — has returned to the scene.
According to Wainstein, the son of Argentinian immigrants who owns several successful check cashing businesses throughout town, it's been an uphill battle.
With just two days to go before the election, PolitickerNJ spoke with Wainstein about the race.
You've been lurking behind-the-scenes in North Bergen for a few years now, and have built a sort of reputation as an establishment agitator. What originally drove you to get involved? 
I got involved because I found that there's been so many injustices for people in North Bergen. And I've been a merchant in North Bergen for 15 years. And so many people came to me to talk to me about injustices. Because of the poor school system. Because of high taxes. Because of the corruption. These are people coming to me because they're lacking services. So I decided to form a nonprofit organization, called the North Bergen Concerned Citizens. And for years I've been offering English classes, citizenship classes, seminars. We offered all these different programs, we help senior citizens, if they have a problem with disability or medicaid, we help them, if they have a problem with social services, we provide them attorneys, we also represent special needs children. Hundreds of people. And especially children. They're not getting the proper services for their education.
It's the most hurtful thing, that when you have a parent, and they're not getting the services that they're entitled to by law, because they don't now their rights. So we hold them by the hand, to tell them what they're entitled to. Because of our classes, we have over 300 people that took our citizenship classes and are now citizens. We're a large melting pot of immigrants coming from all parts of the world, with primarily hispanics. And I speak fluent Spanish myself; my parents came from Argentina. And they struggled, they struggled through their lifetime, but they worked hard, and they were able to make a difference for themselves and for me as well, and I was able to go to college, and I struggled through college to be able to pay for it; I worked at UPS as supervisor, and I went on to work in distribution at another large retail operation.
And from there I went on to open up my own business, and I worked tremendously hard, day in and day out, to be successful. And I'm very proud of my accomplishments. I worked as a volunteer for the city of Union City for 10 years, as a chairman of their Urban Enterprise Zone program. And I helped hundreds if not thousands of people throughout the business community. And I found there was such a huge, tremendous difference in the way they treat people, between other municipalities and our municipality in North Bergen. And I said I'm going to make a difference.
 You played a role in the last mayor's here, though you weren't on the ballot. Why run now?
I volunteered, because I always found that there was so much corruption in North Bergen, that I said let me help. Let me assist. I didn't run. I was just a volunteer. And when I started offering services to the people of North Bergen, I learned more about the corruption, I learned more about the injustices. I learned more about the lack of services to the students in North Bergen. The lack of books, the lack of technologies, the lack of facilities. I said, 'how do I make that better?' How there's politics in the police department, how there's now show jobs, how taxes are increasing. People started to come to me to talk about high MUA bills, how they can't pay their mortgages, the rents are too high. So how do I fix that? I can't do it just by offering social services. I have to change the administration that has been corrupt over the last 30 years.
---

"It's important they we educate all the residents in North Bergen. That they know how their money is being spent. Everything I say, all the information I released is truthful."

---
We interviewed you opponent earlier this week, and one of the things that came up about this race in particular is just how nasty it's become. You've accused him of voter fraud and corruption, among other things. He's accused you of not actually living in North Bergen. Both camps have slung their fair share of mud. Do you also feel that the race has been particularly vitriolic? 
Everything I say are facts. Everything they say is false. Misleading information Everything. The only thing I don't deny, I do own a home in Franklin Lakes, and I've worked hard for it, just like millions of other people that own multiple pieces of property. There's nothing wrong with that. I'm proud of my accomplishments, and I've worked for everything I have, unlike Sacco, who takes $400,000 from the taxpayers. He never had a job in the private sector. And he doesn't deserve the $400,000, because his administration is corrupt, and he allows it from the bottom to the top.
The Attorney General's office recently raided town hall and arrested two parks department employees for falsifying time sheets — news you have repeatedly attacked him over. What does that say about the administration?
It's sad, it's appalling, it's disrespectful, and he should resign. I said it before, and I'm saying it now. Just like when they arrested his DPW director. On his board of commissioners, nobody knew of the corruption? They used township workers to work on the deputy's home. Using funds from the township to buy materials, and they transported those materials using township vehicles. Nobody knew about it? Then one of his other deputies, Timmy Grossi, goes into businesses to threaten them, because they put in an opposing sign? And that continues to happen today, where they use the police department to harrass and to intimidate the people of North Bergen. Look at the video I posted today on Facebook. They go to homes of minorities and tell them that if they don't put a sign up for Sacco, that they're going to be inspected by an inspector or the health department. It continues to happen.
And that's why Sacco should resign — because he doesn't have a heart, and because he doesn't care. And he only wants money. Money from the people for the three salaries he takes in, and all the the land deals that he has as well. I mean there's one on 6th and Kennedy Blvd. His chauffeur and his family all involved. It's the Vanieri family. Bought a piece of land for approximately $1.5 million. They get an approval for 200 units. He sits on the board of adjust, it gets approved, and they get a 30 year pilot program, where they have to only pay a fraction of the taxes. That's the money that the people of North Bergen lost because of their corruption and their self-interest.
The other interesting dynamic in this race is just how expensive it's become. Both sides have spent considerable money, but you've also invested a good amount of your own finances into your campaign. Is that money you feel needs to be spent in order to get your message out? 
Sacco funds his campaign using money from contractors that do business in town, Sacco funds his campaign through contributions that he gets from board of education employees, from employees from the MUA, from the township. Not only does he take contributions from them, but he also forces them to work politically. If they don't donate, if they don't work politically, he threatens their job. He never introduced a pay to play law in North Bergen, and he collects millions of dollars from the people doing business within the municipality to donate to his campaign fund. He has collected over $30 million from the people doing business in North Bergen. Merchants have told me, 'I cannot compete, because I don't want to steal and lie. Because if I want to do business in the township of North Bergen, I need to inflate my prices.' So all the contractors, and all the businesses have to inflate their prices so they can donate back to the campaign. And that's the difference between him and me. I'm financing my campaign, and indirectly, he is forcing all the vendors to put money into his.
 On the negativity of the campaign, is that also something you feel is necessary? What should residents think about that?
It's important they we educate all the residents in North Bergen. That they know how their money is being spent. Everything I say, all the information I released is truthful and is information that I simply took from other news media outlets. But the majority of people don't read major publications. And I found it necessary to make sure that everybody in North Bergen knows the truth about the Sacco administration. About the corruption, about the intimidation, about the threats.
 You said you've worked in Union City. And that North Bergen is suffering from a culture of corruption. In West New York, where a testy mayoral race aslo rages, the incumbent was arrested for allegedly hacking into an e-mail account and website associated with a movement to recall him. Have you found that kind of culture to be common within the county establishment, or in other towns?
I can only speak on behalf of North Bergen. That's what I studied, that's what I've been learning, and that's what I educated myself on. As far as the rest of the county is concerned, there has to be honest government throughout. We need true representation for the people of the county as a whole. But in North Bergen, that doesn't exist.
 One of the most damning criticisms Sacco has levied against you is an association with former township clerk Joe Mocco, who was indicted in 1987 for racketeering and bribery. They claim Mocco is working on you team, and even running your campaign. Is that true?
It's not true. I meet hundreds, if not thousands of people from North Bergen. I don't know what their backgrounds are. I don't shake somebody's hand and say, 'well, can you tell me a little bit about your background, do you have any criminal activity that you've been charged with?' I don't have that capability. Unlike Paul Swibinski, who makes $1.2 million from the taxpayers of Hudson County. He makes of $600,000 from the North Bergen agencies. And he's an un-indicted co-conspirator. An un-indicted co-conspirator in the Barnes case for inflating the amount he'd charge for a specific municipality. And he is fighting, and he would say anything, and they're going to lie and lie and lie. Just to protect their self-interest, which is money.
So I met him, he spoke to me about how corrupt Sacco is, and you listen to everybody. But when you meet somebody, you don't ask him if they have a background. You don't ask about their past activities.