Last night's episode of The Real Housewives of Melbourne began with Gamble and your friendly neighborhood grandpa her soon-to-be-husband, Rick, doing some casual shopping—for a bazillion-dollar engagement ring.
"Diamonds are a girl's best friend and a boy's worst nightmare," Gamble tells the camera, no doubt quoting a rhinestone-encrusted make-up bag she once saw at Claire's.
Unfortunately, Gamble runs into a highly relatable problem: She can't decide between the princess cut and cushion cut, each over $50,000. Thankfully, the store lets Gamble take both diamonds home with her (?!?!) so she can take time to decide. Uh, is that even allowed?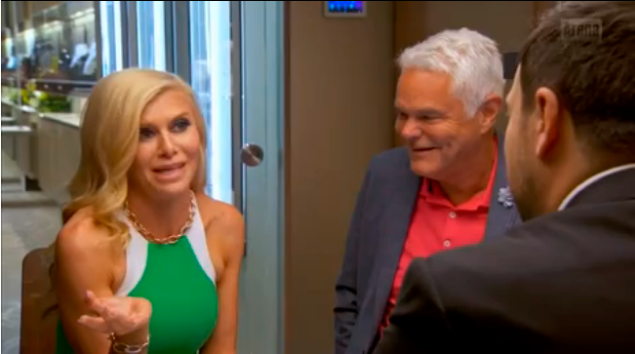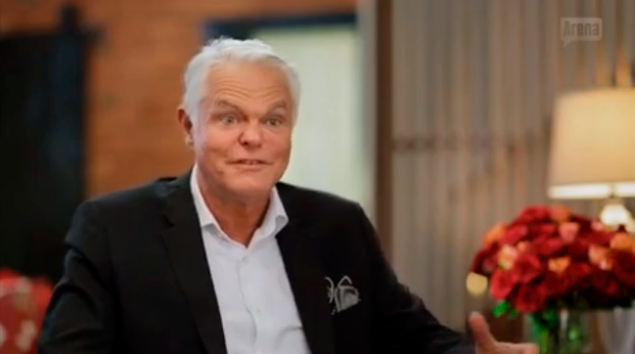 In Melbourne, something called "Spring Racing Carnival" is about to happen. I think it's kind of like the Kentucky Derby, except presumably fewer mint juleps, more shrimps on the barbie. Or something. Whatever the case, the ladies obviously need to buy some fabulous headwear.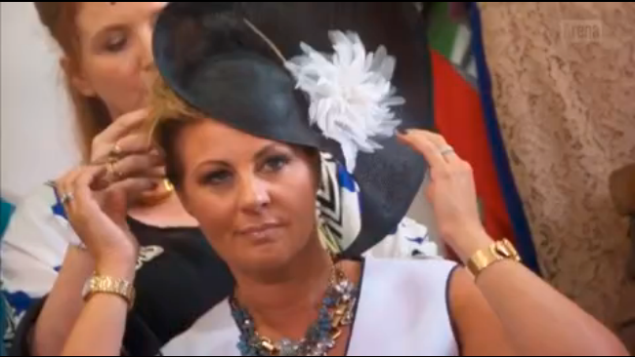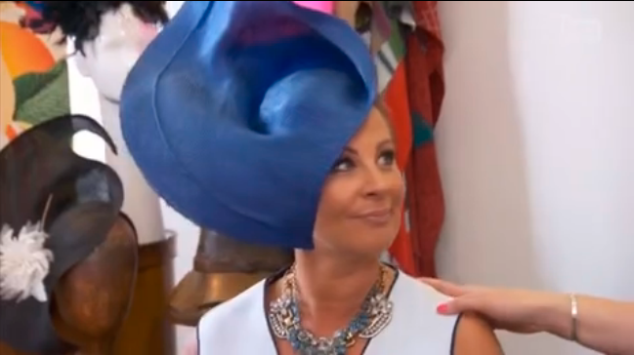 It's time for the first day of races, and the ladies are heading to a fancy venue to bet on horses, drink champagne, and make snide remarks in each other's direction. Gina and Gamble get a head start, using their limo ride (why do these women take limos literally everywhere?!) to talk about their mutual dislike of Pettifleur. Does Gina really hate Pettifleur, or is she just embarrassed she called you out, pretty justifiably, for making insensitive comments about her race and accent?
Gina comes up with a plan: that Gamble should ask Pettifleur if she's sensitive about her race and accent. Er, okay? Gamble, who would literally sacrifice everyone she loves for the honor of Gina's approval, accepts her very important mission.
I'm getting sad. I loved Gina so much last season, but now she's being straight-up mean. But wait—Jackie has just entered the building wearing a hat in the shape of a giant queen chess piece. It's because she "plays chess" with all the women, and she's the "queen bee."
"You're playing chess with all the girls? You think you are, but you're actually masturbating," Gina declares. I'm not sure the comeback even makes any sense, but bravo, Gina. It's no "insignificant ass hair," but I'm sufficiently entertained.
Eventually, it's time to make bets. In case you were wondering why Jackie isn't a self-made gambling millionaire:
"Being psychic, using your gift for gambling goes against my beliefs," she says. "Use your gift to help others." I have questions. Does she know who's going to win, and then purposely bets on someone else? What's even the point? Additionally, does "helping others" entail telling me which horse will win? Yo Jackie, let's talk.
The races eventually take place, and everyone wins a bunch of money and is super excited.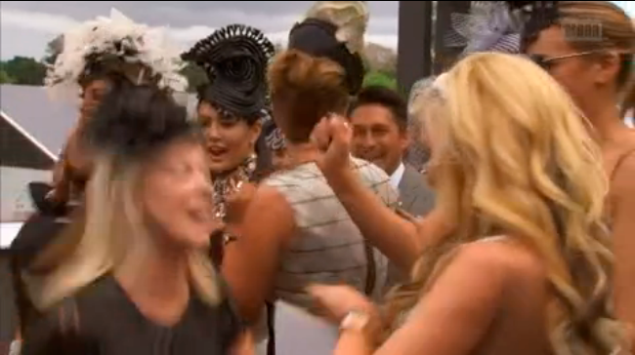 Next up is the launch party for Pettifleur's maybe-or-maybe-not-plagiarized book, Switch the Bitch.
While most of the ladies commend Pettifleur on her book, Gamble gets to work on Operation: Earn Gina's Approval. Over in the corner, she informs Janet that—and I quote—"a very famous girl over in America," Omorosa, wrote a book that's really similar to Pettifleur's.
(Don't worry, Pettifleur; last I checked, Omorosa was doing this.)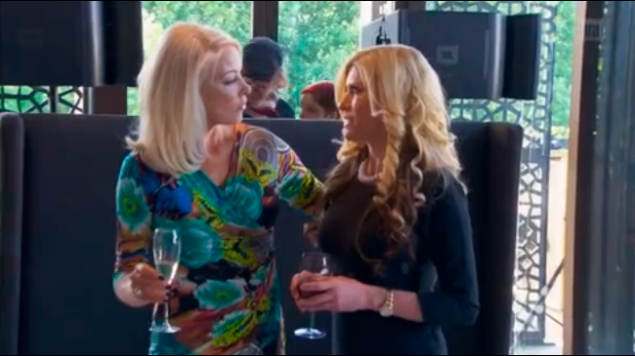 Pettifleur makes a lovely speech to her guests about the book, and then asks if anyone has any questions.
The crowd is silent, until Gamble raises her hand. "Who's the publisher?" she asks, knowing full well that Pettifleur's book is self-published. My jaw drops—like, literally drops. My face literally becomes unhinged. Uh, this is like so rude. And also sad. Gamble just wants validation.
Pettifleur, thankfully, handles the question in stride.
"Publishers take away the message from your book," she says. "My book is not about selling the book. My book is my real, raw truthful message."
But the assault on Pettifleur isn't over! After the speech, Gina and Gamble corner her to tell her she really should get a publisher, and list off all the things they find offensive in the book.
"It's not published, it's got a title I find offensive, the content is hideous, and really, I didn't want to be there," Gina confesses to the camera. Oh, Gina, how was I ever upset with you?!
Still, it's Pettifleur who wins the day. "Bitches can try to steal my thunder, but try it," she says. "Not going to happen." GET IT GURL.
Finally, it's time for the main event: Gamble's much-anticipated hen's night! Prior to the party, Gamble and crazy sister Tempest get dolled up by a professional make-up artist friend of Gamble's.
Gamble, if you'll recall from last week, has just had plastic surgery, and oh my god, she looks totally different, and seems super happy with the results. I'd probably be excited for her, if she weren't such a monster of a human.
Oh, and side note: Gamble has a new Pomeranian! Its name is Wicket. Or Wicket. Or Wickert. Australian accents are funny!
On the way to the party—which is Bond girl-themed—Janet shares her apprehension with Lydia. She's nervous about seeing Tempest again, after their blow-out in Sydney.
The party goes smoothly at first. The ladies hang in the backyard, and even help Gamble decide between the princess cut and cushion cut diamonds. (I don't know which one she decides upon—maybe she just takes both. Sry Rick).
As the sun sets, the party actually transforms into a 90s hip hop video. Or maybe a scene from From Justin to Kelly.
Two topless waiters emerge from Gamble's house bearing trays of hors d'oeuvres. Wait a second—those aren't regular waiters…
…They're strippers! Gamble and Gina are forced into chairs for side-by-side lap dances. Gina is totally into it, but Gamble puts on a big show of hating it. Does she really hate strippers, or does she just want to remind everybody she's super chaste and definitely never did anything stripper- or sex party-related, no siree Bob?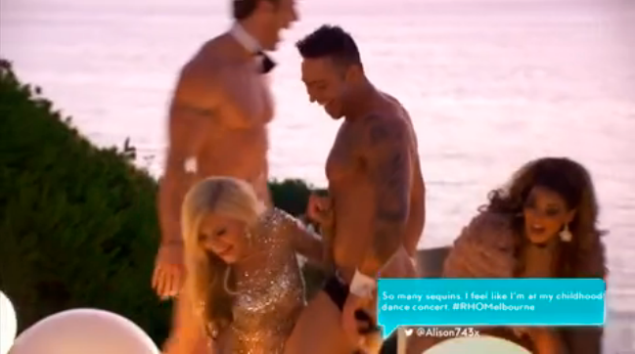 "It's actually a stripper phobia," Gamble solemnly tells Chyka later in the night. "I don't like male strippers." Cool cool.
Gamble may not like strippers, but I happen to know someone who does.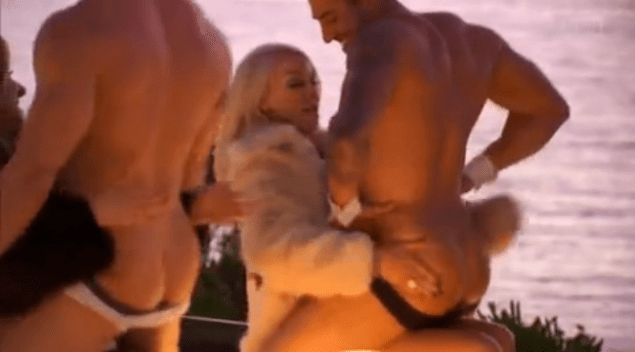 When the stripping is over, the inevitable confrontation between Tempest and Janet occurs. Surprisingly, it goes okay. Tempest apologizes for her behavior, and Janet admits she understands her impulse to protect to her sister. All I ask now is that Tempest learn to make fewer facial expressions like this: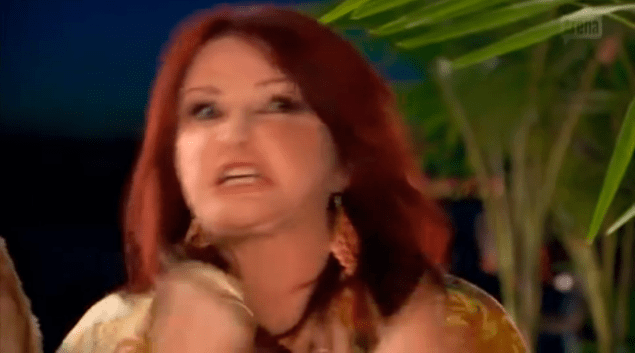 But the drama persists! Elsewhere, there's intense, fast-paced drum music playing, and in the light of a single lamp, Gina corners Gamble and brings up the sex rumors again. No. No. WHY?! She wants to make sure Gamble really, truly, never posed for any naked pictures or threw any wild sex parties. Gamble says she never did. Then, just for fun, Gina points out that Gamble's make-up artist also does make-up for strippers. OK COOL WHATEVER CAN WE PLEASE DO FUN BACHELORETTE PARTY THINGS NOW?!
Yes, yes we can. Chyka magically produces a box of sex toys, and everyone bonds over having no idea wtf to do with a Tenga egg.