Whew! We're finally back from Manila, where Janet did a few things for her tea line but mostly everyone just clawed at each other's eyeballs.
At home again in Melbourne, Jackie fills in Ben on everything that went down: particularly how mad she is at Gina for straight-up lying to everyone's faces.
But the best part of this scene is easily when Ben tells Jackie he missed her, and calls her "my sexy butterbean." Is this an Australian thing? A Jackie-and-Ben thing? I don't know, but I'd like everyone I know to call me a sexy butterbean, starting now. Cool thx.
Meanwhile, Lydia has just finished renovating her house, and Chyka's stopping by to check it out. "I don't have time to wait until the dishwasher finishes," Lydia says, pointing out her two dishwashers. "I just don't have time." Her kitchen also has motorized drawers. "Can you imagine when the electricity goes out and I can't get a spoon or a knife?" she muses. Lydia's life sounds hard #prayforlydia.
Also, did I mention Lydia's house might double as some sort of luxurious sex museum? There is plenty of evidence to support this claim: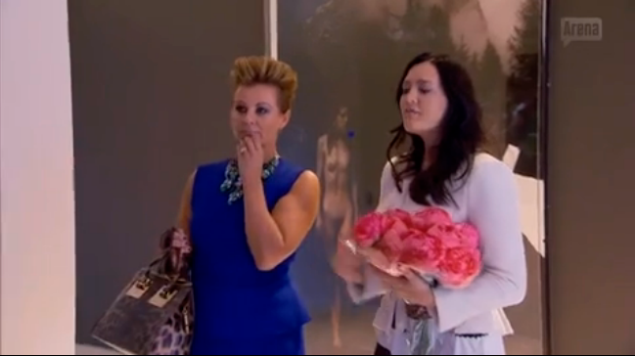 But let's get to the drama, right? The launch party for Janet's tea line is tonight, and in the limo ride there, Gina and Gamble discuss their dislike of Pettifleur. "I find Pettifleur to be draining at times," Gina says. Dun dun dunnnnn!!!!
But before Gina and Pettifleur can argue for the seven trillionth time, some happy news: Janet's son Jake—who'd been feeling really down since suffering his burns—is, like, obsessed with the tea line. He finally loves life again, and has plans for his future. Janet weeps with joy, particularly when she and Jake pose for photos together; it's the first time he's allowed himself to be photographed since his accident. GO JAKE!!!!!!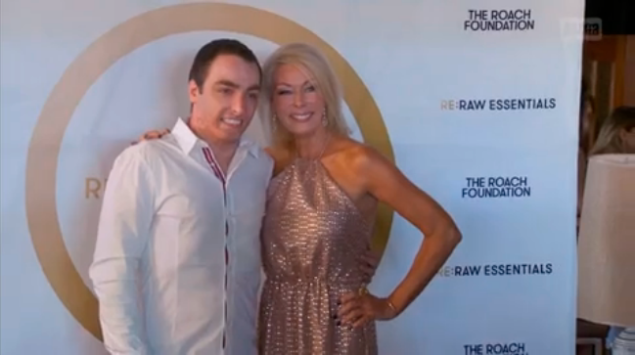 Unfortunately, all hell shortly breaks loose, as all hell tends to do whenever the Housewives are together.
First, it's The Saga of Gamble's Sex Rumors, Part 943,698,967. Janet's pig-owning friend, Carlos, has come to the party, and guess what? He's the one who apparently started all the rumors about Gamble. Janet is hoping they can keep the drama to a minimum, but sure enough, Gamble confronts Carlos about 0.06 seconds after meeting him.
After a ton of arguing between Carlos, Gamble, and resident legal advisor Gina, we get to the root of the dumb rumors: Some friend of Carlos once showed him a clothed, totally non-scandalous photo of Gamble, but then made up a raunchy story to go with it. Or something. It's kind of unclear, and very anti-climactic.
"Can you at least have been topless?" Gina asks Gamble, when it's all said and done.
Elsewhere at the party, Lydia and Pettifleur are having an intellectual discussion.
"What is it with your accent thing?" Lydia asks.
Lydia "loves" the way Pettifleur speaks, and agrees that Gina has been rude about Pettifleur's accent. She encourages Pettifleur to confront Gina.
Thankfully, it isn't long before Gina swoops into the women's booth. Pettifleur wastes no time telling her she doesn't like how much attention has been paid to her accent.
Gina insists she never makes fun of Pettifleur's accent—she only makes fun of the things Pettifleur says. Phew, that's way nicer! She proceeds to dig into Pettifleur, demanding to know if Pettifleur thinks she's a racist. Uh, how about you just stop impersonating Pettifleur?
But it's time to move on, so everyone stops fighting and toasts to Janet's tea line.
Next up, Gina is throwing a sneak-peak for her upcoming shoe line. And surprise! She's named each of the shoes after one of the Housewives.
Unfortunately, no one seems particularly thrilled with the shoes that bear her name. "They're certainly not my style of shoe," Lydia says, contemplating the "Lydia." Janet is pissed, too. "My shoes are like, for a nana!" she laments to the camera. "And Chyka's got the kitten heel for the nana shoe!"
But poor design isn't the only problem with Gina's shoe line, Pettifleur decides. She's mad that Gina didn't ask anyone's permission to use their names. She also notices that Gina's shoes have red soles, like Louboutins.
"Aren't they already taken? Trademarked?" Pettifleur asks Gina innocently, totally not referring to Gina's accusations that she copied her book from Omorosa.
The next day, Pettifleur and Janet go shopping for outfits to wear to Jackie's upcoming garden party (yes, this is a jam-packed episode). While shopping, Pettifleur tells Janet that Gina should have asked permission to use their names, and that she copied Louboutin's red soles.
"My name is unique and I don't want any other bitch having it," Pettifleur says. Can I just say, Pettifleur looks totally fab in this scene?!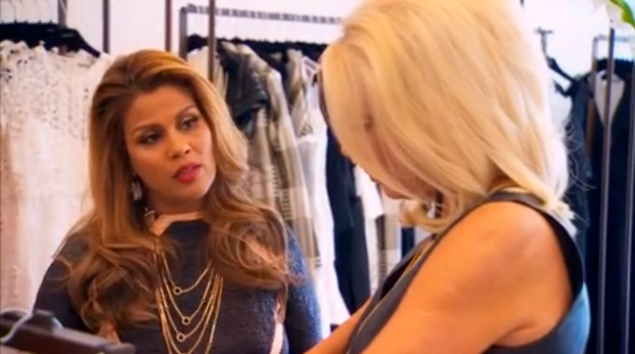 And now for the kookiest scene of the episode, which I almost mistook for a Real Housewives parody: Gamble and her sister, Tempest, sipping champagne after Tempest's $50,000 cosmetic surgery.
"I was in denial about how much fat I had under my chin, to be really, desperately honest," Tempest says.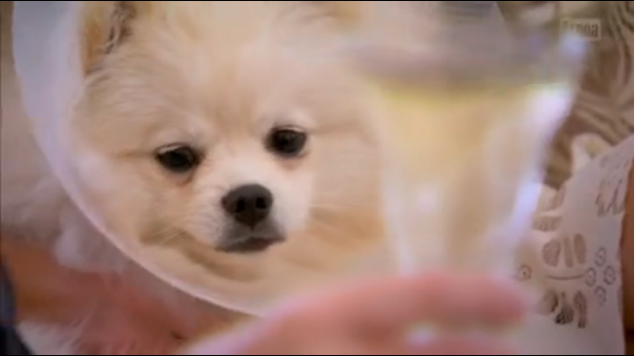 Finally, it's time for Jackie's garden party! On the drive there, Janet brings Chyka onto the anti-Gina train. Gina's intention is to sell her shoes using their names, Janet insists. "I'm going to call the bowel-cleansing tea 'Gina,'" she says.
Jackie's party is 1950's vintage-themed. Pettifleur, whose outfits never cease to captivate me, wears this: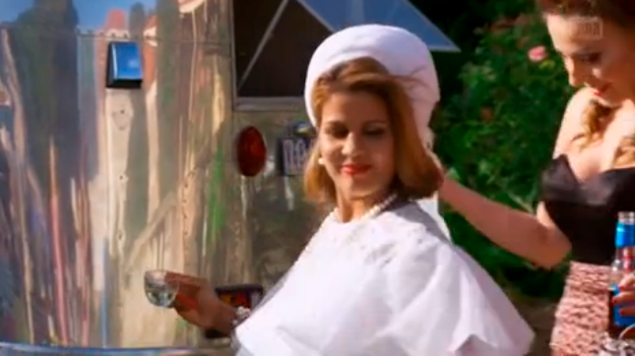 Of course, more fighting ensues. Janet tells Gina she hates the "Janet" shoes, but Gina maintains they'd look beautiful on her. Pettifleur and Chyka confront Gina about not asking for permission to use their names, but Gina insists she's allowed to call the shoes whatever she wants.
Pettifleur says she'd rather the "Pettifleur" shoes be called "Honeydip." Or "Black Bitch," she suggests.
"For someone who's quite ultra-sensitive about whether people are racist around her … for her to say something like that is pretty severe," Gina says. CUE 7839047 MORE EPISODES OF ARGUING!
But the party isn't all bad. Meanwhile, Jackie introduces Janet to David, a badminton player in remarkably short shorts. Gamble is horrified, observing that David "looks about 10 years old," but who cares? Janet appears to be having the time of her life.
And now, for the moment we've all been waiting for: Jackie is going to announce which model they've chosen to be the next face of La Mascara, her beverage line. It's somebody named Natasha! You go girl.
Suddenly, a helicopter descends upon the garden party. It's for Jackie, who apparently has another appointment she desperately needs to get to. Inexplicably—but also amazingly—she and her fabulous stylist run hand-in-hand to the helicopter, get in, and fly away.
I have no idea what just happened, but "shine, shine, shine," amiright?!