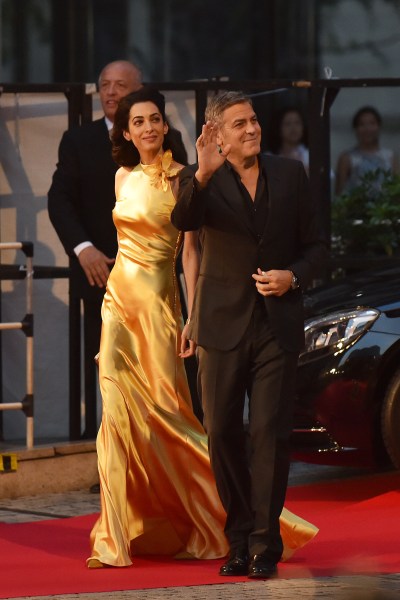 For a high profile figure that claims a slight disinterest in discussing fashion, Amal Clooney has racked up quite a few best dressed mentions. But it turns out she's not alone in selecting the gowns she's worn as of late: Stylist Alexis Roche has been responsible for dressing Clooney at a handful of recent events, Yahoo Style reported today. He's the one attributed for putting her in the tiered John Galliano for Maison Margiela number she wore to the Met Gala. He also styled her for this week's Tomorrowland premiere in Tokyo. That brilliant silk gown, which was reminiscent of liquid gold, was also Galliano's design for Margiela.
This brand repetition is no coincidence; Roche is the longtime partner of Galliano. Beyond being romantically linked, these two have previously joined forces in a professional setting as well. Before Galliano lost his top role at Dior, following his very public anti-Semitic rant, the duo worked side-by-side at the brand, where Roche was the VIP style and image director. According to his Linkedin page this role required him to assist with research trips, consult on campaign imagery, and liaise with A-list celebrities on behalf of the LVMH-owned label. He left Dior in 2011, just a few months after Galliano was fired.
Since then, Roche has been quietly styling some of Hollywood's biggest stars: Uma Thurman, Sienna Miller, Charlize Theron, and Marion Cotillard. At this year's Cannes Film Festival he was busy dressing a handful of models, including Kendall Jenner, Liu Wen, and Adriana Lima. But he's also been closely tied to Margiela and his agency, Michele Filomeno, credits him as a brand consultant for the two shows that Galliano has whipped up since arriving at the maison.
All this brings us to the question, why is a human rights lawyer aligning herself so closely with someone that was once at the center of a massive anti-Semitic scandal? Perhaps she's forgiven and forgotten his past actions, like Anna Wintour, who was the first person to wear one of Galliano's Margiela designs. Or the late Oscar de la Renta, who appointed Galliano to his atelier for a short stint following his public fallout. Others speculate that this could be paving the path towards the lawyer's first Vogue cover, which would likely involve a Galliano-designed frock. But regardless of the motives here, all parties involved are doing a pretty solid job of creating some timeless red carpet moments.