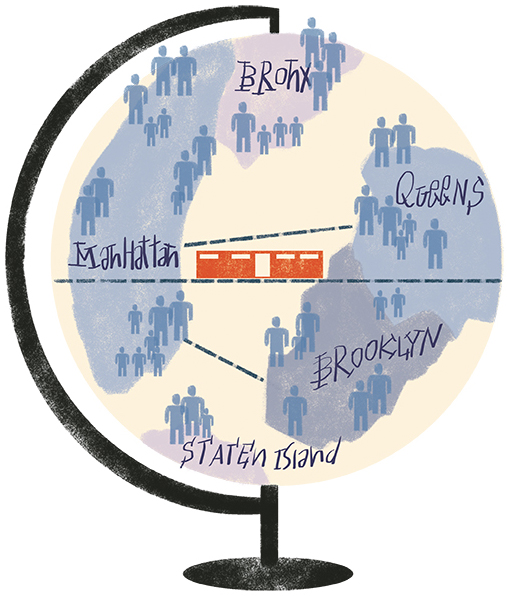 Back in the early 1980s, when Ken Scheff was living in the East Village on Seventh and First Avenue, he would sometimes visit friends who lived on Fourth between Avenues C and D. And though it was a distance of just seven blocks, whenever he went for dinner at their apartment, he would plan to sleep over.
"I would literally bring pajamas," said Mr. Scheff, explaining that back then, traversing Alphabet City late at night was more harrowing journey than postprandial stroll. But it wasn't only an issue of safety: in the 1980s, when so many of his friends lived within easy walking distance, it actually did seem somewhat far.
"People didn't live as much apart," Mr. Scheff said. "It was a very different city." And it was. Personal lives, as well as professional ones, were bounded not only by borough, but very much within it. As in earlier decades, people's recreational boundaries were often confined to Eastside/Westside and uptown/downtown divides.
But like a lot of other New Yorkers, Mr. Scheff, now a Stribling broker who manages the company's uptown office, migrated out of walking distance of his friends over the years, settling about five years ago with his partner in Morningside Heights. "When we moved up from West 79th Street it was an acknowledgment that we'd be traveling more because so many of our friends still lived downtown," he said. "I thought, 'Oh, I'll just be a little further from the Village, another 15 or 20 minutes on the train.' " Little did he suspect that the subway, which he'd avoided during the '80s because he'd found it was too dangerous, would become such a key component of his social life.
New York was, and always has been, defined by proximity—Manhattan is, after all, a small island, just 13.4 miles long and less than 2.3 miles wide, its distances calculated by block (the pedestrian's currency), its skyline and its sensibility shaped by the clamoring desire of so many people to be at the center of things, of everything.
Scarcity of space is what rendered the city both so difficult and so wondrous—the sheer magnitude of people and things within a few block radius encouraged both a roving curiosity and a sense of possibility. You didn't need a lot of time or money to get to get wherever you wanted to go, or even any real navigational skills, because you'd hit a landmark or a river soon enough, a bumper bowling-like corrective for the chronically lost. One friend, complaining that you needed to be a cartographer to get around the city now, told me that his mother, who moved to Manhattan around the same time as Mr. Scheff, never really learned the subway—she just caught a train going Uptown or Downtown, making up the remaining distance on foot. The outer-boroughs, that vast world beyond bridge and tunnel, were, by their very nature, antithetical to the whole premise.
But as the city transformed into an exceedingly safe and exceedingly expensive place to live over the past two decades, it's not only the crime and the pervasive decay that have fallen away, but the close proximity, creating a social commute that echoes and exacerbates a work commute that, at more than six hours a week, is the longest in the nation. People have always traveled to see their friends, of course, but rarely has it been so frequent or far to qualify as a commute. Subway ridership is at its highest numbers since the 1940s—1.75 billion riders last year—and it's been surging on nights and weekends, with some of the biggest increases coming from Brooklyn and Queens.
Manhattan, once the center of the world, is not even the center of the city anymore. Or, at least, it's not the only center.
While it remains a gyre that draws an increasingly far-flung workforce together on a daily basis, the cost of living there, and the declining risk of taking up residence in the city's formerly decrepit outer districts, has scattered young strivers and creative classers from the South Bronx to Bushwick. Of course, many outer-borough denizens have always gone to Manhattan for work and nights out on the town, but many of them also worked and socialized in the neighborhoods where they lived, a situation that has declined in tandem with the industrial economy that supported those live/work communities. The typical New Yorker now lives in a less-dense neighborhood than she did in 1970, a recent study from NYU's Furman Center found, 53,400 people per square mile to 57,900.
"We're on the train constantly—Fort Greene, Park Slope, Prospect Heights—sometimes it seems like everyone we know is in Brooklyn," Mr. Scheff said. Which, unfortunately, does not make a very good base for scuttling around other parts of the city, like Sunnyside, where they also have friends, or even Brooklyn itself.
"In some ways, no one neighborhood is sufficient any longer—you wouldn't feel like you're getting enough of the city if you just went to the Carlyle or you only spent time in the East Village," he continued. "There's more of an acknowledgment that people can live in different neighborhoods; where you live is slightly less important because you won't be doing everything in one neighborhood anyway."
But while walking is a pastime as well as a means of transportation, commuting, be it for work or pleasure, is at heart a compromise: a grudging acceptance of geographic distance in the hopes of getting closer to something else—a larger apartment, a greener block, a quieter street, or simply the ability to stay in a city that is, for a lot of people, more financially precarious by the day. And it's inevitable that in the midst of so much schlepping, transit schedules, once the province of the suburban commuter, would seep from our work lives into our social ones, that the flaneur's freewheeling soul would be infected by the commuter's timidity.
Which makes for a strange calculus in a city like New York, defined as always has been by its compactness. The city has long had its suburban commuters, of course, but its denizens, unlike those of Atlanta or L.A., have been exempted from the commuter's mirthless to-and-fro, able to lay claim to the spontaneity and delight that comes with moving through the streets, rather than counting highway exits or train stops—a virtue that not only numbers among the city's primary charms, but its most fundamental characteristics.
***
https://youtu.be/fWm3hLxUhZs
"Before I moved to Brooklyn I was a total Manhattanite—I thought the outer boroughs were scary," Kimberly Shipley told me when we met for sandwiches one Friday afternoon at Court Street Grocers in Carroll Gardens, which, with its extensive array of cane sugar-sweetened sodas in glass bottles and Reuben sandwiches prepared accommodatingly with either beef brisket or broccoli, was non-threatening in the extreme.
Of all the places that have absorbed the Manhattan diaspora in recent years, Brooklyn is undeniably the most transformed—a global destination in its own right, its memes and its cultural cachet, if not its output, rivaling Manhattan's as rising real estate costs continue to push many of the latter's galleries, theaters, bookstores, nonprofits, restaurants, bars and retailers into the borough.
A graphic designer from the West Coast, Ms. Shipley lived first in East Harlem, then the Upper East Side, then Hell's Kitchen, where she started dating someone who called Gowanus home. "It took like an hour to get to there," she recalled with exasperation. But she liked him, and she liked Brooklyn, so she moved into his place, shedding one commute but gaining several others in the process. It took her longer to get to her office in the Flatiron District, and seeing her friends, all but one of who lived in Manhattan, required far more planning and foresight than before, but it wasn't so bad. Then three of her closest friends moved to Astoria and soon Ms. Shipley was schlepping there on a regular basis, an hour-and-a-half-long trip on the R train from her apartment in Gowanus.
"There was one time I took a cab home from Astoria and it was $55. I was like, 'I'm never seeing my Astoria friends again!' " she recalled.
And I don't go to Manhattan on the weekends at all," she said, evincing a stinginess regarding non-essential travel that has become familiar on the brownstone-lined streets of Brooklyn. Indeed, social invitations that once would have been received with delight are just as likely to be met with prevarication or interrogation now that just stopping by is no longer an option, especially considering sluggish night and weekend train schedules.
It's not only when trains run that is problematic, but where: New York's subway system has a radial design structured for employment needs rather than a web that could facilitate a broader range of recreational and commercial uses. "People's travel patterns used to be more hub and spoke, now it's more of a spider web," said John Raskin of the Riders Alliance. "The challenge is to make sure the transit system can keep up with that change."
It hasn't been doing very well: Save for the G train connecting a horseshoe of Brooklyn neighborhoods with Long Island City, there's currently no way of getting from one outer borough to another without taking ground transportation or going through Manhattan. Less than half of the 3.4 million trips made within and between the outer boroughs are made on transit, according to a report by the Regional Plan Association, an independent planning organization. In contrast, the report states, "almost 9 in every 10 trips for work made to and from the boroughs to the Manhattan business district are on transit."
It's a change that has been paired with huge surges in overall ridership, and delays have increased exponentially—in December, weekday trains experienced overcrowding delays 14,843 times, the Post reported, a 113 percent increase from a year earlier, which means that not only are New Yorkers riding the train more, but it's taking them longer to get where they're going.
After all, commuting for both work and socializing can be so exhausting and it's hard not to be swayed by such considerations. Kimberly Murphy, an architect who lives in Bed-Stuy with her husband and two kids, said that she makes sure to lavish attention on visitors from Manhattan. "We provide really good food for them so it's worth the trip. Especially with the weekend trains which are notoriously sketchy."
As for Ms. Shipley, she doesn't intend to be making the trek to Astoria much longer. When we met, she was in the midst of an amicable break-up with her boyfriend and had just signed a lease on an apartment—in Astoria.
Nardeen Billan, a Citi Habitats broker who helped Ms. Shipley find her new apartment, said she's moved countless clients for social—and romantic—reasons. "I've had so many people move to be closer to a significant other; I've even had people move to a neighborhood wanting to be closer to someone, hoping that relationship will take off."
New arrivals, presented with a panoply of eclectic and desirable outer-borough options, are increasingly neighborhood agnostic, brokers say. Even a few years ago, people would come to the city with their hearts set on a specific neighborhood, remarked Gary Malin, the president of Citi Habitats. Now, renters' selections are as catholic as they are geographically diverse, a socially problematic tendency, as so many people end up making friends through work rather than, say, hanging out at a local bar.
"It's become much more fractured. I remember years and years and years ago when I moved back after law school, I wanted to be near all my friends, and all my friends were on the Upper East Side," Mr. Malin said. "People were forced out of where they wanted to live, but now those neighborhoods are more in tune with where people want to live."
And where the young and hip go, the rest of the city often follows, such that it's no longer just the young and penurious scattered far and wide. Whereas a New York, N.Y., address was once an essential mark of status for any striver, as the island's prime cuts have become increasingly Monaco-like, its appeal as a nightlife (and even a residential) destination has faded.
These days, people whose social circles lie beyond their own lucrative fields can find it hard to lure friends across bridge and tunnel. A young publicist recently recounted how excited he had been to rent an apartment in the East Village when he first moved to the city, only to discover that he was spending every weekend taking the train to hang out with friends in Astoria. He joined them when his lease was up—why pay a premium to live in a "destination neighborhood" when his own destination was always someplace else?
Upper Manhattan, in particular, though cheaper than many parts of Brooklyn and Queens, can be a logistical challenge for those in their 20s and 30s, isolated as it is by so large an expanse where few of their compatriots live. Alex Darymple, who grew up on the Upper West Side and moved to a $1,450-a-month apartment at 163rd and Broadway after a short post-collegiate stint in Astoria, said that if she's going to a concert or a cool new restaurant, it's invariably in Brooklyn.
"It does get kind of annoying to have to commute, but at the same time I have gotten closer to those select people who do live close to me that I probably wouldn't have otherwise," she said. "I have a friend I didn't know well in college who lives at 145th and Broadway and we'll hang out at Harlem Social or her place. I have another friend who lives in Spanish Harlem, he'll invite me for dinner. It's nice to be able to walk someplace."
Not even the most die-hard Manhattanite is able to beg off when it comes to visiting Brooklyn these days. Jason Karadus, a broker at Town who described himself as "always happy when I'm crossing that bridge Westbound," admitted, "sooner or later, you have to do it."
"You can't message, 'I want to see you but I can't be inconvenienced,' " he said of meeting his Brooklyn friends on their home turf. "It's not that the trip itself is so hard—if you tell someone it took you 25 minutes to get to Brooklyn, it sounds ridiculous, but it's more of a psychological journey."
***
"We're seeing enormous off-peak growth on nights and weekends," said William Wheeler, director of special project development and planning at the Metropolitan Transit Authority. He cautioned, however, against interpreting such growth as entirely social and recreational—he believes that a significant percentage can be accounted for by the boom in industries that don't adhere to traditional 9-5 schedules as well as creative-field arrangements like flexible schedules spreading more broadly across the workforce.
Though the MTA doesn't have any way of tracking where trips end or why they were made—only where they start and in which direction they go—we can safely assume that a good deal of the late-night crowding is due to reasons recreational and social, even if travelers are completing the return leg of the trip that took them to the office earlier that day, delayed by drinks, dinner or a movie.
The huge increase in night and weekend ridership has made it difficult for the MTA to schedule repairs—after-midnight and weekend service changes now inconvenience sizeable chunks of the population. The decision, for example, to shut down the L train for six weekends and late nights for nine weeks this spring has been met with outrage and disbelief.
Nor does it help that most of the much-touted outer-borough transit hubs, like Downtown Brooklyn and Long Island City, practically scrape the edge of Manhattan, only slightly reducing commute times for the outer-borough denizens who work there. As a result, Manhattan-bound commuters were more than twice as likely to travel to work on mass transit than those who work in the outer boroughs, according to a recent NYU study.
And woe be it to those who strike out for nightlife in Brooklyn and Queens, as Michael Musto's recent New York Times account of life as a reverse bridge-and-tunneler illustrated: "slow rickety" subway rides home, an L train so delayed and crowded he missed a show, giving up after getting lost in the rain en route to an after-party in Long Island City, waiting for car services that never show. "The whole thing was such an ordeal that it took the sparkle out of the proceedings," he wrote of one such challenge.
Quite simply, riders are making demands on the system that it is not designed to accommodate, a gap that Uber has stepped into quite adroitly. "If a friend is having a birthday party in Brooklyn, I just know that I'll have an expensive cab ride back," said one Uptown resident who factored cab fare into his monthly budget.
As much as demand for better transit options has grown within boroughs, it's also the case that more and more people are using the trains to commute in and out of Manhattan for work every day, pushing the average weekday ridership to 5.6 million, according to the MTA. The number of Manhattan commuters from the outer-boroughs has increased, particularly in Brooklyn and Staten Island, with growth rates that exceeded 10 percent from 2002 and 2009, according to the NYU study.
In many ways, the subway system has been a victim of its own success. "In the 1970s, the city was a lot more neighborhood-centric; people didn't venture out of them much because the transit system was dangerous and in terrible repair," said Mr. Wheeler. "When I got to the MTA in '86, we were trying to set a ridership target because ridership was so low."
During the '80s, the MTA poured money into subways' physical infrastructure and upped cleaning and policing efforts in stations and trains—a valiant effort, but one that may have been for naught had it not been for the staggering city-wide drop in crime a few years later, making it feasible for people to move to once too-dangerous outer-borough neighborhoods. Rising real estate prices, meanwhile, provided the impetus to go.
When the unlimited pass debuted in 1999, it made the outer-boroughs seem even more inviting, softening the blow for those who felt isolated from their friends and former Manhattan haunts. The pass remains hugely popular—when the MTA proposed capping it at 60 or 80 rides a month a few fare increases ago, Mr. Wheeler said he had teachers and plumbers coming up to him saying, "don't you dare cap that pass."
"With the unlimited metrocard, the incentive is to keep moving. The thought is, yes, let's go two stops to the Village or Union Square," said Gene Russianoff of the riders' advocacy group the Straphangers' Campaign, adding that the free bus transfer had personally changed him "from a busophobe to a busophile."
But while subway improvements may have lured New Yorkers into neighborhoods far and wide, their use of the system is, at this point, hardly optional. A recent calculation by transit engineer Matt Taylor found that you'd need 48 more crossings to get into Manhattan if you didn't have public transit, and each of those would need to have eight lanes.
***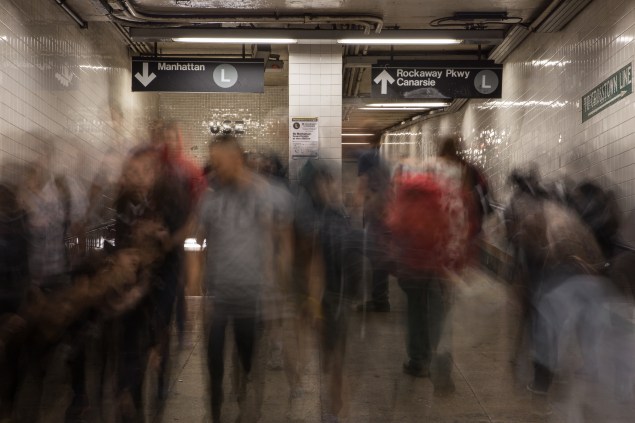 A friend of mine often recalls how charmed she was by Ditmas Park the spring she moved there. She only knew two people in the area, but she enjoyed the comparatively bucolic environs and the work commute was not at all bad. Within a matter of months, though, those friends moved to other neighborhoods; then the Q train shutdown on nights and weekends from the middle of January to the end of February. A pleasant remove from the city very quickly became profound isolation; she moved back to Manhattan as soon as her lease was up. Social commutes that seem tolerable at first often become wearying over time, especially with aggravating factors like construction or a trickle of departing friends turning to a mass migration.
It should come as no surprise, then, that some have not only relocated closer to friends, but saddled themselves with burdensome work commutes for the sake of their social lives. "When you're working, commuting is part of the gig. When you're done commuting and you're home, you don't want to commute again," said Mr. Malin. "Obviously, it's a great benefit to live within walking distance to work, but hardly anyone does.
"Prioritizing proximity to work seemed like a sad priority in my life. I really wanted to prioritize being close to my friends," said Laura McComb, a social worker in Harlem who moved from Morningside Heights to Prospect Heights.
It's hard to get around the fact that commuting is, even at its most delightful, still something of a drag. It's what you endure on your way to something that you'd actually like to be doing. Improved technology, like train schedule apps, may minimize waits—more riders, particularly millennials, are getting better about making "just in time" trips, according to Mr. Wheeler—the fact that anyone bothers checking the schedule at all underscores how little most of us like riding the subway. More importantly, it emphasizes how choreographed many of our lives have become.
After moving, Ms. McComb marveled at the ability to make last-minute plans: "It's been easier to just be like, 'Oh, what are you doing today? Do you want to go get a coffee?' You don't have to plan everything two weeks in advance to make sure everyone is free. And the way that people live in Brooklyn, just to be able to walk from neighborhood to neighborhood—it was so different," she said, enchanted by the very characteristic once endemic to Manhattan, the borough she'd left behind.
Adelle Waldman, a novelist who recently penned an essay about the social isolation of living in Morningside Heights, and conducting her social life via infrequent, geographically-equidistant dinners at too-loud restaurants in Downtown Manhattan, described how moving to Brooklyn transformed her life: "I didn't know that people in New York sometimes called each other up and suggested meeting up that very afternoon or evening, in an hour or two," she writes. "I had assumed that kind of casual socializing had gone the way of 1950s-style double dates to the movies and soda shop. It turns out that not living an hour's train ride from your friends helps. (Who knew?)"
Unfortunately, such obvious solutions to social isolation can prove elusive in a city with such geographically far-flung scenes and social groups.
Mike Mercadal, a 33-year-old comedian and paramedic who lives in a $700-a-month studio in Jamaica, Queens, didn't know the city well enough to realize the social cost of living on the penultimate stop of the F train when he and his fiancée moved here from Miami. They broke up a short time later, a turn of events, which he attributes, in part, to the strain of spending so much time on the subway.
"It was just too much, the negativity of being on the train everyday. She worked at a doctor's office on the Upper East Side," said Mr. Mercadal. "You can't just wander. If we wanted to, say, go to Smorgasburg on the weekends, it was like an hour train ride."
Now that he's single, living in Jamaica is even worse. There was a time, for example, when the romantic implications of being invited upstairs were clear; now he's not so sure.
"You're like, 'Is she inviting me in because she wants to see me or because I have an hour train ride home?' " The truth is, getting back to Jamaica often takes a lot more than an hour in the wee hours when dates tend to wrap up. Ditto hangouts with friends. And stand-up comedy gigs. Especially stand-up comedy gigs, which are more often than not in Brooklyn. Sometimes, he's so annoyed by going through Manhattan to get there that he takes a bus from Queens to Williamsburg, even though it's considerably slower.
A recent public transit odyssey, for example, started on a Friday when he met up with a friend of a friend by her apartment on 58th and Second Avenue. It was a date, a first one, and it went well—they hung out until 1 a.m. Not very prudent as he had to work at 7 a.m., "but we were having a good time and I didn't mind sacrificing a little sleep."
Only, there was construction on the F line and he didn't get home until 3:30 a.m. He was back on the train again at 6 in the morning for his paramedic shift in Forest Hills, which wrapped up at 3 p.m., after which he made the half-hour journey home. But he wasn't there long—one of his friends texted to say he was hanging out later that night with a group of people that included the girl from the night before. Mr. Mercadal wanted to see her again, so at 6:45 p.m., he got back on the train to meet them in the Village by 8. He left early, around 11 p.m., because of the long trip home.
"Then I get all these text messages—'You should have hung out! We went to this '80s party! It was so much fun!' " he recounted. "It didn't work out with the girl. Who knows? Maybe if I'd stayed and hung out it would have."
The problem is that Mr. Mercadal isn't really sure where he should move—his friends, job, stand-up gigs and favorite places to hang out are in disparate corners of the city, any one of which threatens to be almost as inconvenient for getting to the others as the place he's living now. Living more centrally would be great; the question is, central to what? So he intends to stay, unhappily and indefinitely, in Jamaica.
***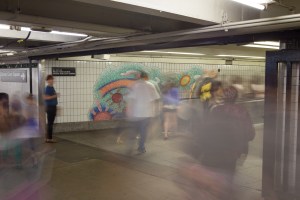 That more and more New Yorkers should, like Mr. Mercadal, live further and further from the city's erstwhile center is not so much a question as an inevitability. In 2014, New York's population hit 8,491,079 people, according to U.S. Census estimates, a number that is just shy of the estimates for 2020. If New York is to continue to grow, the population will have to spread out, and greater density will come to the outer boroughs.
But while much has been made of the rise of Brooklyn and Queens—culturally, socially and economically—its economic might has been largely overstated, according to Manhattan Institute fellow Nicole Gelinas.
"The financial and economic power of the city is still generated in Manhattan, which has 60.3 percent of the jobs," said Ms. Gelinas, explaining that despite tech workers in Dumbo and office development in Downtown Brooklyn, "the change we're seeing is incremental and it is highly unlikely that it will present a threat to Manhattan as the economic core of the city." (Brooklyn was the runner-up with 15.2 percent of the city's jobs.)
While the boroughs have experienced considerable economic development and growth, Ms. Gelinas said that the new jobs created there, though often high-paying, are "mostly created to serve people who live in the boroughs but bring money home from Manhattan—high-end restaurants, better hair salons."
"The outer boroughs don't like to hear it, but they're still bedroom communities to Manhattan," added Ms. Gelinas. It's not so different from living in Long Island or Westchester. Even if someone says, 'I live in Long Island, I'm a lawyer, and I never go into Manhattan,' their clients do.
So how can we make the transportation system reflect the shifting reality of the city?
"That's the No. 1 difficult question that no one can really answer," said Margaret Newman, executive director of the Municipal Art Society and former chief of staff at the city DOT. "Development will follow or closely track places people can get to, but the city is facing a huge challenge in utilizing all these areas, a lot of which is not accessible by public transportation."
New subways would be ideal, but the progress is glacial and the price astronomical—to wit, the first testing borings for the Second Avenue subway, the first phase of which is projected for completion in December 2016 and is expected to cost $4.45 billion, were made in the 1920s. Buses, meanwhile, are poky, infrequent and irregular: the MTA admits on its own website that buses in Midtown Manhattan and Downtown Brooklyn move at 4 to 5 miles per hour, "barely faster than the average pedestrian."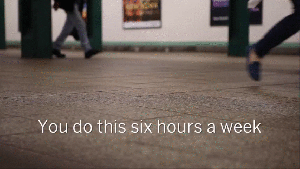 The answer, or at least an answer, is bus rapid transit, according to Mr. Wheeler and many other transit advocates, featuring off-board payment, more frequent buses, a streamlined number of stops, dedicated lanes and an extended green light at traffic signals, though it's hardly a balm for transit-weary residents. A study put out this April by the comptroller's office found that even express buses are late more than a third of the time, with late being defined by the MTA's own measure of no more than five minutes.
In February, the Regional Plan Association renewed calls for the outer-borough X line, which has been languishing since the 1990s, a proposed 24-mile line stretching from Bay Ridge to Co-op City in the Bronx that would make use of a mostly above-ground right-of-way used by freight trains, intersecting with the 6, N, Q, 7, E, R, F, M, L, 2, 3 and 5 trains along the way.
And in the rechristened OneNYC plan (neé PlaNYC), Mayor Bill de Blasio also proposed a new, five-mile line along Utica Avenue, a move that perplexed many transit advocates as his MTA funding has not been particularly generous. Otherwise, the administration announced plans for a citywide ferry service compliant with the MTA system, costing no more than a $2.50 swipe and serving neighborhoods like Astoria, Red Hook and the Rockaways, the latter which the city had cut ferry service to only four months before because of the extraordinary expense.
There's also just the very basic fact that the boroughs, being for the most part much larger and less dense than Manhattan, are in a lot of ways, innately more difficult to get around. All of which is to say that prospects for a truly altered transit system—at least on the scale that the soaring ridership with very different needs would seem to demand—are fairly bleak.
 ***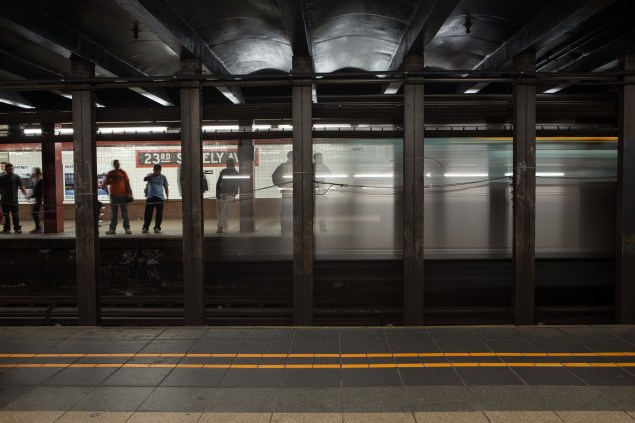 It is far harder to get around these days, but that, in part, is because there is much more of the city considered worth getting around to. New York, for most of its history a city of five boroughs in name only, is now becoming one in practice. The core has dissipated, but so, too, has much of the snobbishness and insularity that was deeply ingrained in Manhattan's psyche—the notion that one would never set foot outside Manhattan, once a badge of pride, now seems merely provincial.
It's undeniable that there is something to be gained from our much-altered city, but also much to be lost in the endless schlepping that has resulted from it: a sense of place, a kind of spontaneity, an openness to vagaries of chance that is as much a part of New York as its soaring towers. For how we move within a city determines how we live in it, not only where we go, but what we are likely to do—who we might encounter, how we interact and whether we plot our days with precision or leave them open to the happenstance of the street, porous to possibility.
As E.B. White writes in Here Is New York, the suburban commuter, while he lends the city its tidal ebb and flow, is of an entirely different sort than the New Yorker, and not just different, but diametrically opposed—"he has never come suddenly on anything at all in New York as a loiterer, because he has had no time between trains."
Proximity is not just one of the city's primary virtues, but arguably, the virtue that makes all its other virtues possible, what makes New York, New York. The ability to move from one thing to the next without much hassle means that everything, in a sense, is always happening, rather than the long stretches of waiting punctuated with bursts of activity that mark the pattern of life in more sprawling metropolises.
And yet, it can be easy to romanticize the past, to look only at the loveliness of being able to conquer the city on foot, when in reality, walkable as it was, much of it was circumscribed by fear. In a recent New York magazine interview, Sarah Jessica Parker and Matthew Broderick described how they used to walk home from anywhere. But what begins as a meditation on their enchanted ramblings turns into Mr. Broderick recounting his many muggings. "I don't miss the scary," he says.
"You feel particularly sentimental about the past, and the stuff that was scary or difficult kind of gets wrapped up in a different way," Ms. Parker agrees.
A safer city, hard to get around though it may be, has kept a lot of people here, who may drive their friends crazy by living in Astoria or Ditmas, but who have been saved from the isolation and far-worse commutes of the suburbs. While some possibilities have been lost, new ones have also been created.
Among the people I spoke with was an educator named Joe Baker who had recently moved from South Slope to Hamilton Heights. His life, he told me, had not taken the anti-social downward spiral that he feared it might. He had successfully lured many friends to Upper Manhattan, he said, "with good food and the offer to crash on the couch."
"When I first moved to New York, people said, 'you don't leave the 10 block radius of your house.' That was so hard for me to comprehend, but when I lived in Clinton Hill, so many of my friends lived there, too. I worked at a school that was a 10 minute bike ride away and I would run into people at the grocery store, students and their families," he said. "It was scary to leave, but the fear was unfounded."
Mr. Baker and his partner had wanted to buy in the city, but were unable to afford it, so they'd bought a small place upstate instead. In order to make the mortgage payments, they'd moved to a cheaper apartment. "Where I live now is more a reflection of my priorities as a mid-30-something," he said. "We had so many friends who left the city when they had kids. So many people in our friend group were like, 'We don't know if we'll be here in five years.' "
Moving to Hamilton Heights wouldn't have been the dream of his 20-something self, but one of the things you learn as you grow older in any city, and maybe especially in a city like New York, laden as it is with seemingly endless possibilities—a bounty of potential friends, careers, lovers, lives—is that the challenge lies not in having too few choices, but in having so many, and in the fact that sooner or later, you still have to make them.
Perhaps it's to be expected that with the entirety of the city opened before us that we might, for a while, behave as little 19-year-olds, thinking that we can, and should, take it all in, no matter the cost. That covering so much ground on a regular basis—living in Harlem, working in lower Manhattan, zinging down to Williamsburg every weekend and having a boyfriend in Woodside—would prove in the end, to be a choice in itself should not come as a surprise. The city will never again be as geographically compact as it once was; we can only hope that it will be easier to get around in the future.
In the meantime, the answer, it seems, lies not in giving up the friends in Inwood or dim sum in Flushing, but when presented with a vast array of places to go and people to see, to choose a neighborhood (or two), and to live as deeply as one can within it. A commute may be a compromise, but then, so is life.