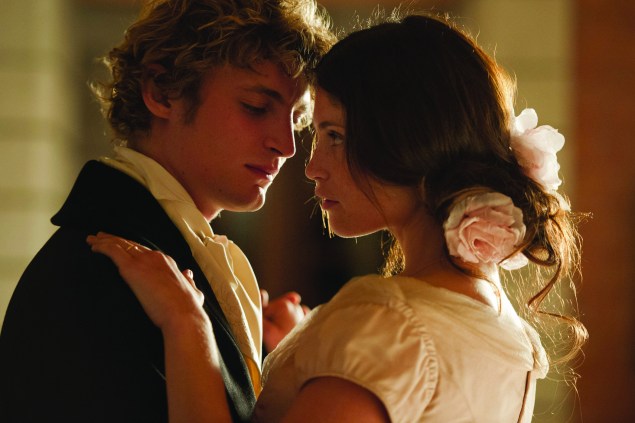 The doomed heroine of Gustav Flaubert's classic French novel was Emma Bovary. The leading character in Anne Fontaine's lush, erotic new film is Gemma Bovery. From these roots, imagination grows. The result is a somewhat reserved but sensual and gratifying movie that finds and polishes connections between literature and the screen while further catapulting the wonderful British actress Gemma Arterton several notches up the ladder toward international stardom.
---

GEMMA BOVERY ★★★
(3/4 stars)

Written by: Pascal Bonitzer and Anne Fontaine
Directed by: Anne Fontaine
Starring: Fabrice Luchini, Gemma Arterton and Jason Flemyng
Running time: 99 min.

---
Writer-director Fontaine's source material (with aid from co-scriptwriter Pascal Bonitzer) is a book by British graphic novelist Posy Simmonds, whose update of Far From the Madding Crowd became Stephen Frears' film Tamara Drewe four years ago (also starring Gemma Arterton). What they did for Thomas Hardy finds new inspiration in Flaubert's 19th century masterpiece of romantic yearning, replete with the gorgeous pastoral ambience of Normandy and the melancholy passions of unrequited love in a modern setting.
It begins with the arrival of a young married couple from England, Gemma and Charlie Bovery (Ms. Arterton and Jason Flemyng), who move into an old house in the bucolic French countryside searching for peace and tranquility, far from the noise and traffic of London. Their next-door neighbor is Martin Joubert (Fabrice Luchini), an unhappily married baker who has recently fled Paris for the same reason as the Boverys, but who has had no luck escaping his own misery. Martin, whose favorite book is Madame Bovary, is intrigued by the close spelling of his new neighbors' surname, and immediately uses a vivid imagination to create fantasies relating Gemma to Emma.
The movie begins, in fact, with a passage from the book—the scene at the Vaubyessard ball, so memorably and spectacularly captured by Vincente Minnelli in his 1949 MGM version starring Jennifer Jones. While Gemma's husband ignores her need for sexual fulfillment by devoting his time to repairing the cold, damp house with its power failures, leaky ceiling and faulty plumbing, Martin becomes besotted with her voluptuous beauty, spying on her increasing adulteries with a village schoolboy who is spending the summer in a nearby chateau studying for exams, and an old flame from her past. To his own wife's irritation, Martin is more than ready to make himself available, offering assistance and fresh croissants whenever desired—including the same kind of arsenic that killed Flaubert's doomed, suicidal heroine in the book.
In one highly charged erotic scene, when Gemma is stung by a bee during a walk in the woods, the lovelorn baker sucks the poison from her soft, bulging bodice in a paroxysm of dizzy emotion. Already obsessed with Flaubert's literary masterpiece, he begins to imagine parallels between Gemma and Emma, then rearranges the lives of the people around him, based on incidents created two centuries earlier. In her marvelous revisionist version of iconic literature, director Anne Fontaine creates a soft, gauzy aura of sensuality that makes the film look not so much photographed as buttered.
Like the novel, the movie ends in grievous calamity—not with suicide but with a surprise twist, proving how impossible it is for life to imitate art, even when you try. Filmed in English and French, the movie manages to mix dreamlike rapture with flashes of delicious, surprising humor. The actors are first rate, especially Gemma Arterton, who lacks the brooding neurosis of Jennifer Jones as well as Flaubert's driving passion, but who manages to be charming, sensuous and contemporary at the same time, her throbbing sexuality leavened by a sweetness as English as a David Austin rose.