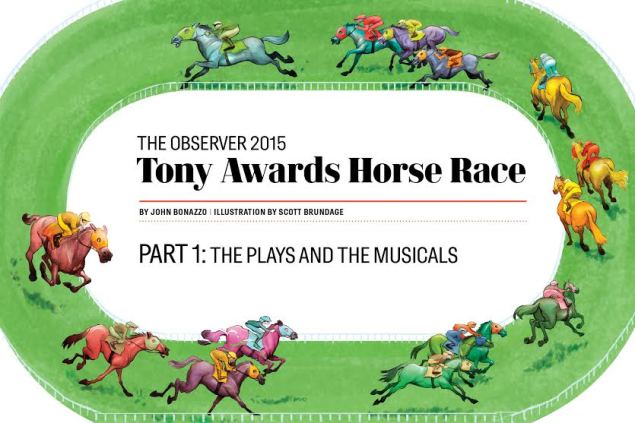 This year's Tony Awards—New York's answer to the Oscars—has all the drama of a high-stakes horse race. With some celebrity performances (Hugh Jackman, Tony Danza, Glenn Close) and powerhouse backers (Harvey Weinstein) surprisingly snubbed, and several polarizing shows on Broadway that critics either hate, it's no sleepy walk to the podium this year.
Here, a look at the races. (The 69th annual Tony Awards will be broadcast Sunday, June 7 at 8 PM ET on CBS).
BEST MUSICAL
Fun Home
Naysayers argue that this Public Theater adaptation of Alison Bechdel's graphic novel about coming out and coming of age is too unconventional to take the prize among a mostly older crew of Tony voters. But the show's partly set in the boomer author's Partridge Family-era childhood, so this fresh mix of topic, talent and nostalgia may trump. With 12 nominations, including five for acting, this is the one to beat.
Something Rotten!
Lots of reviewers laughed themselves silly at this Tudor-era lavish tribute to the twin muses of Shakespeare and musical comedy, including our own Rex Reed. But the New York Times, cringing all the way, kind of hated it. Will that, and its lighter subject matter (tap-dancing eggs!) take it out of the running?
An American in Paris
The classic film full of Gershwin tunes was transplanted to the stage by veteran Christopher Wheeldon with great dancing,,,and, um, great dancing. Warmly reviewed nonetheless, the show smartly just announced a national tour, which will pull in non-N.Y. voters who want to see the "Best Musical" banner in their towns. We're betting this production will likely win the Tony for choreography, but lose the big prize.
The Visit
Kander and Ebb's last musical, a dark revenge tragedy, is most notable for being Chita Rivera's long-awaited return to the Broadway stage. The score was criticized as second-tier, and the love story is macabre at best, however, so Tony will leave it behind.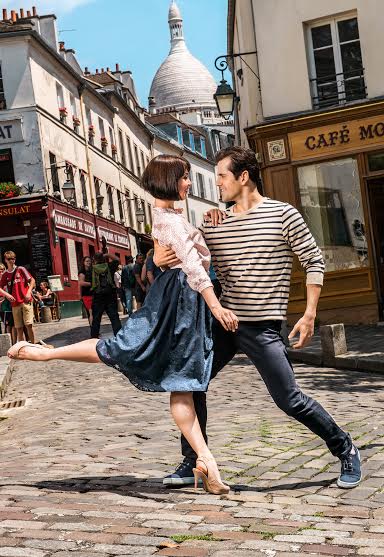 BEST PLAY
The Curious Incident of the Dog in the Night-Time
Simon Stephens' adaptation of Mark Haddon's bestselling book has been the frontrunner in this category since it opened in October. This immersive work about a child with autism investigating the murder of his neighbor's dog has captivated audiences and critics, and will do the same for Tony voters. Nothing else really has a chance.
Wolf Hall: Parts One and Two
Mike Poulton's stage transplant of Hilary Mantel's books about the disorder in Henry VIII's court got eight nominations, the most of any play this season. The Broadway version is assured of at least a couple of design awards, but the six-hour production and concurrent PBS adaptation of the story has stalled its momentum.
Hand to God
This isn't for everybody: there's sex with puppets, sex with minors and a dirty talking sock. Despite Mr. Reed's pan, this Robert Askins comedy about a Christian puppet minister whose felt friend is possessed by the devil is one of the season's underdog hits. It faces a long road to the big prize, but its five nominations in major categories are nothing to sneeze at.
Disgraced
It's rare that a Pulitzer Prize winner is an also-ran in this category, but Ayad Akhtar's fiery dinner party debate about Islam closed in March, and this is its only nomination. We bet it has next to no chance of winning.
BEST REVIVAL OF A MUSICAL
The King and I
Shall we dance? Bartlett Sher's lavish production of this Rodgers and Hammerstein classic at the Vivian Beaumont Theatre received glowing reviews and represents Kelli O'Hara's best chance at a Tony; for all these reasons and more, it should have a South Pacific-style path to the podium.
On the Town
This bouncy chestnut about three soldiers on shore leave in New York for "just one day" got only four nominations, but among these were directing, choreography and acting, which suggests this musical is more beloved than some initially thought.
On the Twentieth Century
This love story about a theatre producer and his diva lover on a farcical train journey got some craft nominations, and an acting nod for Broadway superstar Kristin Chenoweth. But director Scott Ellis was ignored, which means major support for this show is lacking.
BEST REVIVAL OF A PLAY
Skylight
The new production of David Hare's tragic love story got some of the best reviews of the season, particularly rhapsodic for Carey Mulligan in the lead, and was rewarded with acting, directing and craft nominations. One huge thing in its favor: It's the only nominee in this category that's still open. Voters hate to waste their ballot if they can help box office.
You Can't Take It With You
This Moss Hart-George S. Kaufman comedy was warmly received by critics and audiences last fall, and the nods for the play and its director show that the happy memory hasn't faded.
The Elephant Man
It's all about timing. This
revival of Bernard Pomerance's 1977 drama was the favorite in this category for much of the season, but since its closing the story of John Merrick has fallen by the wayside at Times Square dinner conversation. The lack of a second directing nomination doesn't help either.
This Is Our Youth
Kenneth Lonergan's study of drug-fueled adolescence, this time starring Michael Cera, but this show is in the same boat as Disgraced; it only has this one nomination, which means voters most likely just checked a box.