Brooklyn Heights has always been a place of firsts—long before it became the first Brooklyn neighborhood to host a presidential campaign headquarters. In the early 19th century, before the rise of the big Fifth Avenue estates, it was the first premier residential neighborhood in the city. Later, it was the first suburb. In 1965, Brooklyn Heights became the site of New York City's first historic district. Eleven years after that, Häagen-Dazs opened its first retail location there, on Montague Street between Hicks and Henry, where it remains today, commemorated by an inaugural plaque.
That a multinational chain based in the Bronx and masquerading as an artisanal purveyor of Danish desserts chose to establish its initial public-facing outpost on Montague, which runs from Court Street to the waterfront promenade, would be predictive of things to come.
On a single block, whose most charming tenant is perhaps Chipotle, one can today visit Bank of America, HSBC, TD Bank, Santander, Chase, Citibank, Flushing Bank and Dime Bank. Keep heading west and you'll hit AT&T, Verizon and Sprint, Starbucks, Sleepy's, Subway and the city's standby for fluorescent wigs and come-hither Halloween costumes, Ricky's NYC. In and amongst these are a couple of small-town variety diners; a hardware store; and the lovely James Weir Floral Co., with sprays of colorful plumage peeking from behind its black iron gate.
It is in this vicinity that Hillary Clinton's presidential campaign staffers, who are due to headquarter themselves at nearby One Pierrepont Plaza, will likely forage for lunch—snagging a five-dollar foot-long here, a bánh mì from Hanco's Vietnamese sandwich chain there—and enjoying rare sit-down meals among independent slingers of unpretentious fare like the Heights Cafe, Armando's Restaurant and Bar and Teresa's Polish-American.
Were it not for the beautiful buildings and pinkly flowering trees, the commercial mix might suggest an anonymous stretch somewhere in Manhattan's East 30s, rather than the prime strip of what is arguably Brooklyn's most desirable neighborhood. The four-block span is virtually untouched by the sorts of trendy retail offerings that have emerged over the last 15 years on nearby Court and Smith Streets, which have lately spread even to manifestly un-quaint Atlantic Avenue, with its scrum of taxis trailing fumes from the BQE to Barclays Center and back. It is hardly the bastion of "Brooklyn cool," the hipster haven that the international press has described in stories about Ms. Clinton's headquarters.
And yet, the matter of Montague Street's blandness is oddly bewitching. It would seem to have the makings of someplace very happening. But it isn't happening, and never really was. Why not?
Ofer Cohen, the president and founder of TerraCRG, a Brooklyn-based commercial brokerage, says that Montague Street suffers from never having been the underdog. "Historically, Smith Street has been blue-collar mom-and-pop for many years," Mr. Cohen said. "It started to change only in maybe the last 12 to 15 years." Court Street followed a similar trajectory, as median incomes on the surrounding residential blocks climbed steeply, acquiring a Trader Joe's and later, a Rag and Bone, to match the $15 cocktails and $35 entrees on offer an avenue over on Smith.
"Brooklyn Heights was for many years the only established [upmarket] neighborhood in Brooklyn," Mr. Cohen continued. "There was no transformation in Brooklyn Heights like we saw in Cobble Hill or Carroll Gardens. What we have is basically the same demographic getting richer and richer. So we haven't seen the same kind of changes on Montague."
This explanation leaves open the question of why, historically speaking, Brooklyn Heights' residents didn't create demand for the kinds of dining and shopping options that have popped up speedily in more newly emergent destinations for the moneyed classes. One could reasonably speculate, however, that prior to the borough's iconic rise, its wealthiest citizens might have tended to look to Manhattan for such services, while patronizing local businesses more for daytime meals and other quotidian errands.
As Mr. Cohen pointed out, "Twenty to thirty years ago, Brooklyn Heights felt even more insular. It was more an extension of Manhattan than Park Slope, for example, which catered to people who explicitly wanted to have a Brooklyn experience."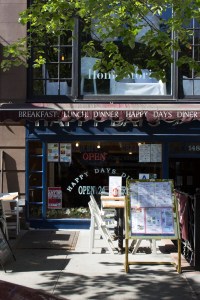 And it is the proffer of workaday necessities that continues to supply Montague Street's lifeblood, if also, oddly enough, to prevent it from drawing the small-batch retailers that have made Court and Smith Streets—to say nothing of Bedford Avenue in Williamsburg—weekend attractions for Kings County dwellers and Manhattanites alike.
At midday, Montague buzzes with workers in shirtsleeves and suits, pumps and tassel loafers, who migrate from the borough hall and court complex across Court Street, and from the Metrotech office hive just a little further east. They grab lunch, maybe pick up a cell phone charger, hit the Duane Reade and scurry back to work. A number of restaurants serve dinner, too, but traffic thins in the evening hours, and the sidewalks lie comparatively empty.
Still, business through the weekday afternoon hours is sufficiently brisk and space on Montague Street sufficiently limited that average rents remain high. They are higher by as much as $84 per square foot than on the portion of Court Street where sought-after culinary attractions like Buttermilk Channel, Prime Meats and Court Street Grocers have sprung up, and higher than on the entirety of Atlantic Avenue and Smith Street, according to a report prepared by CPEX Real Estate Services, a Brooklyn-centric commercial brokerage.
"Montague was always too expensive for something cool to happen," Mr. Cohen speculated. "Let's say you are a cool chef-restaurateur and you want to do a funky barbecue-brewery, with hormone-free, gluten-free­—whatever. Are you really going to open on Montague Street?" He wondered, too, whether the fact of Montague's being so long established might repel entrepreneurs keen to participate in a local renaissance.
"I think for some people, part of the excitement and the allure is being a part of that transformative feeling, and you can't get that feeling on Montague. It may not be as exciting as to go to a part of Court Street that is relatively undeveloped, where you get a good deal on rent and get to participate in a changing neighborhood, a changing vibe."
Nonetheless, Brigit Pinell, the executive director of the Montague Street Business Improvement District, cited several new and new-ish arrivals, some independently owned, which she considers evidence that Montague is keeping pace with the neighborhood's broadly ascendant stock: the Heights Salon, a high-end tonsure; Home Stories, a pricey furnishings purveyor owned by a couple from Switzerland; an organic bedding shop and a juice press operator. She is pleased, too, with the opening of a Le Pain Quotidien, Ann Taylor Loft and Banana Republic stores and a Kiehl's outlet.
Of course, what these retailers have in common with one another—and ever more so with the denizens of Brooklyn Heights and environs—is that they can afford to set up shop pretty much wherever they like. You might see them or their ilk uptown or down, in the West Village or East, at the King of Prussia Mall or off the lobby of your hotel. Walking among them, you might just forget that you are anyplace particular at all.
Then again, Montague is also the sort of environment—at once expensive and middle-of-the-road, incorporating soothingly familiar middle-American brands alongside top-flight dermal balms—apt to make down-to-earth millionaires like the Clintons feel right at home.