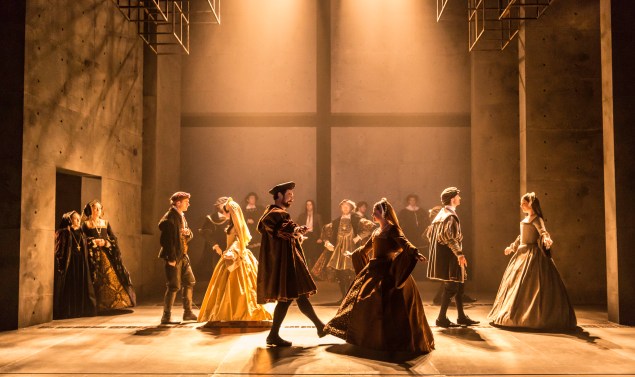 Playful Productions has brought to the stage two of the more successful plays now on Broadway: top-grossing The Audience starring Helen Mirren as Queen Elizabeth II, and the two-play production of Hilary Mantel's Tudor England novels Wolf Hall Parts One & Two and Bring Up the Bodies.
But Playful doesn't even have an office in New York. The three Brits who run it—Matthew Byam Shaw, Nia Janis and Nick Salmon—all have experience backing shows in New York in previous career incarnations, but the two current productions pretty much represent their first ventures together on Broadway. In London, their hit rate for shows breaking even is 70 percent, and on Broadway, where only a quarter of shows generally recoup, as things stand now, they're doing even better.
Playful's secret to making money in the theatre? Don't go into the theatre to make money. "We don't put on plays just because they might make a mint," the gregarious Mr. Byam Shaw, a former actor, told the Observer. "We work off our enthusiasm and passion for a number of years in development and we're frankly running on empty most of the time. It's the thrill of nurturing something along and seeing it become admired and appreciated because it's good dramatic art."
Of course, that kind of noble thinking is expensive.
Playful's ability to commission and develop new plays is subsidized by an unusual business model: the producers take on the workmanlike roles of general manager on unrelated productions in the West End. The principals deal with contracts, arrange auditions and troubleshoot on shows without producing them, specializing in overseeing London musical imports from the U.S. such as Wicked, Shrek and Kinky Boots. It's akin to running an international restaurant chain while spreading the risk and covering overheads by providing cutlery and menus to rival eateries.
---

'Most of the producers on Broadway are just money [backers] and they're not active, hardworking day-to-day producers,' said Nick Salmon, one-third of Playful's triumvirate.

---
Playful's total box office for the last five years is over $225 million with around $40 million of that generated by in-house productions. The company raises 60 percent of the money that goes into productions from outside investors who include restaurateurs, digital media entrepreneurs and former politicians. The other 40 percent comes from the money Playful makes from general management. The company's investors are drawn from quite eclectic circles, with Mr. Byam Shaw citing the racetrack as particularly fertile ground to meet new backers. He met one businessperson from Royal Ascot, another from Goodwood Racecourse. "It's [theatre producing] not quite gambling on the horses but it's getting close to it," he said.
Within the 30-strong company, Mr. Byam Shaw takes the lead on casting and play development, Ms. Janis manages the musicals and Mr. Salmon, a former agent, negotiates with theatre owners. Ms. Janis said, "We have so much experience bringing Broadway shows over that I feel we speak both languages very well."
Playful swooped into New York with The Audience and Wolf Hall after spotting what the producers felt was a dearth of commercial and creative production outfits on Broadway. "There aren't many producers to go to on Broadway and there aren't that many with taste," Mr. Salmon observed. "It's not like London, which has a larger producing community. Most of the producers on Broadway are just money [backers] and they're not active, hardworking day-to-day producers."
The Audience, which they are co-producing with another Brit, Robert Fox, recouped after two months of performances. Unlike Wolf Hall, it benefits from star presence in the form of Dame Helen Mirren who reprises the role of Her Majesty that won her an Oscar in 2007 in The Queen. (That film was written by Peter Morgan, who also penned The Audience.) The spectacle of Dame Helen running rings around assorted Prime Ministers is grossing $1.1 million a week (the budget was $4 million). "Whether it's true or not, everyone feels they're learning something as well as being entertained," Ms. Janis said.
Mr. Byam Shaw met the Queen recently at a Buckingham Palace function. They discussed The Audience, although royal protocol prevents him from recounting their conversation beyond saying, "The lady whose head is on the postage stamp is incredibly sharp."
Wolf Hall I and II originated when Playful executive Georgia Gatti spotted the dramatic potential of Hilary Mantel's best-selling novels about the rise of Thomas Cromwell in the court of Henry VIII. Playful collaborated with the Royal Shakespeare Company to stage the plays in Stratford-upon-Avon and then the West End. The plays cost just under a million pounds in London and $4.2 million on Broadway.
Even though the Wolf Hall cast contained no stars and the Winter Garden had not staged a play since James Earl Jones played Othello in 1982, the plays—which Playful and the RSC are co-producing with Broadway impresario Jeffrey Richards—had a pre-opening advance of $6 million. "We're relieved," Mr. Salmon said. "We were worried with no names that we'd sell anything before it opened."
It helped that New York Times critic Ben Brantley had twice given a rave review to the plays when he saw them in England. Mr. Byam Shaw joked, "He can't now go and say it's terrible—we could probably sue him!" The plays finish a limited run in July but once Ms. Mantel completes the third novel in the trilogy, The Mirror and The Light, Playful plans to stage Wolf Hall I, II and III together.
Homeland star Damian Lewis is in the next show they hope to bring to Broadway, a revival of David Mamet's 1975 classic American Buffalo. It also stars John Goodman and young Brit Tom Sturridge and will shortly open in the West End. Mr. Lewis' involvement is down to Mr. Byam Shaw's mastery at converting social encounters into opportunities. He had been trying to persuade the Showtime star to be in a play for some years and finally got lucky when the pair ran into each other in the lavatory at the London Palladium. "By the time we'd done our respective business, he'd agreed to do the play."
The trio hasn't always had it good on Broadway. They were leading backers of the flop transfer of Lucy Prebble's drama Enron five years ago that closed after only 15 regular performances at the Broadhurst Theatre. "I learnt a massive amount from it," recalled Mr. Byam Shaw. "It was sudden death. Dinner, tea and my drink in the evening were cancelled." His meeting schedule is full this time thanks to Playful's recent record. "[The Broadway community] are being generous about it and that is very nice. In England, they don't mention [success] and pretend it's not happening whereas there is genuinely more a sense of community here."
Playful is moving into TV and film production with Mr. Byam Shaw co-producing Peter Morgan's The Crown, the $100 million Netflix drama that continues his dramatic study of Queen Elizabeth II. They are also developing a David Hare play set in the opera. They're keen to receive new plays but in the absence of a New York office, how can the Next Great American Playwright reach them? "We don't receive unsolicited scripts," Mr. Byam Shaw replied. "But it's quite easy to solicit us!"