Fine art estimated in value at about $2 billion goes on the auction block in New York this week and next, at the big spring auctions of Christie's, Sotheby's, Phillips and Bonham's in New York. The dollar numbers are dizzying, of course, but each sale is curious and suspenseful in its own right.
Here, the story behind two paintings that just might set auction records.
Danh Vō's Untitled, Coca-Cola (2011)
When he was just 4 years old, conceptual artist Danh Vō became a refugee along with the rest of his family, fleeing postwar Vietnam and the Cambodian-Vietnamese conflict in 1979 by way of a handmade sea vessel bound, they hoped, for America.
As fate determined, Mr. Vō and his family were rescued in the Pacific Ocean by a Danish shipping freighter and they ultimately settled in Denmark. The country granted the family political asylum and, eventually, citizenship, securing the artist's immigrant ties to the nation—and his future role as the country's star representative on the international art scene. The artist will represent his acquired country in the Danish pavilion at the prestigious and influential 56th International Art Exhibition of the Venice Biennale opening this week.
Indeed, Mr. Vō has had what can only be called a meteoric rise in the contemporary art world. Winner of the lucrative Hugo Boss Prize in 2012 (an exhibition at the Guggenheim Museum is part of the trophy), a year later he did a much-discussed show at the powerhouse Marian Goodman Gallery that focused on the personal effects of the late U.S. Secretary of Defense Robert McNamara, architect, then apologist, of the Vietnam War. 
The art world eats this kind of dramatic narrative up, of course, but it has become apparent that Mr. Vō's work, indivisible from the entangled web of his immigrant past, is infused with poetic, cerebral meaning.
"You understand that there is something a bit bigger happening, and you really want to answer that demand," said Aileen Agopian, Sotheby's senior vice president and international senior specialist of contemporary art. "For us, there was really no doubt in our mind that Danh Vō was the artist we were looking for in our evening and day auctions. We felt that there were extreme demands from our clients to have top works by this artist, and we are really beginning to look at him as one of the most important artists coming out of this generation."
---

'We are really beginning to look at [Danh Vō] as one of the most important artists coming out of this generation.'

---
Yes, it's a sales pitch, but to those who watch such things carefully, Mr. Vō does appear to stand poised on the cusp of a major market moment. Sotheby's is betting big on the artist —who, at 40, is young for the auction block. In the upcoming sale on May 12, Mr. Vō's work entitled Alphabet (L) will be showcased alongside 60-odd pieces from iconic contemporary artists, including Andy Warhol, Roy Lichtenstein, Alexander Calder and Willem de Kooning.
His second work, Untitled (Coca-Cola), will follow as the marquee piece of the Contemporary Art Day Auction on May 13, even featured on the cover of the Sotheby's sales catalog. But will either Alphabet (L) or Untitled (Coca-Cola), two of Mr. Vō's prominent works that use the throwaway material of cardboard topped by an appealing gold sheaf, be able to bring Sotheby's a record sale?
A former student of the Royal Academy of Fine Arts in Denmark and a 2005 graduate of the Städelschule in Frankfurt, Mr. Vō's artworks have appeared at auction a handful of times before, with one sculpture bringing $629,000 at a Phillip's Contemporary Art sale last year.
Sotheby's expects to bring in an estimated $150,000 to $250,000 for Alphabet (L). But, it may very well be Danh Vo's other work, Untitled (Coca-Cola), that brings home the price prize. It comes to market from a private collector who in 2011 purchased it from a Berlin gallery. The auction house has estimated it at $300,000 to $400,000.
None of this happens by accident. Before auctioneers accept a work for sale, they like to see evidence of an impassioned and deep collecting base stretching throughout Europe, Asia and America. (Like baseball players, they like to keep their percentages up.) Besides solo exhibitions in almost all of the world's largest cities, in recent years Mr. Vō claimed curatorial successes such as his "Danh Vō, I M U U R 2" exhibition at the Guggenheim; his work in the last Venice Biennale; his show at Marian Goodman Gallery in 2013; and his "We the People" traveling exhibition series from 2010 to 2014, to name just a few.
What that lineup tells you is that he is already somebody who curators are aggressively pursuing for museum projects. "That is always a key element when you are looking for an artist that is going to make an impact, that he has the support not just commercially but also strong and deep support curatorially," said Ms. Agopian. "That is very important when we look forward at these younger artists to see the impact they are making on the greater contemporary art scene."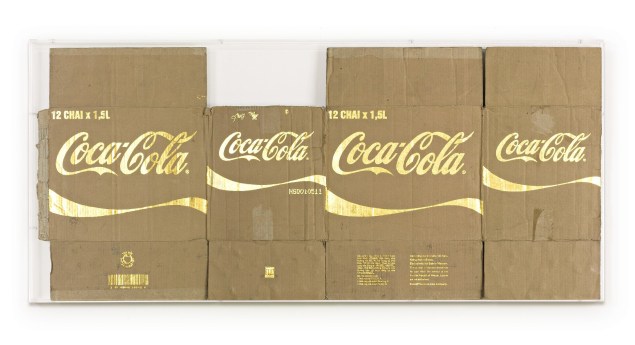 Lucian Freud's Benefits Supervisor Resting (1994)
Can Christie's break a world record—again—this May auction season with a work by German-born British painter Lucian Freud?
Freud's painting, Benefits Supervisor Resting, is set to hit the auction block during a Christie's sale on May 13. The painting is arguably one of the art world's most remarkable studies on the human figure. Created during a nine-month period in 1994, Freud captured the figure of Sue Tilley, a local government worker and one of his most celebrated sitters, in shocking and intimate detail in a series of four paintings. The extraordinary portraiture captures the painter's exhaustive examination of the subtle nuances of the human form, showing how Freud captured every fold and curvature of Ms. Tilley's body. Not only did Freud master the age-old genre, but he also reinterpreted it within a 20th century vernacular.
Candid and startlingly evocative, its companion in the series of four, Benefits Supervisor Sleeping, sold for a whopping $33.6 million at Christie's in 2008 while the artist was still alive. Now, auctioneers expect the lot to sell for an estimated $30 million to $50 million, but will it be able to top even that formidable figure? The painting has some stiff competition, headlining beside another iconic British work, Portrait of Henrietta Moraes, by Francis Bacon and Mark Rothko's Radiant and Smoldering Number 10, expected to sell in the range of $40 million But along with its three companion pieces in the series, Benefits Supervisor Resting remains one of the most prominent works in Freud's oeuvre.
"For me, the painting is really about the nude, a universal subject in art history. When you look back at all of the art historical depictions of the nude throughout the ages, this painting is the culmination of all of those nudes. It is like there is no other artist that can ever paint a nude again after this painting!" gushed Sara Friedlander, vice president and head of evening sales at Christie's. "We are anticipating great results for this work."
The work has been in a single private collection and will come to auction for the first time this May. The painting's appearance will be particularly noteworthy because it has become difficult for private collectors to get their hands on one of Freud's masterpieces given that many of the works were carefully and strategically placed in institutions early on.
Over the past 20 years, the current owner has loaned the nude to almost every major Freud exhibition, allowing the painting to tour the world while attracting a global audience.
Yayoi Kusama's Interminable Net #3 (1959) is poised to set a third potential auction record. For more, read our story "She's 'The World's Most Popular Artist'—But Can Sotheby's Get $7M for This?"