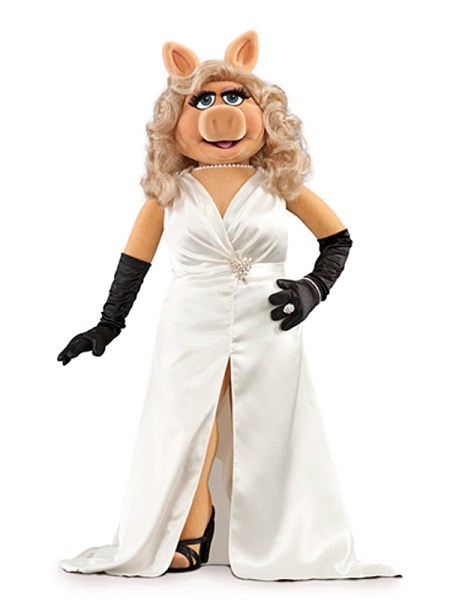 Look, I get it. Everyone over a certain age loves the Muppets. Gonzo is hilarious, so is that weirdo Swedish Chef. And of course, Miss Piggy's "HIIIIIYAAA!" karate chop is can't-fail pratfall material. She was the Moe to everyone else's Larry and Curly.
But unfortunately, I now feel the need to remind adults everywhere that the character we know as "Miss Piggy" is made of foam, cloth and plastic. This puppet was for the most part, animated by the gnarled hand and falsettoed voice of Frank Oz, the master puppeteer who along with Jim Henson and a handful of others created the memorable and acclaimed Sesame Street and The Muppet Show.
As a parent of two pre-school daughters, I can attest that both shows are wonderful for children and that Miss Piggy (despite her obsession with traditional marriage) is generally an admirable female depiction in a medium rife with deplorable characters of both sexes.
But, come on, Brooklyn Museum!
On June 4th, The Sackler Center for Feminist Art at the Brooklyn Museum will bestow its annual First Award–which supposedly honors women who are firsts in their field–upon Frank Oz and his incognito hand. The great Gloria Steinem will interview the winner. We are told Kermit will be present.
Is it possible that the Sackler Center, headed by museum chair Elizabeth Sackler and MS. Steinem, have run out actual women to award for their trailblazing work? The inaugural award was handed out in 2012, so it's unlikely. Maybe they just ran out of ideas, since they honored 15 women that inaugural year (including former Supreme Court Justice Sandra Day O'Connor).
Whatever the reason (and let's pause here to genuinely thank the Henson group for a robust and generous arts grant program), there surely are three living people, and at least one group, that should have received this award ahead of Frank's puppet.
In fact, we can name some who would be ideal:
Carolee Schneemann
Schneemann is a groundbreaking female video and performance artist, and perhaps even the first artist to use her own naked body in her art in her early performance and video pieces, 1963's Eye Body and 1964's Meat Joy. While that might not seem like a big deal today, before Schneeman, "the nude" in art dating back to the Renaissance was generally thought to be a woman's image created by a man. Schneemann was arguably the first woman to actually take control of the viewing of her own nude body, it's meaning, and it's presentation. This was an inspiration to innumerable artists both female and male. Established stars like Janine Antoni and Marilyn Minter as well as young artists like Laurel Nakadate and Donna Huanca owe much to her.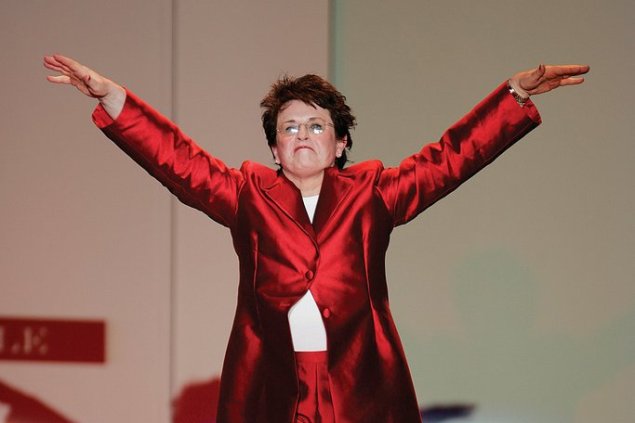 Billie Jean King
Not of the art world, but an icon pure and simple, King holds many firsts: first professional athlete to come out as lesbian, first female athlete to earn $100,000 in prize money, and the first female AND first tennis player to be named Sports Illustrated's sportsman of the year. She won 39 Grand Slam titles during her career and was ranked #1 in the world for five years, but she is possibly most famous for beating then aging tennis star Bobby Riggs in a 1973 promotional match which was dubbed the Battle of the Sexes. It was an inspirational moment for all women of that era and King knew how important it was to the feminist movement, stating "I thought it would set us back 50 years if I didn't win that match."
Eve Ensler
This one is a no-brainer. The creator of the hugely successful Vagina Monologues, a play that debuted in a West Village basement and went on immense worldwide acclaim in stagings in several dozen countries. In 2006, the New York Times wrote: "Her collage of testimonials about the culture of silence surrounding sexual violence against women is probably the most important piece of political theater of the last decade."
Of course Ensler now spearheads the insanely popular activist group One Billion Rising, which has recruited thousands of women to campaign for an end to violence against women in over 200 countries around the world. They've done everything from organize their Rise events (more or less dance parties) to actually getting rape laws changed in some countries. Amazing stuff.
The Guerrilla Girls
Instead of nominating one woman, why not powerful cadre? This hard-working anonymous group of feminist, female artists was the first of its kind in the art world and has been bringing gender and racial inequality to light since 1985 with no signs of stopping. The group was formed as a response to the Museum of Modern Art's 1984 exhibition, "An International Survey of Recent Painting and Sculpture", which only included 13 female artists out of 169 total (shame on you MoMA!)
Protesting in gorilla masks in order to avoid retribution, the Girls have effectively started countless debates on the subject and have helped to improve the situation, albeit slightly. After marginal success with protests, the group used posters, pamphlets, and other forms of direct media to more effectively get their message across. They are probably most well known for their 1989 Metropolitan Museum of Art protest poster which reads "Do women have to be naked to get into the Met Museum?"
Their disguised identity gives them the power to name names, give numbers, and take people and organizations to task, which they do with exacting detail. Clearly they (and we) still have plenty of work to do, but the Guerrilla Girls should be lauded for their groundbreaking part in the process.