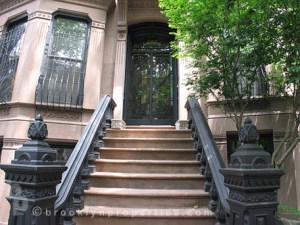 Have you heard? Creative types are being priced out of Brooklyn! Some of them have gone so far as to move to the Bronx, Queens–even back to Manhattan! If you don't believe us, just as the New York Times. And speaking of that venerable institution; it might be unrealistic for most of the paper's reporters to buy up big old brownstones in Kings County's more fashionable precincts these days, but the same, apparently, is not true of journalists who make films about said reporters.
Andrew Rossi and Emily Kate Novack, who directed and produced the 2011 documentary, Page One: Inside the New York Times, just dropped $3.2 million on a Park Slope brownstone at 205 Saint Johns Place, according to city records. So take heart, ye weary ink-stained wretches! Perchance you, too, will one day be able to afford such ritzy digs. (Full disclosure: it did not hurt, perhaps, in this particular instance, that Ms. Novack's father is on the board of directors at Time Warner, where he was previously a vice chairman and director.)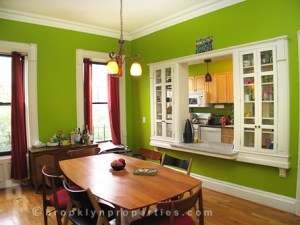 Still, the four-story, two-family home (double duplexes!) looks, in the listing held by Alan Marks at Brooklyn Properties to require a little work. It dates to 1899 and has belonged to the family of the sellers, Carl Bayer and Jane Bayer Goodman, since 1967, when it was acquired for…well, way, way less than $3 million. It's a lot of house, some which–lime green and bright red walls, one alcove of a kitchen–begs attention. But on the flip side, many original details are intact.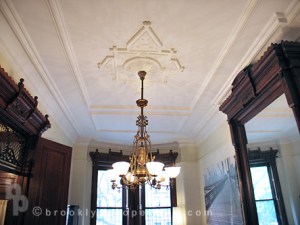 There are incredibly high plaster ceilings, worked with ornate molding, which echoes detailing in the the many dark wood door and window frames. An elegant curving staircase sports an imposing lumber banister, and out back, the home boasts both a deck and a patio. With five bedrooms between the two units–which might, of course, be combined to create something a little more mansion-y–there's room enough practically for a whole (documentary) film crew!