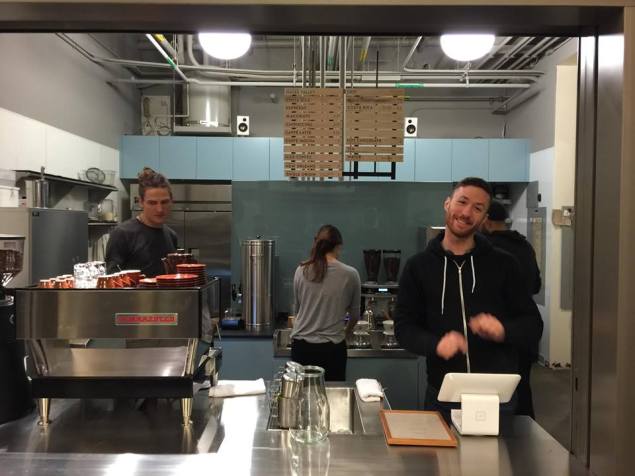 If you're ever in NYC and feeling too good for Starbucks, you'll probably run into a Square Register, those swiveling registers where payment, tipping and signing the receipt is all done on an iPad on a special stand. The Square docks have become the register of choice for NYC's coffee-snob stop-offs.
One of the unintended side effects of businesses adding these registers is that tipping is going through the roof. Square's tipping feature puts the option front and center, giving suggested dollar amounts and percentages.
The tips are displayed either on the same screen as the signature or on a separate screen, depending on how fast owners want lines to go and how much they want to trick patrons into paying more
In layman's terms: Normally in a coffee shop the tip jar is in the corner of your eye and you choose to ignore it. But here a big button showing a dollar amount is in your face , and you can't ignore it. Or rather, where normally you might skip the tip, Square puts tip amounts right in your face so you feel too guilty to ignore them.
Chris Buckley, a manager at midtown bakery Schmackary's, said that the success of smart tipping in his restaurant and others was due to simple aesthetics.
"The very large buttons draw the eye's attention," Mr. Buckley said. "People see it and think it's easy to put it on the card, and so tipping increases."
Tipping isn't the only thing that's easier—the way Square designs their register is much smoother than archaic point of sale systems that power most cafes and restaurants in the country.
"It's simple to train our baristas on the technology, and guests find that the ability to tip, sign and email or text a receipt in three simple steps is a seamless experience," Shawna Sharie, New York City director of Blue Bottle Coffee, said.
At one other cafe the Observer visited, a cashier said tips had "completely skyrocketed" since the store had introduced Square.
Mr. Buckley added that his business installed Square because their old point-of-sale system was meant for larger restaurants. By contrast, Mr. Buckley said it was very easy to teach employees how to use Square.
"We were trying to drive in a nail with a sledgehammer," Mr. Buckley said. "(Square is) very streamlined and very easy—it's more modern."