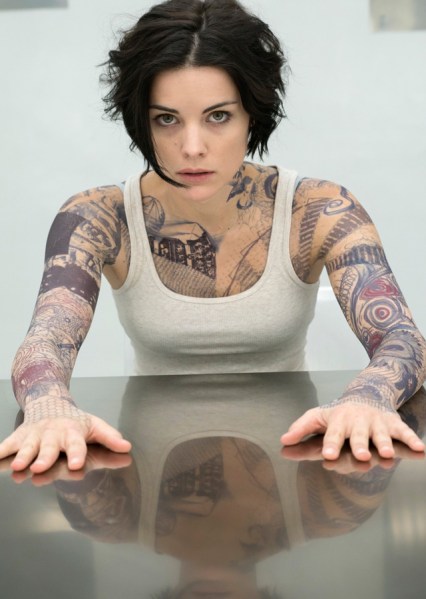 So it's Upfront season,which means a flood of new details and teasers for all the major networks' revamped and restocked schedules for the Fall. Now, if you're feeling a little overwhelmed by all the sheer new-ness, luckily we totally aren't (note: yes we are). Nevertheless, we've waded through everything so you don't have to, separating the good from the bad, and coming up with our top picks for Fall 2015 and beyond.
This list only includes shows with trailers available to the public. We would have loved to included FOX's Scream Queens from creator Ryan Murphy, but that teaser is still being held in a vault under FOX headquarters next to unaired episodes of Utopia. NBC's Heroes Reborn got an official time slot, Thursday nights at 8, but we still have to make do with this same teaser from February. Finally, CBS is the last of the big four to make available the trailers for its newest shows, but rest assured when they do we'll be on it. Or, the intern that takes over after our brains shut down from our fourth straight viewing of the Frankenstein Code trailer will be on it. Either way. Give us that sweet Supergirl trailer we know you're holding on to, CBS.
The Muppets (Tuesdays, ABC)
[youtube https://www.youtube.com/watch?v=pfJkusicBa4]
So by now you've probably already heard that The Muppets are meeting The Office-style mockumentary format, and packaged as a more "adult" comedy on ABC. First off, for the few outraged at the idea of a more adult-oriented Muppets, did you know the very first ever Muppets show was titled Sex & Violence? Also, the official trailer soothes two worries one would have — 1) The show looks genuinely funny, so no worries there and 2) The Muppets are still the Muppets, and that might even be enough by itself to sell me on this show.
One drawback: What…is going on with Kermit's voice?
Blindspot (Mondays, NBC) 
[youtube https://www.youtube.com/watch?v=cuVNZBHWi3c]
A woman wakes up, in a bag, in the middle of Times Square, with no memory and a body covered in brand new tattoos. Interesting. I'll admit I'm pretty excited that Mondays in the Fall, between Gotham, Supergirl, Minority Report and Blindspot, is shaping up to be the wacko, sci-fi-esque genre show night. I'm surprised, quite pleasantly, that NBC looks to have the most intriguing show out of the four I just listed, and also happens to star the incredible Jaime Alexander of Thor and S.H.I.E.L.D fame. Sif!
One drawback: It's well known by now that shows with a central mystery are hard to sustain, so we'll see what this show evolves into past "where'd all these tattoos come from?"
Minority Report (Mondays, FOX)
[youtube https://www.youtube.com/watch?v=_fLl-DMzxrk]
FOX's slate of new shows looks to so far be…a little underwhelming. The bright spot is Minority Report, based on Steven Spielberg's 2002 movie, and actually earned itself a executive producer credit from the director. The show picks up three years after the movie, and looks to be just out-there enough to be entertaining.
One drawback: The show was written by Max Borenstein, who also penned 2014's Godzilla, so there's a chance none of the main characters will even show up until like episode five.
The Catch (Thursdays, ABC) 
[youtube https://www.youtube.com/watch?v=_oANG1XrLqA]
The Catch will be the fourth show produced by Shonda Rhimes airing on ABC, which really in itself is incredible. But so far, the Shonda method has proven to be a winning method, and The Catch checks off all the right boxes—strong, strong female protagonist, desire, betrayal…murder? We've reached peak Shondaland over at ABC, and that might not be a bad thing.
One drawback: Having a total bank account balance of $143 is a bad thing? Oh…no.
Quantico (Tuesdays, ABC) 
[youtube https://www.youtube.com/watch?v=s7gJ74ARN84]
Honestly, of the three networks ABC had the most intriguing teasers. A standout from the bunch shockingly NOT produced by Shonda Rhimes is Quantico, starring the highly touted Bollywood star Priyanka Chopra. The show centers around the highly competitive FBI training school which apparently has the worst vetting process in the world, because one of the new recruits is responsible for the largest terrorist attack since 9/11.
One drawback: Again, once the central mystery has been solved the show is on unsteady ground.
Also, that dude from the car, the main character's sex friend? He totally did it, didn't he? Maybe not but…he totally did, right? I guess we'll find out.