"Riverside Drive is not parallel to West End—it's serpentine," remarked Corcoran broker Daniel Douglas as we looked out at that curving drive from the storybook windows of apartment 6F. "So this apartment is a trapezoid."
Such issues as might be presented by a trapezoidal layout had, he added, been cleverly solved by 175 Riverside's much-vaunted architect, J.E.R. Carpenter. He opened the door of an odd-shaped closet to underline his point. "There are lots of hidden little corners tucked away to resolve the difference."
We spent a very pleasant hour's time admiring Carpenter's handiwork in the "very rare" nine—as opposed to the classic Upper West Side six—with Mr. Douglas and his partner Eileen LaMorte, who share the $4.69 million co-op listing. And there was much to admire: the 23-foot entrance gallery, the parquet floors, the generously proportioned dining room overlooking a central courtyard designed to let in light and air should the many windows overlooking the Hudson prove insufficient.
Nor was the handiwork all Carpenter's. As the apartment is an estate sale, Mr. Douglas and Ms. LaMorte had waylaid some of the previous owners' possessions to stage the place. A prominent art-loving lawyer and his wife who occupied the space for 65 years and raised their four children there, the Markewiches had more than enough paintings and objets to provide ample decorative fodder. They had also been instrumental in turning the building co-op in 1968. "The rent was starting to get oppressive," Robert Markewich told the Times 41 years later. "We were paying $175 a month."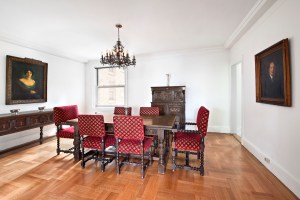 "Every room has a different theme," Ms. LeMorte explained as we walked through the apartment. The library, for example, beyond whose windows the pale green buds of Riverside Park glowed with late-afternoon light, was "pastoral" with vaguely sylvan paintings and, she added, picking up a glass paperweight, "a little beaver like you'd find by the river."
As we walked into one of the three (convertible four) bedrooms, Mr. Douglas declared it "the Shaker room" noting its simplicity and wood furnishings.
"It could also be the camp room. I think it could be," added Ms. LeMorte, pointing out the double beds. It could, Mr. Douglas agreed, seemingly a little reluctant to abandon the Shaker designation.
The spare furnishings and selections from the couple's art collection highlighted the apartment's classic charm and character—even if its kitchens and baths will require far more than fresh paint and prettying. And conciliatory as the floor plan is, the place is not without its history of conflict. The former occupants' daughter, who was featured in a 2009 Times story about adults who move into the same buildings as their parents, recounted one of the ensuing confrontations. "Once," she said. "I opened up my door to discover that my Sunday Times had been used and my parents had obviously stolen my paper and then returned it to me."