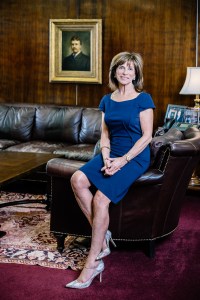 "That people look at police as the enemy: I'm emotional about that. That it's open season on police officers: that's as appalling to me as if those officers were my own family." As Rikki Klieman spoke, snug in the corner booth of her favorite midtown restaurant during the roiling lunch hour where the tables are full of chatty, business-suited dealmakers, her eyes welled up. It was the day after 25-year-old NYPD officer Brian Moore died of a gunshot wound to the face, his virtual execution a possible payback for Freddie Gray's death in police custody in Baltimore. Ms. Klieman has met lots of rookies like Moore. "When I've gone to police graduations and they throw their hats up in the air, that is the most optimistic moment. These are good people. And they have done nothing more than put on a blue uniform to suddenly become targets of a man who wanted to kill cops."
She recalled last December's protests after the lack of indictment of Officer Daniel Pantaleo for Eric Garner's death. "Some protesters, certainly very few, but some, were calling for the lives of two cops, to be even with Garner and [Ferguson, Mo.'s] Michael Brown. I knew that an assassination—somewhere, in some city—was clearly going to happen." Eventually, of course, it did, claiming the lives of NYPD officers Rafael Ramos and Wenjian Liu. "The rhetoric of some people was getting too incendiary. You have to remember: I'm a protestor from the '60s! I was very far left. I've walked those walks. I've crossed police lines."
Ms. Klieman is a legal analyst for CBS, appearing with Charlie Rose, Norah O'Donnell and Gayle King often in the morning and sometimes with Scott Pelley at 6:30 p.m. She's most recently been commuting to her previous hometown, Boston, to cover the trial of Boston Marathon bomber Dzhokhar Tsarnaev. She's a former CourtTV anchor. Her Boston compadres in the '80s and early '90s knew her as a determined advocate in an array of headline-making cases—Time named her one of the five top female trial lawyers in the country. Her good looks, long dark hair, and brief acting career gave her star power. And her past—antiwar protester at Northwestern; arrestee in a mass marijuana bust at a party (inspiring her switch from acting to law school)—gave Ms. Klieman the street cred to represent '70s-era fugitive Katherine Ann Power in 1993 when Power, who had been on the FBI's Most Wanted List for 14 years, turned herself in. (Power had been part of a crew that robbed a Boston bank and shot a policeman dead in 1970.) It was the resume of your typical liberal defense attorney.
---

'He's gotten far more left and I've gotten far more right. I often joke to Bill that if we'd met in the '60s, he would have been the person looking to crack my head open.'

---
But for just over 15 years she's also been Bill Bratton's wife and being the spouse of a three-time police commissioner has changed her. It's changed them both. "He's gotten far more left and I've gotten far more right. I often joke to Bill that if we'd met in the '60s, he would have been the person looking to crack my head open. And someone in any protest march wasn't anyone he'd have wanted to date."
That's her genial simplification of a novel sidebar to what has been their very grand romance. Mr. Bratton proposed marriage, when they were both 50, by staging a Bachelor-worthy evening that started with a private twirl on the (closed to the public) Central Park Carousel surrounded by a beaming chorus of NYPD's finest.
As wife-confidante-major-case-lawyer, Ms. Klieman has been quietly close to the center of events in which, last winter, she saw her husband mediate the glaring rift between Mayor Bill de Blasio and PBA President Pat Lynch.
During those close-to-dysfunctional months, it looked like Mr. Bratton was the only grownup in the room. "He walked the tightrope," Ms. Klieman recalled. "These were probably two of the most challenging months in his entire 40-plus-year career—the two most stressful months of his life." That ugliness passed, finally. But now with Baltimore, and with Moore's killing, there's polarization all over again. "And that's demoralizing to me. My husband came back in January of 2014 to help make race relations better, where cops would not be a flash point," Ms. Klieman said. "But now, every time there's another incident, race relations become worse."
To combat the anti-police perceptions, which, starting with Ferguson, began to alarm her, Ms. Klieman has produced and narrated a gripping documentary, In the Line of Fire, which will air on Investigation Discovery at 9 p.m. this Sunday, May 17, and encore on Saturday, May 23, at 11 a.m. In it, she presents three police department Medal of Valor winners—two male, one female—from New York, Minnesota and L.A., who heroically saved victims while under direct gunfire.
The film had its debut Thursday evening at Manhattan's 9/11 Museum. In attendance was a who's who of local and national law enforcement, as well the officers in the film—Julie Olson of Minnesota, Hector Feliciano of Los Angeles and Ivan Maracano of New York, who later participated in a panel discussion with Mr. Bratton and other law-enforcement luminaries—as well as both officers who'd been attacked by the hatchet-wielding man in Midtown earlier this week.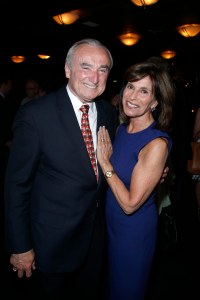 Mr. Bratton mentioned that social media enables this "very perilous time" for officers—and all the panel members referenced not just the killing of Officer Moore but of the two policemen in Hattiesburg, Miss., last week—because "people want to define us in a negative way," and that social media is especially effective for a "message of hate."
Ms. Klieman had seen Officer Feliciano's rescue of a pregnant female
hostage on the news during her time in L.A., and it was the first subject that came to her mind for this series, she said. "[He] was my inspiration; he gave me his Medal of Valor," Ms. Klieman recalled during our lunch, weeping. "The one that was around his neck—probably one of the most powerful moments of my life."
"It's not even a profession," she added Thursday night. "It is really ultimately a true calling."
I'd been aware of Ms. Klieman for years. As a true-crime author, I was one of her letter-writing suitors, hoping to tell Katherine Ann Power's story. (That the psychotherapist who nurtured the repentant Power's decision to turn herself in was the mother of Courtney Love made the story irresistible.) After that, I'd watched her daily commentary on the O.J. case, and after I read her memoir (with the misleadingly treacly title Fairy Tales Do Come True: How a Driven Woman Changed Her Destiny), she sharp-focused for me as a strong, principled boomer chick from a scraping-by-but-aspirational Jewish family in Chicago, with a matriarch both humble and wry (counseling Ms. Klieman that "fuck" was a delicious expletive reserved only for the most egregious outrages). A girl who was deeply imprinted by the Summer of Love and its quick-on-the-heels counterweight, early '70s feminism. A young woman who rejected the conventional, in favor of aiding destitute clients in the urine-soaked jails of Boston and making her bones with the cynical Middlesex cop-and-lawyer elite.
Also key: She's a pro-police liberal. I am, too. So I was glad we could sit and talk.
"People say we gave hope to love," Ms. Klieman said of her midlife marriage to Mr. Bratton. She pointed, as an example, to the friend she'd given a hug to when she'd entered the restaurant, the city's recent ex-longtime sex crimes prosecutor Linda Fairstein, seated two tables away, across from "her new husband, Michael, and they're dazzled with each other and they've known each other their whole adult lives." Ms. Klieman recalled that, prior to a rapturous meeting at the Regency, she and Mr. Bratton had actually encountered each other twice before—one of those times in '93, when she was desperately trying for a good plea deal for Katherine Ann Power. Power had "made a commitment that she wanted to be punished. She lived a life of contrition," working in soup kitchens during her years on the run. So when Ms. Klieman saw Mr. Bratton, then the Boston police commissioner, at a social event, she brazenly approached him for help. ("You shouldn't be talking to me," he replied. Aside from protocol, he remembered, all too well, the Boston cop whom Power's compadres had shot dead.) But by 1998, Ms. Klieman had left her second husband, a U.S. Customs agent, a solid guy who'd been "my anchor, my caretaker," during her physically depleting court battles; and Mr. Bratton was going through a divorce from Cheryl Fiandaca, a Boston journalist who'd become Boston police spokesperson. He was by then in the private sector, after having served as police commissioner under Rudy Giuliani, when his "broken windows" policy had transformed the city from louche and dangerous to safe and livable.
Ms. Klieman and Mr. Bratton spent four months fruitlessly trying to coordinate their schedules enough to make a lunch date. Finally, "he called me to meet me for drinks at the King Cole Bar, and," she said, with characteristic forthrightness, "I knew this was a different kind of invitation." Once they sat down, "we never ran out of conversation." She added, "We also had an extraordinary physical attraction."
After a small wedding, Mr. Bratton accepted the job as L.A.'s police commissioner in 2002, with the promise of reforming a department badly black-eyed by the rampart division's corruption. Ms. Klieman balked at playing The Commissioner's Wife, especially in a town she didn't know. But move they did, "and it was nothing short of transformational," she said. "I did countless days with Sweet Alice Harris, an activist in Watts, who became my adoptive mother," she said. "I was her elf on Christmas and at toy drives. I worked at an after-school program for the most disadvantaged kids in the worst areas and for homeless people getting back in the workforce." Sweet Alice Harris said of the couple: "You see us." (Mr. Bratton later used that line in his eulogy for Officer Ramos.)
In early November 2009, the couple moved back to New York, with him returning to the private sector and her serving as a legal analyst. Taking the pulse of the city during the Bloomberg years, they noted that Ray Kelly was slashing the number of stop-and-frisks. (Of that policy, Ms. Klieman is adamant that her husband has not curtailed it. Rather, "Ray Kelly was trimming it down" toward the end of his term—from 700,000 to "way, way back. Bill's now is around 40,000. And that is sufficient. But it's a total falsehood that Bill's stopped stop and frisk.")
Becoming commissioner again "wasn't a blip on Bill's screen until the summer of 2013," but it was shortly thereafter, when Mr. de Blasio became the Democratic nominee, that "Bill first said he was considering" reappointment.
In November 2014, after Mr. de Blasio won the mayoralty, the two couples dined together for the first time. It was clear to Ms. Klieman that "the mayor and Chirlane have a true love affair. They adore each other. They adore their children. And their political agenda is what they live for. They want to create progressive change. They're not kidding."
On Saturday, December 20, Ms. Klieman and Mr. Bratton were in Boston for a vacation with the latter's family. "Bill's phone rings. It's the mayor. The look on his face he was stricken." Officers Ramos and Liu had just been shot. By the time Mr. Bratton had helicoptered to the hospital, "a very close friend of ours was in the room and saw the medics trying everything in their power to save" the officers. "And this friend who knows Bill has seen many deaths said this is the first time he saw him weep."
The aftermath was painful, for Ms. Klieman as well as her husband. "I'm so fond of Pat Lynch. He bleeds blue. This was personal for him. But," she noted, "I've been upset with him from time to time. But I understand he has a job to do." As for Mr. de Blasio, she said, "He was so smart not to allow [the tension] to escalate. I watched him give the graduation speech to these cadets at Madison Square Garden and some of them had the temerity to boo him. But he never dropped a syllable. He took the high road." She added, "I don't know what more he can do or say to satisfy those who have a closed mind." As for the mayor and Mr. Bratton, "They are collaborative. They are close, but they're both very strong-willed people."
In the days before Ms. Klieman and I dined, Mr. Bratton was making headlines, clashing with City Council Speaker Melissa Mark-Viverito, who wanted to decriminalize some of his "broken windows" offenses, like turnstile jumping and public urination. Ms. Klieman was adamant that this will not happen. "Broken windows is not going away! Quality of life enforcement is here to stay! Bill Bratton still wants those as criminal offenses."
Almost as we speak, it turns out that Mr. Bratton is drafting a compromise proposal to Mark-Viverito; they'll reach resolution soon. Ms. Klieman said, "My husband's second book is called Collaborate or Perish! for a reason." She paused. "Are there days that I wish he didn't have this job? Yes. Are there days that he wishes he didn't have this job? Never."
If Mr. Bratton is an optimist, his wife is an admitted worrier and a perfectionist. She worries that some on the Tsarnaev jury will get PTSD. She gets nervous when she goes on the air with Scott Pelley. ("I want to be perfect. He's the gold standard.") She doesn't like that her husband gets it "from both extremes. There are people who say, 'Bratton's department is no different than Kelly's—there's too much stop-and-frisk.' And others who say, 'There's not enough stop-and-frisk.' "
So it's relieving, she said, that she "can wake up every morning with someone who says, 'Isn't it a wonderful day? Isn't it a beautiful day?' " Ms. Klieman does a stage pause, as if she's back in a Boston courtroom, setting up a true but improbable point for a jury. "And," she said, with an amused, incredulous, grateful smile, "he means it!"
_________________________________________
Sheila Weller is a journalist and author of the best-selling Girls Like Us, Marrying the Hangman, Raging Heart, Saint of Circumstance, the memoir Dancing at Ciro's and most recently, The News Sorority.