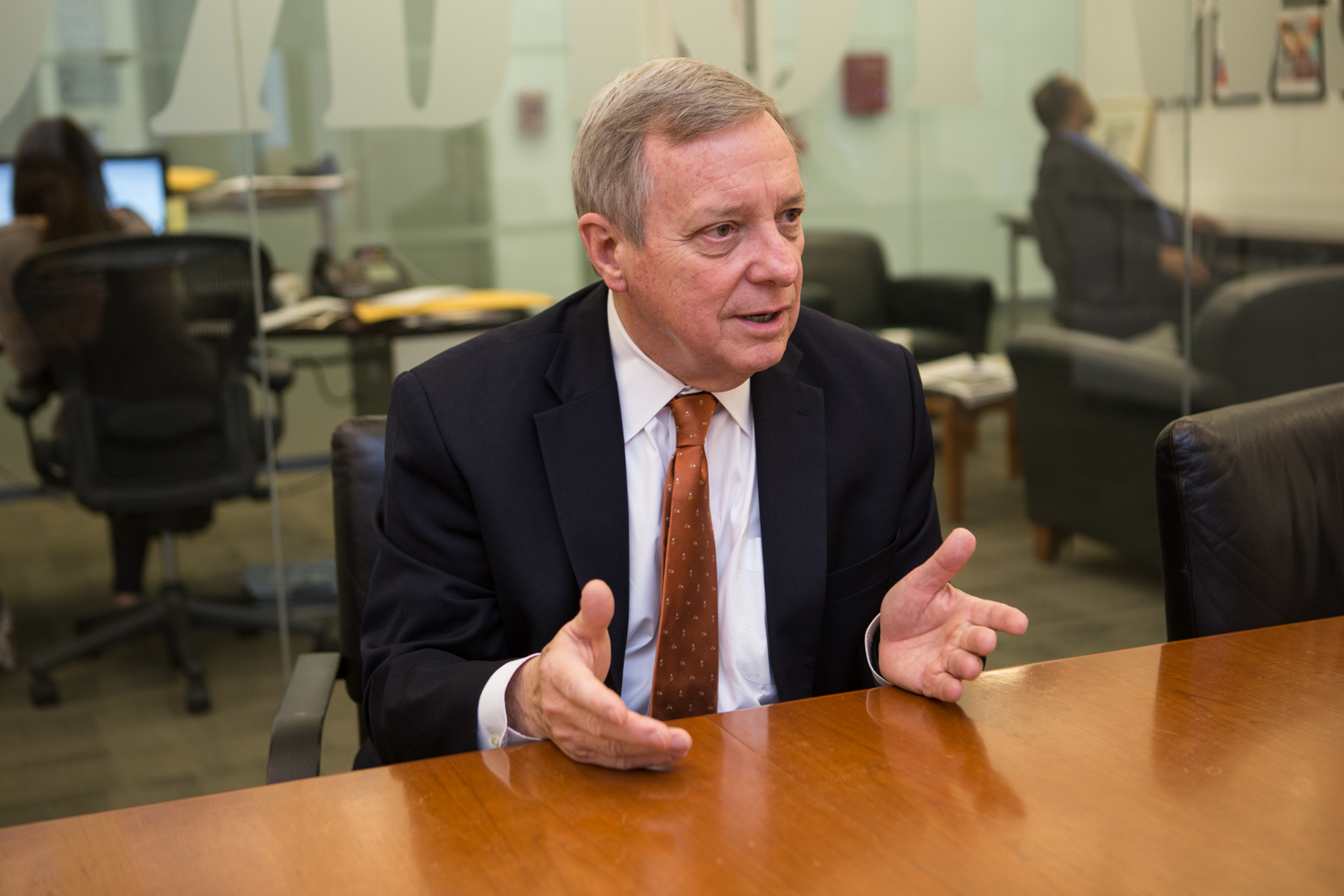 Sen. Dick Durbin, the second highest-ranking Democrat in the U.S. Senate, is ready for Bernie.
In an editorial board interview with the New York Observer today, the Illinois lawmaker likened Vermont Sen. Bernie Sanders' long-shot presidential challenge against Hillary Clinton to President Barack Obama's come-from-behind victory seven years ago—and said the senator, who is an independent and self-identifies as a socialist, will "be a force" in the Democratic primary.
"Eight years and eight weeks ago I was standing in a freezing day in Springfield with a fellow named Barack Hussein Obama," Mr. Durbin said. "Things started changing on the ground. Do not underestimate Bernie's impact. He's not stuck at a number. He's starting at a number and I think he will have loyal people who will come to his side."
Mr. Durbin effusively praised Mr. Sanders, telling the Observer that he is "pure of heart" and a "true liberal." "You go to the word 'liberal' in the dictionary and there's his picture, and he has an army of followers, just faithful, loyal followers," he said.
"It's an important voice to have in this election. It's going to force us as a party to reconcile some of our experiences on Capitol Hill where it's tough to achieve anything with the ambitions of our party, which should be a lot greater than they are," Mr. Durbin continued. "I'm glad he's there. He'll force all of us, Hillary first and the other candidates at every level."
Mr. Durbin, who was the first senator to endorse Mr. Obama when he ran for president, said Mr. Sanders faced a much tougher challenge against Ms. Clinton. But he argued Mr. Sanders' "army of followers" could make him a serious candidate, despite his severe disadvantage in fundraising.
"He's going to start coming out with some delegates. That is how someone in his position becomes credible, and I'm not saying he's going to be the nominee, but I will tell you, he will be a force," Mr. Durbin said. "He'll be an intellectual force that will cause all the candidates to reflect on our roots and that will be a good thing."
Known as one of the most liberal members of the Senate, Mr. Durbin also had kind words for Massachusetts Sen. Elizabeth Warren, a hero to grassroots progressives nationwide. Liberal organizations have tried desperately to recruit Ms. Warren to challenge Ms. Clinton, though Ms. Warren has said she will not run.
"I'm one of her biggest fans," Mr. Durbin said, also speculating that she could be a good choice to be Ms. Clinton's vice president. "She's so damn smart and she is damn effective in presenting her point of view and she scares the living hell out of Wall Street."