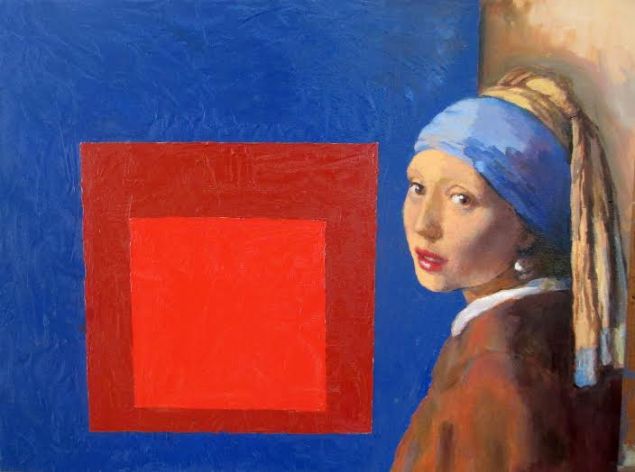 Are Americans uneducated in art and art history?
According to Anita Shapolsky, owner of the Anita Shapolsky Gallery on the Upper East Side, the answer is a resounding yes.
Even in a city like New York, one of the international art capitals of the world, Ms. Shapolsky sees what she terms a "widespread lack of proficiency" in art and art history among the American public. Americans, she argues, can't even point out the most famous masters like Manet or Rembrandt and are remiss to identify prominent masterpieces like Guernica or Girl with a Pearl Earring.
To address this shortcoming, Ms. Shapolsky has detoured briefly from her gallery's specialization in Abstract Expressionism for the presentation of a new exhibit that highlights the art canon and brings together four artists known for studying their predecessors.
The exhibit, entitled Past and Present Perfect, runs through June 13 at the gallery on East 65th St. The focus of gallery is the solo show of Russell Connor, the Whitney Museum's director of education and a Yale-educated American painter known for his "Master in Pieces" series that juxtapose famous masterpieces and their subjects on a single canvas.
In his painting War and Peace, one of his personal favorites, the artist deals with the theme of war, inspired in 2006 by President George Bush's war in Iraq. In the painting, Mr. Connor rescued Suzon, the barmaid from Edourd Manet's last masterpiece, The Bar at the Folie-Bergere, and moved her in front of Picasso's painting of atrocity, Guernica. 
"I called it War and Peace because I thought after all of the crimes I committed, why not steal the title from Mr. Tolstoy," joked Mr. Connor.
Mr. Connor formerly trained under the Bauhaus master Josef Albers, but he also worked various jobs that for several years led him away from painting. After joining the Whitney Museum of American Art, he began painting again by copying old masters. When he grew tired of that, he turned to appropriation and took up creating new compositions and narratives based on the canon. A self-described "marriage broker" of art, Mr. Connor spends many hours scouring art history textbooks looking for what master works he can combine.
In his series of paintings called The Art Lover series, Mr. Connor adopted the disciple from Caravaggio's famous painting, The Supper at Emmaus, and took him on a tour of the modern art world.
"This guy is astonished by everything," said Mr. Connor. "Understandably by Marcel Duchamp's urinal, which he jokingly proposed as a piece of sculpture in an exhibition that turned him down." The art lover is even seen in several subsequent paintings reacting to the work of Jeff Koons.
While Mr. Connor's work highlights the canon, the three prominent younger artists, whose work is displayed in the upstairs gallery, are meant to invigorate the crowd. Together, all four will hopefully educate. Rather than reading Janson's History of Art: The Western Tradition or heading back to school for an art history degree, Ms. Shapolsky wants her visitors to understand that art history is alive and present, ready to be absorbed and examined.
At an artist talk on Wed. night, Mr. Connor led visitors around the gallery, painting by painting, discussing with a strike of humor the genesis of each work. There were laughs all around as Mr. Connor quipped about his days as the writer and host of a televised gallery talk at the Museum of Fine Arts in Boston.
"We have the master downstairs and the accolades upstairs doing their work with different fabrics and materials," said Ms. Shapolsky about the gallery's newest exhibition. "There is a very good dichotomy in this exhibit. I think this is a wonderful show for New York."