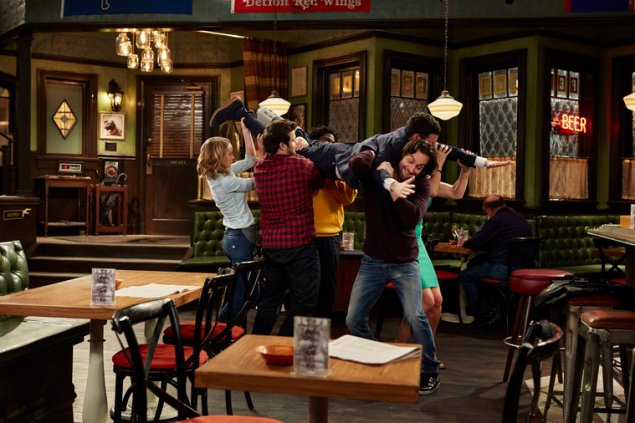 In an unprecedented move, NBC comedy Undateable will air an hour long live broadcast on Tuesday, May 5th.  Actually, there will be two live performances, one for the East Coast and one for the West Coast.
Others have come before, with The Drew Carey Show, Will & Grace, 30 Rock and Hot in Cleveland having done half-hour live broadcasts, but this will be the first hour long comedy to attempt such an undertaking. (Yes, ER did it, but that was a drama series.)
For those not in the know, Undateable is a series about a group of close-knit friends living in Detroit. At the center of the show are mismatched roommates Danny Burton (Chris D'Elia) and Justin Kearney (Brent Morin) and their pals who hang out at Justin's rather unsuccessful bar. These folks include Danny's sister, Leslie (Bianca Kajlich) Shelly (Ron Funches), Burski (Rick Glassman), Brett (David Fynn), and new waitress Candace (Bridgit Mendler).
Created and Executive Produced by Bill Lawrence, (Scrubs, Spin City, Cougar Town,) and Adam Sztykiel (Due Date, Made of Honor), Undateable is inspired by the book "Undateable: 311 Things Guys Do that Guarantee They Won't Be Dating or Having Sex" by Ellen Rakieten and Anne Coyle.
The idea to stage a live show came not from the series creative but from the brass at NBC, explains Lawrence, "Bob Greenblatt (chairman of NBC Entertainment) loves live TV and he thought these guys could do it, and do it really well."
When first confronted with the concept of doing the show live, the cast, understandably, had some mixed emotions. "I was excited right from the start," says D'Elia. "The fact that so many people believe in us to do this makes me feel really important," admitted Morin. Newest cast regular, Mendler, who joined the series this season, confesses, "I immediately thought that it was ambitious and I was curious about how all of it would come together but I was absolutely all in immediately."
To make it all work, some changes to the regular process were in order, says Morin. "The other day we did a run though and there were all these extra people that are needed to make this happen. When we do our show the regular way it feels smaller than this. This feels really, really big."
When shooting the show in normal fashion week in and week out, there's a lot of stopping and starting and reshooting certain scenes over and over. That shooting style gives the writers and actors time to tweak each scene to get the maximum amount of laughs. The loss of that method for this installment has caused some concern for the actors. "A lot of times, that's how we really 'find the funny' in a scene," explains D'Elia. "Don't get me wrong, this episode is really, really funny, it's just we're not used to being this strict about so much."
Lawrence agrees, but adds that the writers still built in a lot of time for improving for the cast. "These guys are true comedians. Most of them have an incredible amount of experience doing standup and we weren't going to just take all of that natural talent and ignore it. So, we put parts in that say things like, 'Improv line here.'
But he admits that this process has caused a few concerns, stating, "We had to build a lot of scenes into the script that we can remove if we're running behind, because in those instances where it says, 'improv line here,' that line could take five seconds or it could take two minutes. One rehearsal something was really quick and then next it took a bit longer and that's something we'll have to deal with on show night."
For his part, Funches is excited that the cast is encouraged to improv during the live broadcast, saying, "It's a little frightening for us, but it's nice that so many people trust us to do it while being live."
Joining the episode as a guest star is Disney veteran Victoria Justice. "When I got the call to discuss what I would be doing and was told that it would be live, I have to say that I felt a bit intimidated at first," admits Justice. "But, at the same time that's what makes it such a cool challenge. It makes it more of an event and I'm all for that."
To prep for show night, Glassman explains, "We're running it over and over like it's a stage play. Because it's scene to scene without stopping we have to do costume changes and get from one set to another quickly so we've been practicing those transitions a lot to make sure we have that part really down."
When it's zero hour and the cast is about to take the stage, Fynn admits that his nerves will mostly likely come online. "I've learned through my theater work that the nervousness comes in waves for me. I'll be all jittery and then I'll think, 'ok, I know my lines' and then some waves will come again and that's what makes it a bit exhausting. I'll be fine once everything gets rolling, but I know I'm going to be pooped after it's all done."
As for show night, Lawrence has a theory about what the audience really wants. "Nobody wants to see something that's perfect from start to finish. I've watched Saturday Night Live my entire life, and I love it when a cast member starts laughing at another cast member, but if it happens too much I'm like, 'come on.' But, that's not to say that that laughing isn't real. When these guys are laughing at each other, it's real, it's not fake. I laugh at my friends all the time and it's just like that here. These guys are laughing at their friends. In the end, with all of this, the sweet spot we're trying to hit is putting on a show that's half scripted, half improv with a lot of variety that includes great live music and stand up."
All involved are hopeful that the risk of doing the live show will pay off in several ways. "While we hope that people tune in for a really fun episode, we're also hopeful that we'll draw people in who maybe haven't seen the show and they'll discover that the show is really great," says Kajlich.  "In this episode,  we're trying to spice it up as much as possible with tons of cameos and stuff, and I feel like we've done a good job acknowledging that it's a live show and nudge, nudge, winking at it, but we're also telling a good story at the same time."
Lawrence confesses that he did have a personal interest in taking on such an endeavor, admitting, "I love live TV and I've never tried to do this before. This is one of the last things I hadn't tried. Nowadays the landscape is so full you have to take your shots to get some attention."
Morin is a little concerned that this live show might just go too well. "What if this kills and they make us do this live every week," he says, a clear note of panic in his voice.
Glassman just hopes that the props folks come through in the end, almost pleading as he says, "You know, they could help us out a little by filling up the on-set keg with real beer.  That might make things just a bit more enjoyable for all involved."
At the time of this interview, all of the cast, as well as Lawrence and Sztykiel, were quite tight-lipped about exactly which guest stars would be dropping by for the live show, but it's been revealed that some of the actors scheduled to appear include Zach Braff, Donald Faison, Neil Flynn, Christa Miller, Kate Walsh (whom Lawrence contacted via Twitter!), and Dr. Drew. There are others that will be revealed during the show, including a global music star. (It's a good one people!)
Tune in for the live episode of Undateable Tuesday, May 5 on NBC, which will be performed twice so both the East and West Coast audiences will see a different live version, each beginning at 9 p.m.