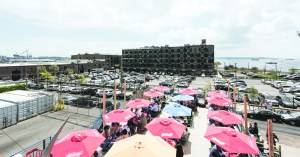 "Brooklyn is booming, and here you have probably the last piece of the waterfront to be developed," notes Stefano Marciano, partner in London- and Los Angeles-based real estate developer Est4te Four. "Look at Brooklyn Heights, Dumbo, Williamsburg: It's not difficult to imagine what could happen." It's a testimony to the itchy resiliency of that vision that Est4te Four, which helped turn Milan's once-rundown Tortona district into a fashion capital of the world, has now turned its spotlight on… Red Hook.
"It's an incredible place with an intense history," proclaimed Alessandro Zampedri of SANBA, another group of European real estate investors that are Brooklyn-based with visions of Red Hook as an enclave of artsy, cosmopolitan gentility. "People don't even realize how many beautiful things are happening there!"
And it's true: Red Hook offers water taxis and bike paths, distilleries and craft chocolate makers, a cruise ship terminal, destination restaurants and hangar-size art galleries; a new, potentially game-changing private school is going up, and rows of design-forward, seven-figure townhouses rising. It's hard not to feel that this time, this time, the seeds will take hold for good, and Red Hook will blossom. But the fact is that a lot of the sunshine and transformative magic is yet to come. Much of the predicted, often looked-for (and sometimes dreaded) New Red Hook is still on the drawing board, in the promised-but-not-yet-funded stage, on committee-hearing agendas. It is as familiar a vision here as the face-on view of the Statue of Liberty from the old docks: prosperity just over the horizon.
One obvious question would be: Why hasn't this happened already? Why hasn't Red Hook, a neighborhood with jaw-dropping harbor panoramas, unique (abandoned) building stock, and more bonus lives than Freddy Krueger, become Tortona West, or anyway, Dumbo South? Well, therein lies the tale. As Est4te Four's Mr. Marciano acknowledged, "Red Hook is not for everyone. It is a very peculiar place."
A one-square-mile, shark-fin peninsula bounded by the Gowanus Canal to the south and Buttermilk Channel to the north—everything about the place has a raffish ring to it—Red Hook was a core economic engine of the city for several centuries after Dutch settlers in the 1600s first named it Roode Hoek. Fort Defiance, now commemorated in the name of a cocktail-y restaurant on Van Brunt Street, stood here during the Revolution. A squadron of British frigates slipped past the fort—d'oh!—and wreaked havoc upstream on the Hudson, but Fort Defiance kept the ferry route clear, helping the Americans to escape after they were severely outnumbered. By the time of the Civil War, and for nearly a hundred years afterward, Red Hook was one of the busiest ports in New York Harbor, indeed in the nation, and a thriving, if gritty, mix of factories, warehouses and residential streets. 1954's On the Waterfront, based on an exposé of the Red Hook docks (though actually shot in Hoboken), captures the rusty, late-industrial tang of the place.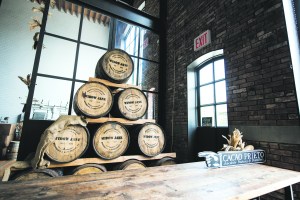 The neighborhood's slide into neglect—the history Red Hook is still struggling to shake off, in 2015—came about from a combination of self-inflicted wounds, a body-blow from city planners and the city's arguably misguided attempts to mitigate the damage from both. Most notoriously, Red Hook was cut off from the rest of Brooklyn and from its now-prosperous neighbors, Carroll Gardens and Cobble Hill, by the deep, sunken moat cut for the postwar Gowanus Expressway. (The engineering term of art, "depressed alignment," seems especially appropriate.) While community groups in affluent Brooklyn Heights prevailed upon pharaonic city planner Robert Moses to plow their section of the highway at the foot of—not through—their neighborhood, working-class Red Hook was sliced off and isolated. (As one Red Hook resident interviewed by Newsday put it, "The Heights got the Promenade, we got the shaft.")
By the time the move to container shipping shifted most of the cargo terminals and traffic across the harbor to New Jersey in the early 1970s—a shift at least partly thanks to the intransigence of Red Hook's unions—there was a lot less work for the neighborhood's working class to do. Many simply left. Red Hook's population today, at around 11,000, is about half of its height in the 1950s.
It hit rock bottom circa 1988, the year Life magazine labeled Red Hook one of the ten worst neighborhoods in the United States, and "the crack capital of America." Up is about the only direction to go from there.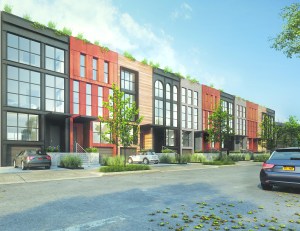 Still: real estate development abhors a vacuum. Within four years a retired police detective named Greg O'Connell would strike a watershed deal with the Port Authority, looking past, as he has said, the "packs of dogs running wild, cars abandoned, garbage everywhere" to imagine the hulking waterfront warehouse buildings buzzing with life once more. Plus, it was a stone bargain: Mr. O'Connell forked over $500,000 for 28+ harbor front acres and the largely abandoned buildings standing on them.
It took some time—Mr. O'Connell's investment was bleeding-edge—but a buzz began to build. By the early millennium, the green shoots were looking as resilient as bamboo. This being Red Hook, the pioneers were people possessed with very particular visions: Steve Tarpin, who bakes Steve's Authentic Key Lime Pies (and only key lime pies); Tonya LeNell Smothers who sought to make a case for a then dubious fringe movement called craft spirits; David Sharps, who wants to make a case for, well, for lots of things, aboard The Waterfront Museum, floating upon the barge. Real estate titan Barbara Corcoran made news in 2005 when she crossed the seven-figure barrier, plunking down $1.075 million for a building on Van Brunt Street, and Thor Equities shelled out $40 million for a six-acre dockside parcel. In 2006, Upper West Side foodie icon Fairway became a new anchor for the neighborhood when it moved into one of Mr. O'Connell's waterfront buildings.
---

'The typical buyer would be someone who is in love with the waterfront. They would have bought in Dumbo in 2005, and One Brooklyn Bridge Park later on; they are kind of moving down along the waterfront.'—Patricia LaRocca of Douglas Elliman

---
But buzz is notoriously fickle, and the media that had hailed Red Hook as the next wave in cool began to notice that underlying problems lingered on. In August 2007, even before the financial crisis dealt development a body blow, The New York Post had delivered the verdict: "Call it 'Dead' Hook." 
Those problems haven't gone away, most notably the fact that Red Hook exists in a kind of public transportation shadow. Unless you are willing to wait for the B61 bus that wanders about south Brooklyn like a distracted fly, or possibly the Ikea shuttle or water taxi, you pretty much have to drive or bike to get anywhere outside the neighborhood.
Of course, not everyone minds. Said Est4te Four's Mr. Marciano, "One of the things about Red Hook is that there is a lack of transportation, but for people who love Red Hook that is a plus, a way to protect yourself from the crowds and craziness."
There is also the seemingly intractable problem of zoning. In an effort to reverse the neighborhood's economic downturn, the city began, with a major zoning resolution in 1961 and the more recent Industrial Business Zones, to set more and more of the neighborhood aside for industrial uses that never materialized, meanwhile hamstringing residential development.
"What the city failed to realize," said John McGettrick, co-president of the Red Hook Civic Association, "is that when Red Hook was thriving, for well over 100 years, it was a mixed-use community … Now that we've created more opportunities here, it would be nice if we could in fact take advantage of them with more flexible zoning."
It would also be nice if Red Hook weren't on a flood plain jutting out into New York Harbor. Though many people here are quick to point out the community's resurgence, the massive damage—physical and psychological—caused by Superstorm Sandy in 2012 hasn't been so simple to erase.
"The aftermath of Sandy remains the biggest challenge," stated Aleksandra Scepanovic, managing director of Ideal Properties. "It's not necessarily visible walking though the neighborhood, but if you are looking through a townhouse and upstairs you have this wonderful old historic home, but in the basement you have brand-new sheetrock and brand-new paint, it reminds you. It's in the back of peoples' minds: Could this happen again?" 
And that's in private homes. On the other side of the neighborhood, in the publicly owned Red Hook Houses, the aftermath of Sandy remains a daily fact of life. "There is a resilience in this neighborhood, like, 'O.K., let's move on,'" said Jill Eisenhard, founder and executive director of the Red Hook Initiative, which seeks to help young people from the projects break the cycle of poverty. "But it depends on who you talk to. At the Houses there are still temporary generators and temporary boilers outside the buildings, what, two and a half years later?" There is also a pervasive issue with mold, exacerbated by the storm.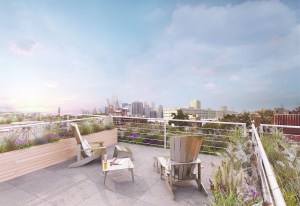 So far, any measures to prevent a recurrence of the devastation are largely in the wishing stage. Back in January 2014, Vice President Joseph Biden and Gov. Andrew Cuomo announced with some ceremony that Red Hook would receive $200 million for a "first in the nation" flood control system. So far, well: "It's proceeding—at an incredibly slow pace," said Mr. McGettrick, who serves on an advisory group for the project. The current goal is to award a contract at the end of May … for preliminary planning. "The sooner we have the protections in place, the better for everybody," he added, "not only for the protection itself, but to prevent the dramatic increases that are being proposed for flood insurance here."
Meanwhile, the real estate buzz is back in Red Hook. Though the numbers are small (Ideal Properties' figures show Red Hook totaling only 2 percent of Brownstone Brooklyn's Q1 sales in 2015), the trends are all up, not just from the post-Sandy standstill, but also from a strong 2014. And the real potential record-setters are not yet reported.
The highest-profile project nearing completion (for the summer of 2016) is 160 Imlay Street, whose 70 loft-like condominiums are mostly already in contract, at record prices. In the wake of Sandy, Est4te Four was able to pick up the huge, old concrete warehouse—the former New York Dock Building—from the previous owner, who had waged a years-long battle to obtain its residential zoning variance. "It had been standing there like a ghost for 20 years," said lead broker Patricia "Patty" LaRocco of Douglas Elliman. 
So who's moving in? "The typical buyer would be somebody who is in love with the waterfront," said Ms. LaRocco. "They would have bought in Dumbo in 2005, or One Brooklyn Bridge Park later on; they are kind of moving down along the waterfront. The rest of the people are in the creative industry in New York, and it caught on as a kind of a fringe thing; you either get Red Hook or you don't." Prices have climbed over $5 million for some of the larger units, and have averaged a substantial (for Red Hook) $1,000-$1,200 per square foot. "We are definitely setting records with these prices," Ms. LaRocco laughed. "But what records? There's nothing else like it here."
Ms. LaRocco herself is proof of her contention that "people are willing to pay [well] to live here now." A lifelong Manhattanite, she moved into a "one-bedroom with an alcove" in the Fairway building last summer—a building with a waiting list to get in—and pays $6,300 a month. That sounds a bit steep until you factor in the 1,800 square feet and "magical" harbor views. "I can't believe you can have such a chill atmosphere and be so close to the city—you can go through the Tunnel in five minutes."
The closest in upscale buyer appeal might be SANBA's King and Sullivan townhouses, a "game changer" according to Ms. LaRocco, who is also the lead broker for that project. The renderings by architect Aldo Andreoli, who also did 160 Imlay, shows handsome rows of 20 clean-lined, attached houses with individual facades. Demolition has been completed and construction on the three-story, 2,500-square-foot townhouses is slated to get underway this summer, as will sales (prices haven't been announced).
Meanwhile Est4te Four is prepared to double—or triple—down on Red Hook. Having assembled several waterfront parcels around a massive abandoned factory at Coffey and Ferris streets, the developer has announced a $400 million plan for an "Innovation District" that would include sleek office and creative spaces for the fashion, high-tech and entertainment industries. But, cautioned Mr. Marciano, "We are still working on the big picture, the master plan."
The company has also been among several to propose a luxury hotel project for the Atlantic Basin cruise ship terminal ("There is interest from the hospitality industry," according to Mr. Marciano). And many anxious eyes in the community are on the site of the now-razed Revere Sugar Refinery, part of that parcel purchased by Thor Equities in 2005. The latest scheme for the site, announced this March, calls for a neighborhood-character-altering 1.7-million-square-foot, mixed-use development with high-rise apartment buildings and sprawling retail spaces.
So what does the future hold for this longtime industrial backwater? "We are definitely coming back," asserted Mr. McGettrick. "The question is whether we can come back in small bites and maintain that level of an intriguing waterfront village, a little down at the edges to be sure, in the midst of the most powerful city in the country."