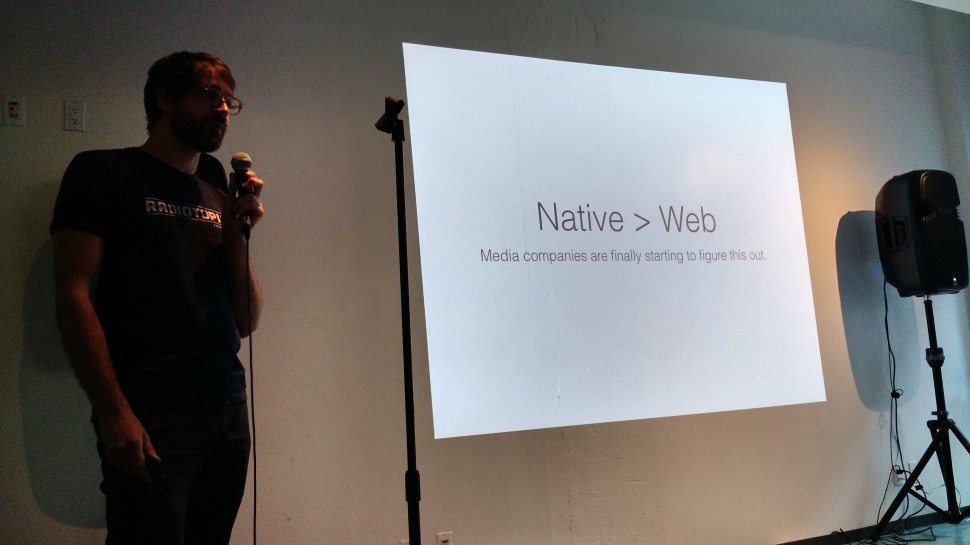 Good apps can be huge for media, but they won't be good if native apps simply repackage existing content. Apps that are nothing more than meticulously designed RSS feeds of a site's content don't fly, the man running Vice's mobile dev team, Ben Jackson said last night during the most recent Brooklyn iOS Developers Meetup, in Dumbo.
Mr. Jackson weighed in on an ongoing debate going in media about whether or not publishing mobile friendly on the web is good enough for brands, or if native apps might have advantages. The Financial Times, famously, bypassed the Apple store and optimized a mobile site for viewing through a browser on iPhones and iPads. In its first five months, in 2011, the web app had one million registered users.
According to Mr. Jackson, who worked on the The New York Times web team and helped to build the Longform app before going to Vice in January, a good native app will create more engagement and more loyalty than web products can.
Instead of regurgitating a brand's content, Mr. Jackson argued, each app should aim for a specific problem or use case. "People don't go to Home Depot to buy a drill," he said, pointing at a the hardware store's website, "they go to buy a hole in the wall." So, their website and their store are organized around the kind of holes that consumers want to drill. Media consumers, similarly, don't want a specific brand, they want specific experiences. Media brands should build native apps around the sort of experiences their content are best suited to deliver, Mr. Jackson contended.
Mr. Jackson singled out three media companies that he thought had especially good mobile apps and explained why he thought they worked:
Saturday Night Live. Use case: binge watching. The idea of this app is to load it up with everyone's favorite sketches and then learn your tastes so it picks the sketches you will like best. Jackson said you should set aside 45 minutes for the first time you open it. iOS and Android.
New York Times Cooking App. Use case: busy people who actually want to make something. This app, Jackson argues, is for people who don't want to fuss about, but want to focus on getting something made. It keeps the design simple, so people in a real kitchen can see what they need to see, when they need to see it. iOS only.
NPR One. Use case: listening at length, such as while commuting. Like the SNL app, this one gets to know you. the idea is you can just open it up and let it run. If your hands aren't free, such as while driving, it will do its best to guess at what you'd like. iOS and Android. WNYC has built a similar product.
"They all have a really clear sense of the job to be done," Mr. Jackson said. While he wouldn't answer questions about what Vice is actually working on, he did say that the company is still building its mobile team.