[youtube https://www.youtube.com/watch?v=WwoKkq685Hk]
I just found myself absently singing Rick Astley. I must have been cruising YouTube.
YouTube turned 10 on Thursday. The video it released to mark the occasion is nothing short of an amazing tribute to all the different kinds of impossible-to-anticipate genres and varieties of videos that the site has made possible. On the surface, the video pays tribute to the hit genres of the site, like Fails and Memes. What really makes it special, though, is that the production also pays tribute to video techniques.
For example, Nyan Cat is rendered in sand video. Here's another video, from 2008, called "SandFantasy," that exemplifies the technique of using sand on video to make images.
The video is structured as an A-to-Z of genres. At the end of the video, it breaks down the techniques that inspired it. Below, check out some of the earlier videos that made these different techniques of videomaking big on the site. For a quick breakdown of which video genres got shoutouts, AdWeek has an infographic. The Observer newsroom also made a list of its favorites from a decade of hits.
YouTube used Anamorphosis in the part about people. This is a technique where perspective is warped on one medium so it can be seen correctly on another medium. It's what makes widevision cinema possible.
Here's an example where a 2D drawing looks stretched and strange on paper but correct when reflected on a conical surface: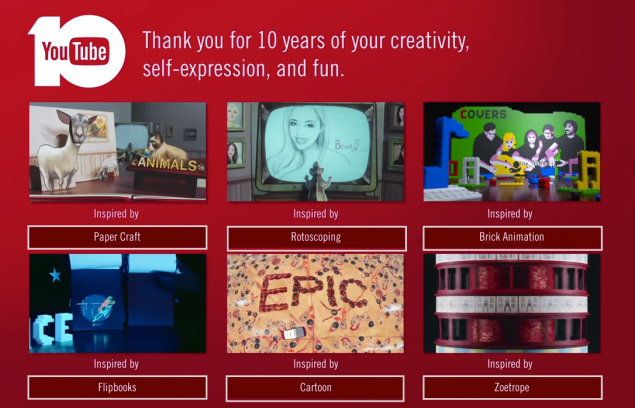 Rotoscoping is now an effect that can be achieved with computer animation, but it was invented as an analog approach to animation by Max Fleischer around 1914, which he debuted in a short film series called "Out of the Inkwell." The technique involved projecting film onto an animation surface, as a way to copy realistic movement. It proved to be useful for integrating animation with live action.
Here, YouTube took beauty vlogs and transferred them into animations that look almost exactly like the vloggers, but rendered in what appears to be pencil (it's probably computer graphics).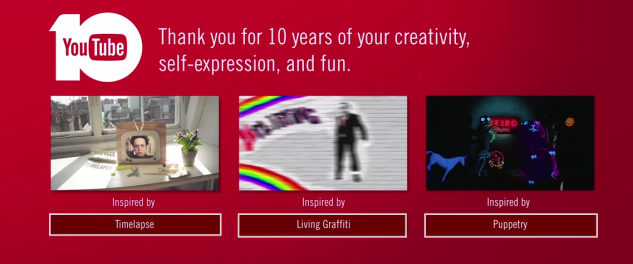 Living Graffiti is where an animator makes what looks like graffiti on a wall come to life. YouTube used it in their "uplifting" section, with a shoutout to the guy everyone wishes would run for the highest office, Kid President. There's another kind of living graffiti, though: where an artist encourages moss to grow on a vertical surface in a specific shape. Here's how.
Rappers are the original content marketers on the leading site for video, so the audio for the video is Blackalicious's epic track, "Alphabet Aerobics." You'll hear the hip-hop original in the video up top, but here's another version, by Harry Potter himself, Daniel Radcliffe, performed very nearly flawlessly:
[youtube https://www.youtube.com/watch?v=aKdV5FvXLuI]