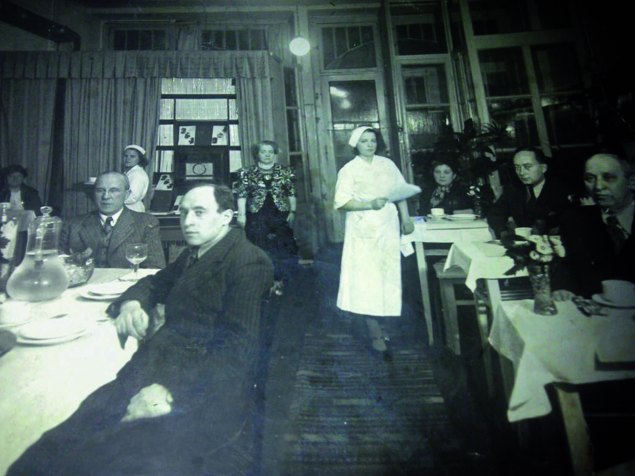 Cauliflower cutlets and rhubarb sorbet and the benefits of a plant-based diet are not food trends that spring to mind when one thinks of Jewish Eastern European cuisine in the interwar period.  
Meet Fania Lewando, the proprietor of a thriving vegetarian restaurant in 1930s Vilna. Like a Yiddish Alice Waters, she ran a popular dining destination, taught cooking technique and published a cookbook that advocates for the health and ethical advantages of a meatless diet.
The Vilna Vegetarian Cookbook, which Lewando first published in Yiddish in 1938, will be released in English next week.
After Lewando died fleeing the Nazis in 1941, her story, her culinary legacy, like so much of Jewish culture, was mostly forgotten.
Until, that is, two women from Great Neck came across a copy of at the YIVO Institute for Jewish Research on 16th Street. Wendy Waxman and Barbara Mazur were part of a book group and were shown the rare book room. The cover featuring elegantly illustrated vegetables including carrots, cukes and beets, which had been discovered at an antiquarian bookstore in the Welsh antiquarian book town of Hay-on-Wye and donated to YIVO in 2008, popped out at the women.
"When I laid eyes on the book, it was love at first sight," Ms. Waxman explained. "I felt like we were holding a piece of Jewish history that I had never heard of and a lot of people don't know about."
That there was a vegetarian movement in what was known as the Jerusalem of Lithuania surprised Ms. Waxman and others who think of brisket, chicken soup and schmaltz, as traditional Jewish foods. But it isn't unprecedented. Since meat and dairy are separated, according to Kosher law, dairy restaurants were primarily vegetarian. Still, meat, which was expensive, was thought of as a celebratory food and a vegetarian diet was associated with daily meals. Lewando wanted to change that and tried to showcase vegetarian recipes fit for holidays and special occasions.
"… In these unhealthy times there is almost no house in which you will not find one or more family members who cannot eat meat and must follow a vegetarian diet," she wrote. Lewando recommended that everyone avoid meat at least three days a week.
"Now, Michael Pollan and Mark Bittman recommend eating vegetarian one day of the week or until dinner," Ms. Mazur said. "Fania was telling people to do that in 1938. She was a visionary."
Neither Ms. Waxman, who now lives on the Upper West Side and teaches Hebrew school, or Ms. Mazur, whose husband was a third generation kosher butcher, knew much about getting a book published. But they decided to try. "We realized we had to bring Fania to the 21st century," Ms. Mazur said.
The first step was raising money to translate the cookbook into English, which was no small task. When that was done, they felt they needed to enlist someone with, as Ms. Waxman put it, "gravitas."
The pair "basically stalked" Joan Nathan, the acclaimed author of Jewish Cooking in America. Ms. Nathan was teaching a class on "growing your own seder" at Stone Barns, so Ms. Waxman and Ms. Mazur signed up. Naturally, they brought along the translated manuscript. Ms. Nathan, who ended up writing an introduction, put them in touch with Altie Karper, her editor at Schocken Books.
And so, The Vilna Vegetarian will be released by Schoken on June 6. The recipes are at once modern and historic; some are vegetarian variations of traditional dishes, such as Cholent with beans, mushrooms and potatoes; others seem decades ahead of their time. Lewando's advice speaks to a generation of cooks who think that they discovered kohlrabi and for whom farm-to-table is a movement rather than the default supply chain.
"There is only a small difference in price between the best and worst produce, but in cooking there is a great difference, in taste as well as nutrition," Lewando wrote, in 1938.
With that in mind, I went to the farmers market on a recent Saturday and invited my father over for lunch.
A leek frittata was light but substantial. Lewando's instructions ("cook like a frittata") reminded me of Mark Bittman's straightforward, improvisational method. I also made stewed potatoes in sour cream. Thinly sliced potatoes are covered in butter and a sour cream and milk mixture and baked until they brown.
"So it's not health food. It's just food that Jews like to eat," my dad said. Nu, how could it be bad?