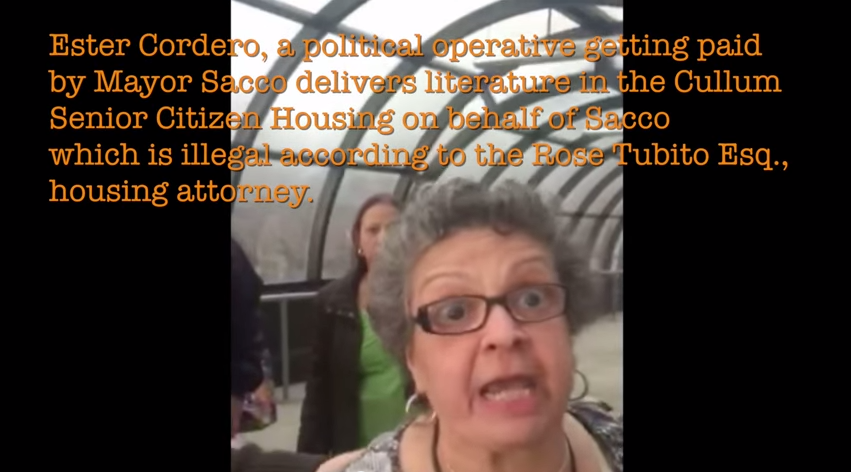 NORTH BERGEN — Pre-election day antics have reached North Bergen's senior citizen community, where mayoral challenger Larry Wainstein's campaign alleged today that a political operative working for incumbent Nick Sacco "assaulted" a 17-year-old boy who was visiting a resident with his mother, Yomary Paulino.
Providing little in the way of context, the Wainstein campaign blasted out a video that apparently captured the incident, claiming that Sacco's campaign had told Ester Cordero, the alleged campaign operative, to keep supporters of his opponent out of the senior citizen housing center.
"Sacco treats the senior citizens like Fidel Castor treats the people of Cuba," introductory text in the video reads.
While it's unclear who provoked the encounter, Sacco's team claimed in a statement that it was Wainstein's campaign manager, Luiz Guiterrez, who also paid for the video.
"Wainstein's video presents a distorted view of what really happened," Sacco campaign spokesperson Paul Swibinski in response to the video. "Esther Cordero is the President of the Cullum Senior Citizen club and a volunteer who supports Mayor Sacco. She was confronted by Wainstein's campaign manager who shoved a camera in her face and deliberately provoked and intimidated her. She suffers from high blood pressure and was treated by medical personnel on the scene."
"Larry Wainstein's continuous abuse of our high school students and our senior citizens is disgusting and further evidence why he is completely unfit to be our mayor," he added.
North Bergen's nonpartisan mayoral election takes place tomorrow.
[youtube https://www.youtube.com/watch?v=8YLpWzKm_2o]