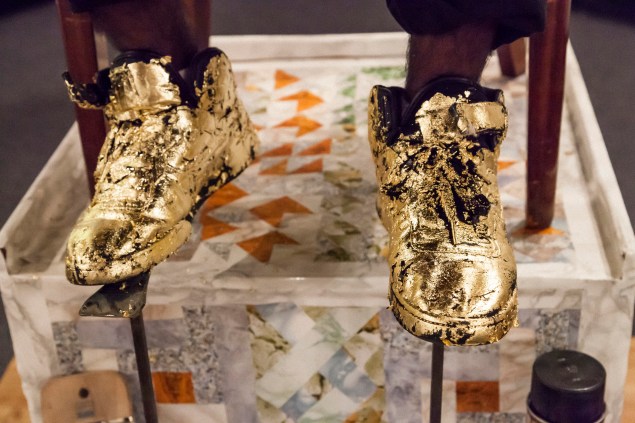 FRIDAY, MAY 22
Opening: "S/N" at The Kitchen
The Whitney Independent Study Program, which has hatched such art world luminaries as Roberta Smith and Julian Schnabel, presents its annual exhibition, titled "S/N," at The Kitchen. Organized by ISP's 2014–15 Helena Rubinstein Curatorial Fellows Alex Fleming, Anya Komar and Blair Murphy, the show explores the dynamics of sound with art, texts, and performances. Opening night includes a rare performance of Russian composer Galina Ustvolskaya's Piano Sonata No. 6 by Cheryl Seltzer of Continuum Ensemble.
The Kitchen, 512 West 19th Street, 5-8 p.m., performance at 6 p.m.
Opening: "Justin Randolph Thompson" at Momenta Art
Justin Randolph Thompson presents "Moldy Figs," a new sculptural installation, consisting of a multi-seat shoeshine/merry-go-round platform featuring a community performance, in which the performers will don gold-leafs participants' shoes, and there will be a hybrid music performance of classical and jazz genres. Here's a chance to turn your old shoes into art and dance in them!
Momenta Art, 56 Bogart Street, Brooklyn, 7-9 p.m.
Talk: "Transisters & The Goddesses of Rock: A Celebration of Chloe Dzubilo" at Participant Inc.
Take a walk on the wild side! Participant Inc.'s director Lia Gangitano moderates a panel discussion with Gyda Gash, Kathy Rey, Kembra Pfahler, and Jayne County on the legacy and influence of transgender artist and muse Chloe Dzubilo, a '90s icon of New York City's downtown nightlife. Stay past the talk, when DJ T De Long spins the funky beats of the time and the crowd gets a chance to pick up a copy of the Transisters' CD.
Participant Inc, 253 E Houston Street, 8-10 p.m.
Performance: "Found Sound Nation: Concert Series Event #5" at Pioneer Works
This hip monthly series brings together artists who might not otherwise share the same bill and music listeners that wouldn't have the opportunity to see so much diverse music in one place. Drummer Ian Chang, singer-songwriter Margaret Glaspy, five-piece band Bombay Rickey, and the minimalist post-rock trio Port St. Willow share the stage at the hottest spot in Red Hook, Brooklyn.
Pioneer Works, 159 Pioneer St, Brooklyn, 7 p.m., $10 Suggested Donation
SATURDAY, MAY 23
Talk: "The Aesthetics of Gender" at the Museum of Modern Art
View some of the best artworks in MoMA's collection that deal with conventional roles of femininity and masculinity and join a lively discussion with MoMA educators about how these works shape our concepts of gender. Bring an open mind to the Blanchette Hooker Rockefeller Painting and Sculpture Gallery.
The Museum of Modern Art, 11 West 53 Street, 11:30 a.m., free with Museum admission
Demonstration: "David Rosenboom's Advanced Brain-Computer Interfacing in the Arts" at the Whitney Museum
In conjunction with the exhibition "Propositional Music," the Whitney presents a series of concerts and demonstrations celebrating 50 years of pioneering work by avant-garde composer and performer David Rosenboom. Squeeze on a brainwave sensing headband and have your thoughts turned into sound—then dance to your personal beat while enjoying the art and view on the museum's open terraces.
Whitney Museum of American Art, 99 Gansevoort Street, 1 p.m. to 4 p.m., free with museum admission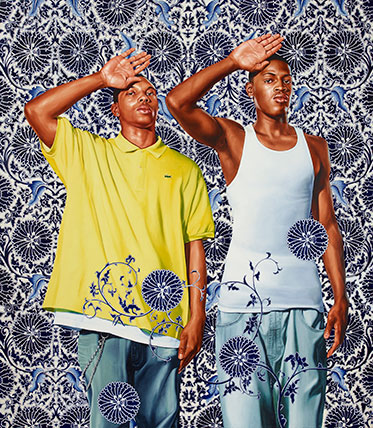 SUNDAY, MAY 24
Talk: "Kehinde Wiley: A New Republic"at the Brooklyn Museum
Meet in the lobby to join a tour of the exhibition "Kehinde Wiley: A New Republic" with a Brooklyn Museum specialist on the last day of the controversial show and learn how the artist addresses issues of race, gender, and the politics of representation while turning stylish street kids into subjects from the paintings of Old Masters.
Brooklyn Museum, 2 p.m., 200 Eastern Parkway, Brooklyn, free with museum admission
Opening: "Jen Stark" at The Surf Lodge in Montauk
Further afield, artist-in-residence Jen Stark kicks off The Surf Lodge's summer season with a wildly colorful 90-square-foot hanging sculpture in the hip East End hotel's gallery. Join East Hampton's Eric Firestone Gallery, fresh off its awesome booth with Misaki Kawai at NADA, for a fun-filled reception.
The Surf Lodge, 183 Edgemere St, Montauk, 5-7 p.m.
Opening: "Lissy Funk" at JTT Gallery
JTT offers a fresh look at the work of Swiss textile artist Lissy Funk (1909-2005) with a sparse presentation of a massive, 1963 tapestry on one wall and a small watercolor from the same period of the artist's dynamic work on another. Funk, whose name fits the work, is featured in the collection of the Art Institute of Chicago, where she had a museum retrospective in 1988.
JTT Gallery, 170a Suffolk Street, 6-8 p.m.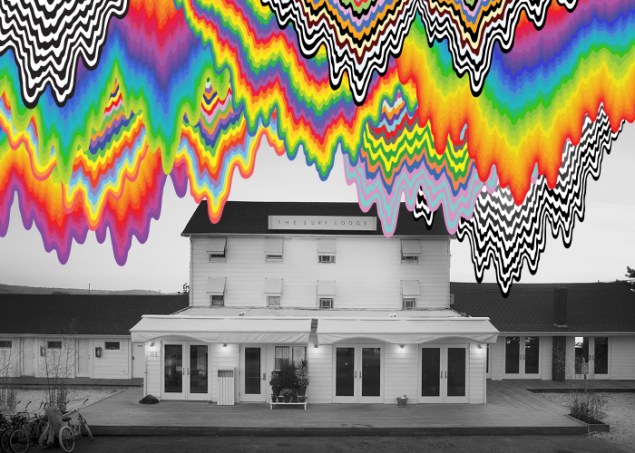 MONDAY, MAY 25
Talk: "Gardens of The Cloisters" at The Cloisters
Transport yourself back to the time of The Game of Thrones! Take a tour of the Cloisters museum and gardens, a branch of NYC's popular Metropolitan Museum of Art, with a museum guide to learn about the art, architecture and horticultural history of medieval Europe.
The Cloisters, 99 Margaret Corbin Drive, Fort Tryon Park, 1–2 p.m., free with museum admission