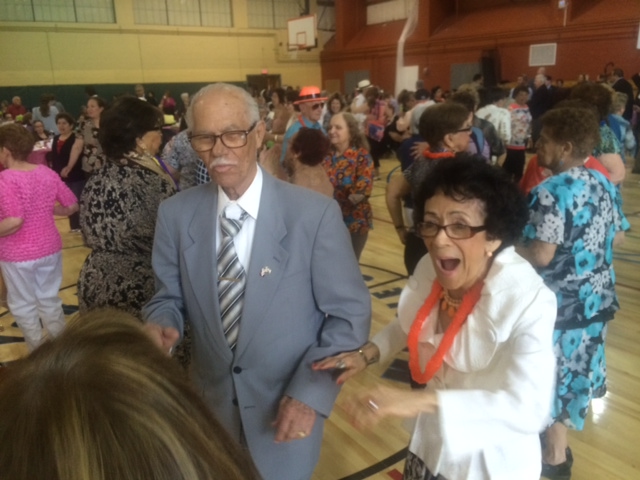 WEST NEW YORK – West New York held its annual municipal Mother's Day celebration on Saturday at the Hudson County town's middle school, three days before it is thrust in the middle of the mother of all local political events: the West New York municipal election, headlined by the mayor's race.
More than 700 people packed into the school gym, dancing to classic Cuban music and feasting on chicken and rice, beans and plantains. And as to be expected, politics pierced the peace and calm as the main mayoral candidates got in some last minute campaigning, hitting each other with words if not holiday hydrangeas.
Among the politicos prowling in the crowd was U.S. Rep. Albio Sires (D-8), who previously served as West New York's mayor. For Sires, any hometown win depends on a traditional, effective ground game.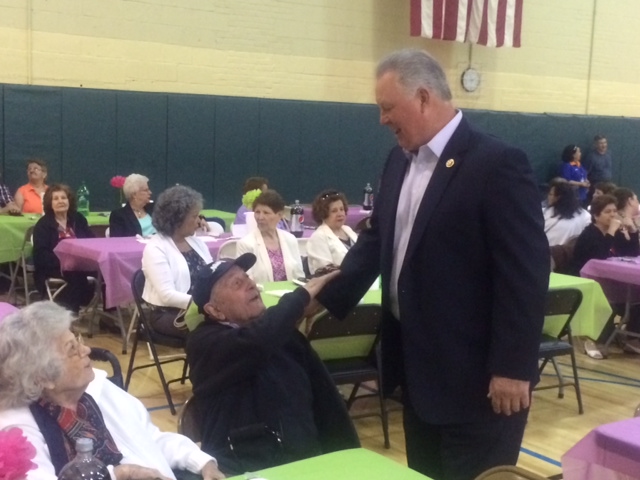 "You have to get the people that you identify as your voters out, and that's where the work before the election counts. We always did our due diligence before Election Day," said Sires, who is supporting incumbent Mayor Felix Roque over challenger Commissioner Count Wiley. "Roque is a known entity here. He's from West New York, his parents are from West New York. With all due respect to Commissioner Wiley, most of his life was spent in North Bergen. I just think that the people of West New York want a West New Yorker."
Roque has at time experienced a rocky road through his political career. Federal charges were filed against him and his son in 2012 for allegedly hacking a website set up by then-Hudson County Freeholder Jose Munoz that aimed to recall him. Roque was acquitted of the charges in October 2013; his son, Joseph, was convicted of a misdemeanor.
For Sires, Roque, a physician, has undergone a thorough examination and has passed.
"Roque made his mistakes – he came out of the doctor's office, and basically didn't know anything about politics. But the town is doing well, including taxes not going up," Sires said. "He's now listening to the right people, and he's looking forward to the next four years."
But Wiley, decked out in a blue suit, said he was ready to block Roque on Election Day.
"Anything Roque is going to do on Tuesday isn't going to bother me. People at this point already know who they're voting for," Wiley said.  "The whole community is coming behind me, and the Roque team is a sinking ship. You see Albio Sires here? You're lucky to see him once in three years. This is how desperate they are that they have to pull all of these people in. I welcome it, because God prepares the table before my enemies, and he will do that on May 12. And I've done as a commissioner what I needed to do."
Roque, dressed in his own blue suit, said that along with Hudson County Democratic Organization (HCDO) support, he was prepared with other sources of street strength for Election Day.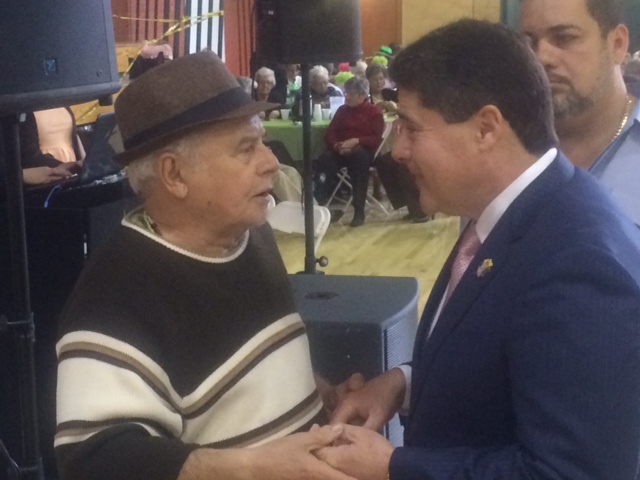 "We have a flood of volunteers coming in from all over. My campaign manager, Pablo Fonseca, has arranged to have more 800 people ready to come out," said Roque, referring to Fonseca, a veteran political operative who honed his street fighting skills in nearby Newark. "Pablo is a surgeon. Everything he does is precision work. We knocked on thousands of doors. In 2011, we won with about 4,200 votes out of approximately 20,000 registered voters. The chances are even better than last time for a landslide victory. We've done a lot for this town, and we're ready to win. I'm not nervous. I believe in my commanders, and that's what going to lead us into victory."
For one mother and grandmother in the West New York crowd, her victory is getting the chance to vote.
"Voting is very important for me," said Sara Ginart, 73, of West New York, a Cuban-born retired factory worker who came to America in 1962, before she got up to dance to mambo music. "I want Cuba to be free, and when I vote here, I feel free."