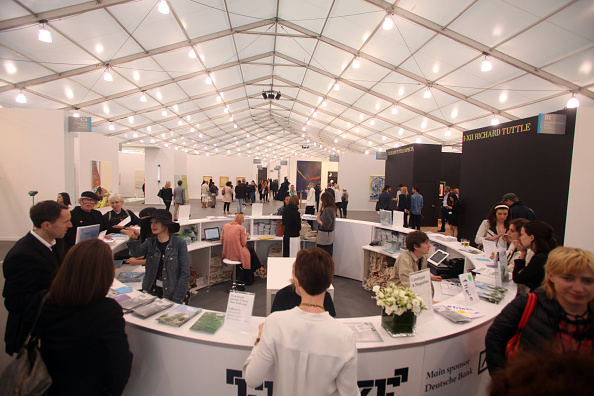 New York's second annual art fair week, Frieze Week, has once again come and gone. This year saw a blitz of record-setting auctions, nine art fairs (a brand new Contemporary African Art Fair and a first in Harlem among them), and a slew of major gallery and museum openings.
So, who won Frieze Week? Our writers and editors—Paul Laster, Alanna Martinez, Alexandra Peers, and Ryan Steadman—discussed what art was most talked about, who made the most money, and other stray highlights.
Below, our picks for who won Frieze Week:
Paul Laster: I would have to vote Jonathan Horowitz at Gavin Brown's Enterprise at Frieze, Pia Camil's Frieze Project, and Marcia Hafif at Fergus MCCaffery at Frieze.
Alanna Martinez: Jonathan Horowitz's 700 Dots wins the crowd-pleaser award. I may be biased because I participated, but it was an oasis of meditative calm amid the hustle and bustle of the fair.
In general, some of the most compelling work I came across was by female artists. Linder was a showstopper at Stuart Shave/Modern Art's booth; Turner Prize nominee Nicole Wermers' her fur-jacket-covered chairs at Herald St.; and Pia Camil's colorful tunics for Frieze Projects. Off-site, at Select, Ambre Kelly set-up a micro-residency where she produced paintings and drawings based on conversations with visitors about places they've lived, and Betty Tompkins' Fuck Paintings for Louis B. James at NADA were technically stunning and full of humor. This list would go on and on.
But, if we're electing a winner for based on sales, the title wouldn't even go to a fair. Christie's just had the best week ever. It sold over $1 billion in art, and set a new record for the most expensive work of art ever sold at auction with Picasso's Femmes D'Algiers.
Alexandra Peers: On the art front, the winner was the 'crackerjack-prize aesthetic' that gave collectors a game to play, a coat to wear or a maze to run. Also loved Cady Noland's Untitled, Walker at Skarstadt.
On the money front, winners were fair organizers who got $50,000 for booths, Christie's who got $179 million for an unspectacular Picasso, and the Edition Hotel, who, seemingly, got everybody.
Biggest winner of all, in my book, was whoever got to take home Piet Mondrian's Composition No. III (Composition with Red, Blue, Yellow and Black), 1929. At a record $50 million, it still felt worth it to me.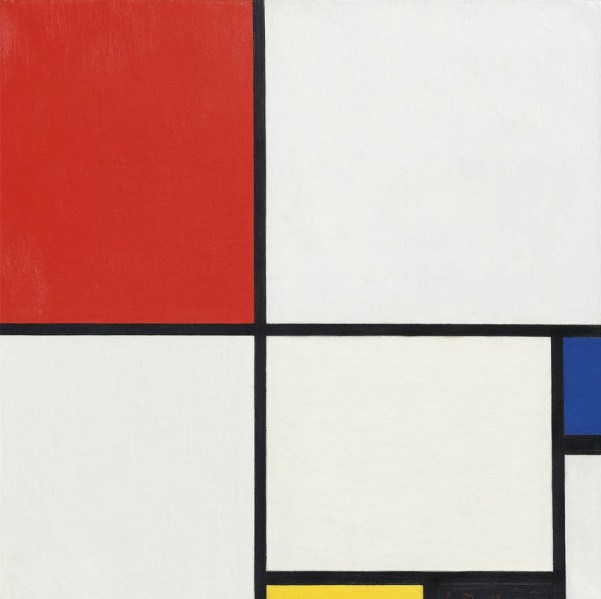 Ryan Steadman: Aside from the auctions (which always seems to win in a sense) it felt like Brooklyn won Frieze week. Scrappy Brooklyn galleries with new artists made their mark at this year's NADA fair, from veteran spaces like Journal, who shined with a batch of new Graham Collins work, to artist-run spaces like Soloway, which brought Mr. Collins, Rebecca Watson Horn, and intriguing newcomer Raque Ford.
Even more impressive were how new and out of the way Brooklyn spaces like Jackie Klempay (with Lakela Brown's beguiling objects) and Signal (with Dan Hershlein's smart installation) were able to stand out in a milieu that can seem homogenous at times.
Frieze even had a strong Brooklyn representative in Real Fine Arts, whose table of delicately pinned detritus by Yuji Agematsu Solo offered something out of the ordinary.
If you don't already, maybe it's time to take this borough seriously?