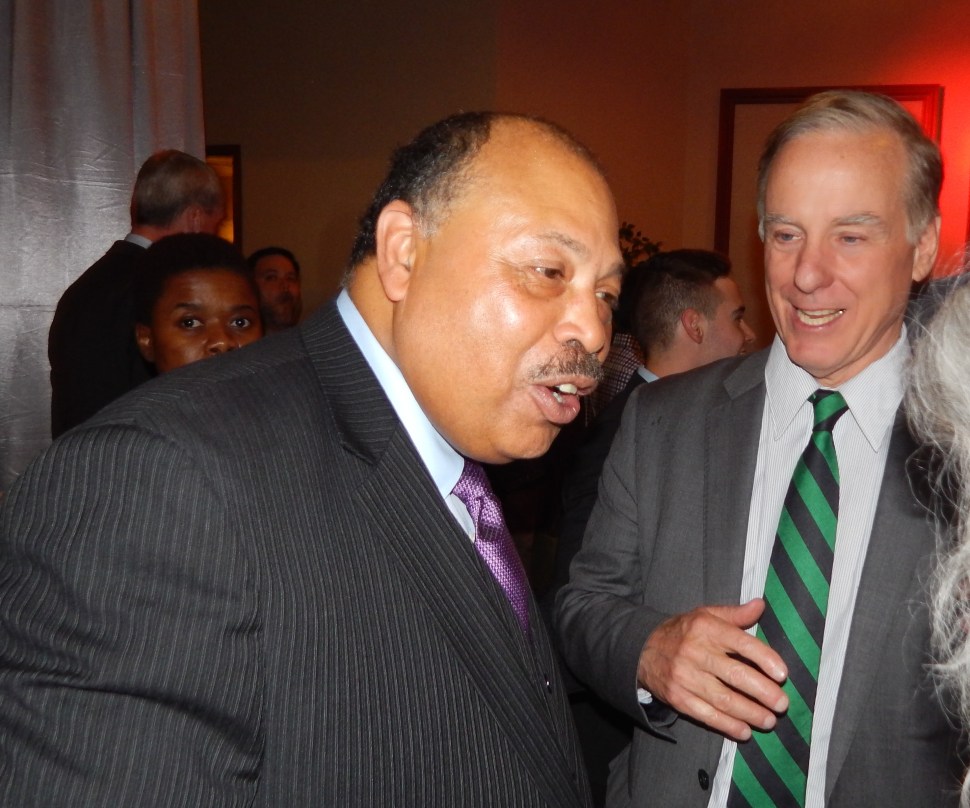 Atlantic City played host to the New Jersey State Democratic Committee's annual gathering this past week. Here's my summary of who's hot (and who's NOT) post-assemblage.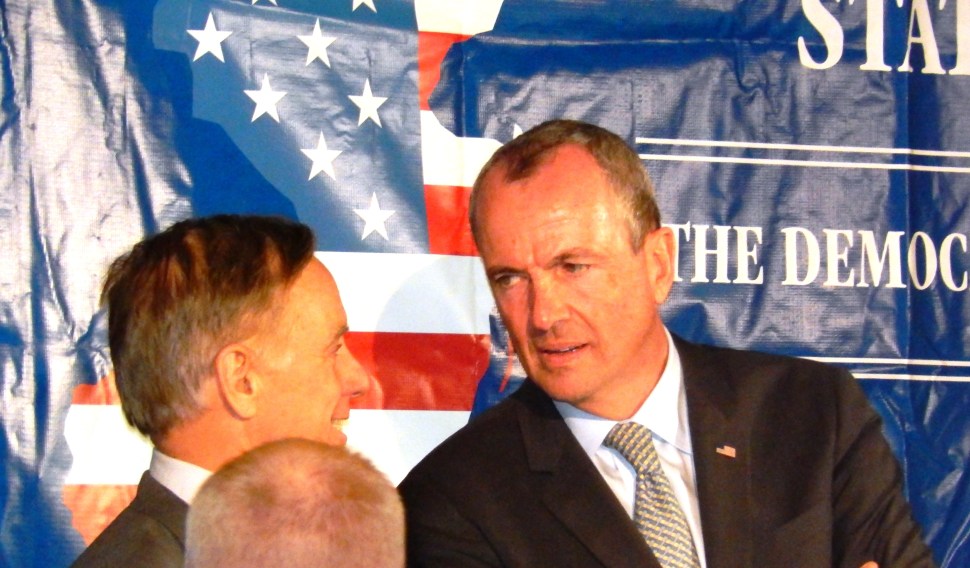 HOT! ex-Ambassador to Germany PHIL MURPHY.  Entourage in tow, Murphy (above, right, with Dean) was seemingly everywhere: caucus meetings, receptions, rubber chicken suppers. And while no one set the world on fire, Murphy came off polished and competent with a disciplined progressive message. This was Phillip Muprhy's coming out party to rank-and-file democrats and he hit the requisite marks. Judging from his convention footprint, Phil Murphy is nearly certainly running for Governor.
NOT! Senate President STEVE SWEENEY. Showing up's half the battle.  In the hypothetical dual of heavyweights to replace Chris Christie, Steve Sweeney defaulted (to Murphy) by mostly limiting himself to back room meetings. Other than a hit-and-run speech on the final night, nobody saw him. I'm sure there's rationale why Sweeney laid low, but his indiscernible-to-you-and-me presence sends all the wrong signals.
HOT! NJ Congresswoman BONNIE WATSON COLEMAN. A victory lap of sorts for the lone New Jersey Congress member without a member. Her's was the second largest ovation of the convention.
HOT! former Vermont Gov. HOWARD DEAN. The keynote speaker didn't disappoint. Dean taunted Governor Christie with a re-enactment of That Infamous Scream during his opening-night stemwinder and the crowd lapped. it. all. up. honey! Dean was chairman of the Democratic National Committee from 2005-2009 during which time, Phil Murphy was finance chief. Theirs was fruitful tenure: Democrats ran the tables in 2006 and '08 seizing Congress and the White House. Murphy leaned on those connections to get Dean to Atlantic City and the convention was demonstrably livelier for it.
NOT! U.S. Senator BOB MENENDEZ. Awash in Federal indictments (and with his BFF wallowing in the clink deemed a flight-risk) it's no surprise New Jersey's senior Senator was MIA. Astonishingly I don't recall his name coming up at all. Which probably saved everyone a bunch of heartburn now that I think about it.
HOT! JIM KEADY. Can't call Jim Keady a "breakout star" since most of us already knew his legendary "sit down, shut up!" moment with Governor Christie. Apparently he's neither sitting down nor shutting up. He's running for the 30th Assembly district instead. It's a tough district for any democrat, but Keady distinguished himself as a real comer. He even got a very public shout-out from Senator Loretta Weinberg.
NOT! ATLANTIC CITY. My 30th floor Harrah's window offered amazing views of the Atlantic City skyline, including 3 of Atlantic City's 4 empty casinos. It hurts to think about.
HOT! Former NJ Gov. Jim McGreevy. Since his big gay political meltdown nearly a decade ago, McGreevy (above,right, with former Jersey City Mayor Jerry Healy) devoted himself to lowering recidivism in Jersey City and state wide. It' a humble vocation for any type-A over-achiever, but for someone seeking grace to amend their life, it's a fit. McGreevy was in town to discuss criminal justice reform and judging from the crowd's rapturous applause – before and after – Jim McGreevy is largely rehabilitated in the eyes of his party. America loves a redemption story and boy did we get a good one in Atlantic City!
NOT! NJGOP.  To those Republicans who guffaw at Jim McGreevy's absolution, consider this much: y'all got nothing! Unless you count a weak bench, a broke state party, and a corrupt Governor who never cared about you. That's what Democrats mean when we say,  "Our spirits are buoyed by Chris Christie's misfortune. The truth is, three or four years ago, these (conventions) were like a wake. People were struggling to make eye contact and be optimistic. It's just not like that anymore." That's because the Democratic Party's future is bright in New Jersey.
HOT! DRUG REFORM. Directly or indirectly, ending the War on Drugs was the hot topic of the show. Howard Dean called for marijuana legalization as did the largest breakout panel (by far) at of Progressive Caucus. Some democrats couched drug reform in economic terms. Others preferred the "criminal justice" frame. My personal favorite: "I like to smoke pot and there's nothing wrong with that." Look for the Democratic Party to embrace Drug Reform because it's good policy with generational political dividends.
Jay Lassiter is a severely liberal activist from Cherry Hill, NJ. He's off to Ireland working their marriage equality referendum. Wish him luck on Twitter @Jay_Lass.